A private driver of the attorney general of Pakistan (AGP) died and two police security guards were left wounded after a car rammed into a 'police security camp'. The accident took place outside AGP's bungalow in Defence Housing Authority on Thursday.
CCTV footage emerged after the horrific accident. The video showed the driver of a black Honda City car speeding and apparently racing with another car when he loses control of the vehicle and crashed into the police security camp, where AGP Khalid Jawed Khan's 58-year-old driver was also sitting.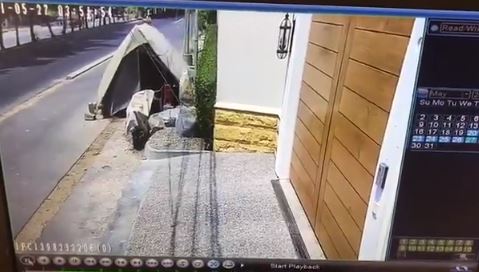 The footage of the incident that emerged after the accident showed that it took place at 3:52 pm. SSP South Zubair Nazir Shaikh told reporters that the driver, who was present in a security camp outside the house — located on Khayaban-e-Shahbaz — died after a car rammed into it. He added that three others, including two policemen, were injured in the accident.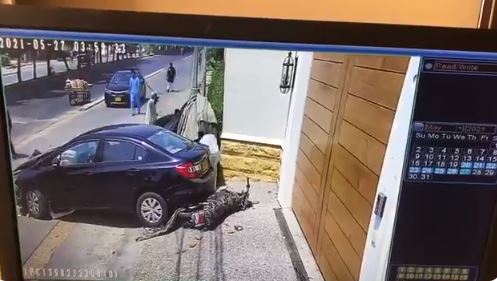 The SSP said that the man driving the car was also wounded in the accident and that all the injured have been shifted to a private hospital. According to reports, the car has been impounded. Sources add that the accident took place due to speeding. In addition to this, the accident also caused damage to the security camp and two motorcycles.
The casualties were taken to Jinnah Postgraduate Medical Centre. Soon after the accident, AGP Jawed arrived at the hospital. He confirmed that his employee had died in the accident. According to SHO Naseer Tanoli, police arrested the driver of another car, named Sultan. He reportedly works at a bungalow in DHA. Moreover, police have registered a case and initiated investigations.
Here is the now-viral CCTV footage
Involuntary manslaughter is a common charge resulting from a driving-related killing. Reckless and negligent driving often results in unintentional killing and endangering everyone on the road and roadside.
Back in Feb, at least four people lost their lives after five speeding vehicles of Federal Ombudsperson for Protection against Harassment of Women at the Workplaces Kashmala Tariq's protocol broke a signal and crashed into a car and motorcycle. The tragic accident took place on the Srinagar Highway in Islamabad.
The former MNA's protocol vehicles broke the sector G-11 traffic signal. It collided with two vehicles, killing four people. However, Kashmala's son fled while the police arrested her husband. After the CCTV footage of the incident released, police registered a case against her son.
Nonetheless, the federal ombudswoman maintained that her son is innocent. She claimed was not driving the vehicle that hit the car and blamed the driver for the accident.
Story Courtesy: The News
What do you think of this story? Let us know in the comments section below.