In a tragic incident recently, a thug guns down a boy while two others including his mother and brother sustained injuries when a local thug sprayed them with bullets. The incident occurred in the Shafiqabad area of Lahore.
According to the initial reports, a mother and her two sons worked at a floor mill. They used to earn their daily bread from it. In the same area resided some notorious thugs. As per the details, the sounds of the floor mill irritated the local thugs. They threatened the sons a couple of times.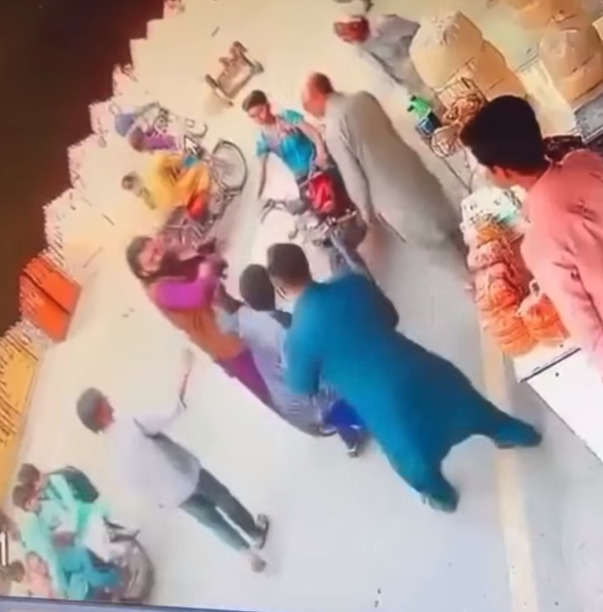 However, the poor boys could not do anything about it since the floor mill was the only source of income for them. One of the thugs on Friday, began shooting at the family. One of those boys, identified as Hafiz Muhammad Umar, died on the spot.
The mother tried to save her sons by jumping in front of the thug. She and the other son now lie in a hospital in critical condition.
A CCTV footage of the tragic incident surfaced on social and went viral. In the video, the thug can be seen furiously approaching the victims before he guns down the boy. As a passerby proceeds towards them, the accused takes out his gun and points at them. After a feud with the boys, the thug fires shots at the boys as well their mother who comes to their rescue.
Take a look at the CCTV footage
WARNING: Some viewers may find the content of this video disturbing. Viewer discretion is advised.
The police have also launched a probe into the incident. Meanwhile, the murderer is on the loose.
Last year, a horrific incident emerged in Gujrat, Punjab. An 18-year-old girl named Fajar was forcefully subjected to physical torture and later killed. She was abducted and taken to a camp in Kanja where a group of men forced themselves on her. The group comprised of a man called Yasser Sherry Sinara and his brothers. The girl was then killed after the men had their way with her.
Later, pictures of Punjab police with the two culprits went viral on the internet. The two main accused in 18-year-old Fajar Akbar's death finally came under police custody. However, it took almost 1 month for the police to file a case against the accused influentials of Gujrat.
What do you think of this story? Let us know in the comments section below.