The quarter-final stage has begun with the bang on matches of the UEFA Champions League where Liverpool faced Benfica and Manchester City hosted Spanish side Athletico Madrid.
Both of the matches were live last night, but majorly people headed towards the Etihad Stadium and God City was tremendous.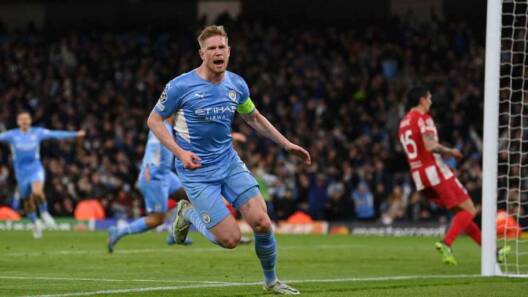 The host looked way hungry this time, they were dominant from the beginning, and the way Athletico Madrid was playing looked ridiculous in every way possible. There was a time when all the eleven Athletico players were inside their box to defend City's attack.
Pep Guardiola has managed to dismantle Simeone's side brutally with their play, on the other hand, the Spanish league team was engaging themselves more in fouls rather than taking any chances.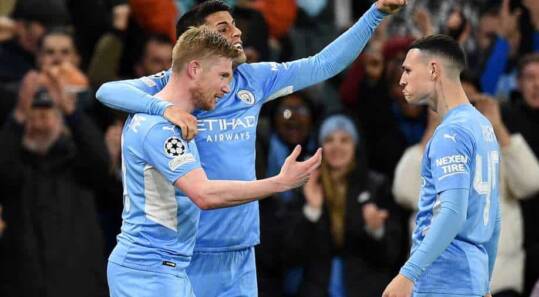 Athletico Madrid also made another record for zero shots on target, yes not a single shot was on target by the so-called strikers of the Spanish side.
Manchester City thrashed Athletico Madrid in the first leg
It was clear that Athletico Madrid wasn't in a good position to fight against one of the most popular and dominant teams in the European football league. From the start, Manchester City was dominating, because first it's their home, and second they want to win the Champions League this season at any cost.
Pep Guardiola who changed the football game, he's hungry to win the biggest trophy in the league since he left Barcelona.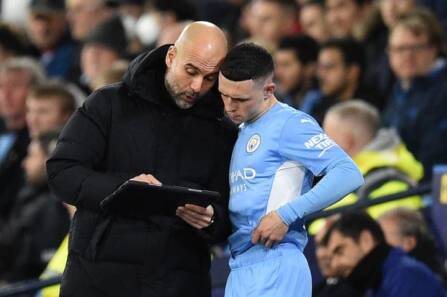 In the first half, Manchester City tried to make as many chances as they could. In the second half, Pep Guardiola brought Phil Foden in and he made a great impact.
In the 68th minute, Phil Foden with a brilliant pass to his skipper Kevin De Bruyne didn't miss the golden opportunity to give his side one goal cushion lead.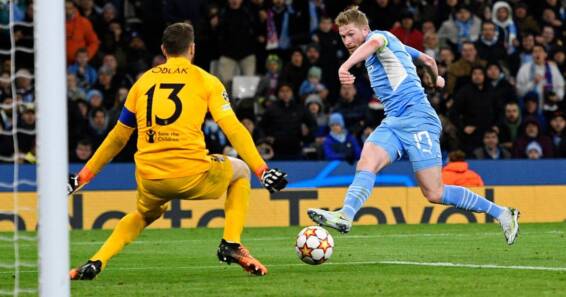 The city attempted 15 shots and 2 were on target and the shot that hit the net was the second attempt. Talking about the ball possession throughout the game, 71% of City held the ball and didn't let the visitors play with it.
Athletico Madrid looked helpless throughout the 90 minutes and there's no way they can pull this thing off in the second.
'I stayed composed' – Kevin De Bruyne
The player of the match and the mid-fielder Kevin De Bruyne shared what was running in his mind while scoring a goal. Talking to BT Sport, he said "The first half was tight in the second half we had a couple of chances and it was good that we took one.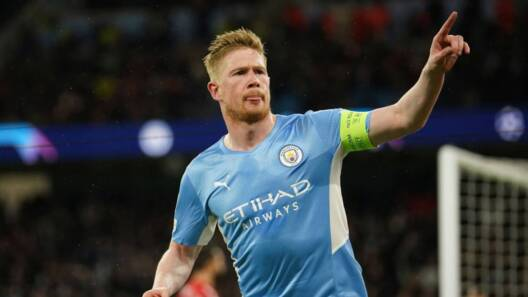 "I made the run and Phil [Foden] found me perfectly, I needed to stay composed and luckily I did. It's very hard. They played with almost five at the back and with five in midfield. I recommend anyone that says anything [about us], that they try playing against that on the training ground."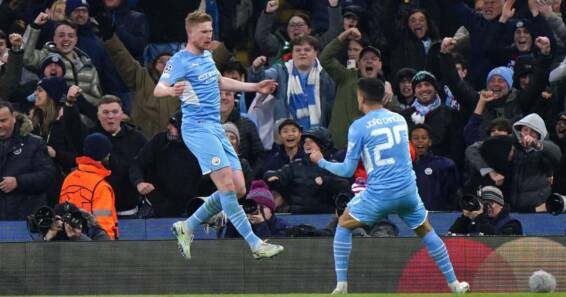 "We have to stay composed and don't try to get into their action. It is the way they play. One-nil is one-nil. I expect similar over there. If the game is tight they will have to attack a little bit more."
Pep Guardiola pleased with his side's performance
After the match, Pep Guardiola praised his side and was pleased with their exceptional performance. He said, "We played an incredible top side who are difficult to face but it is a good result," he said while praising his players for avoiding some of the potential flashpoints in the game.
"It is not easy to face a team with a lot of experience in this tournament. We will go there to score and try and win again.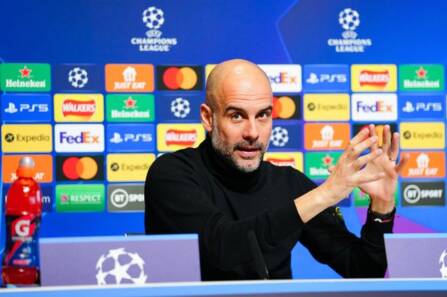 "We have to control our emotions and do what we have to do,' Guardiola said. There will be a referee there. Atletico has known the knockout stages many times and it will be a good test for us with our maturity."
"The referee is there. It's not my job. Jack reacted well and stayed focused on what we needed to do. They face these kinds of knockout stages many times, Atletico Madrid, more than us and it will be a good test for our maturity."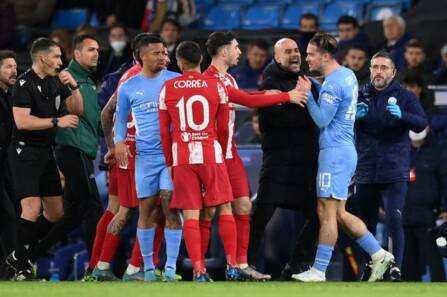 Pep revealed that "he was unaware that Jesus was already on a yellow card, but he knew Joao Cancelo and Kevin De Bruyne – who both started – were at risk."
Guardiola added, 'Kevin is in the best moment of the season. Sharp, quick. His influence is massive. Atletico is the masters at defending all together and it's very difficult [to break them down].'
Pep concluded, "He expects Atletico – who did not register a single shot on goal – to show more adventure next week."
'The stats speak everything' – Diego Simeone
Diego Simeone's side defeated Manchester United in the second leg of the Round of 16 and people expected that they might be prepared for the big game. After the match, Simeone said, "We played an extraordinary opponent,' he said. The stats speak for themselves. They are very dynamic. We want to go through with the tools at our disposal that we have. We defended well, a massive collective effort. We could've attacked a bit better on the counter-attack."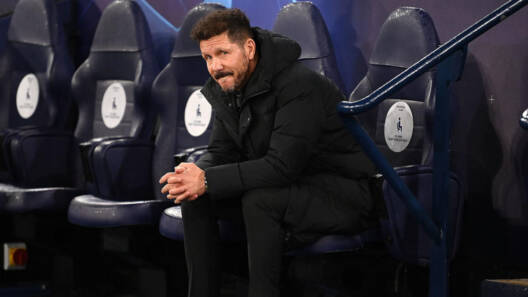 "Let's see if we can have the ball a bit more and create more difficulty for our opponents but that comes with being calm and having the collective defensive effort. I've been shown how to compete until the end in any way you can."
He further added, "I must admit we thought Foden would start. I'd also confess that it's enjoyable to see how City plays. The patience they have. But we were both seeking the same thing, winning."
"They might be the best side in the world," he said.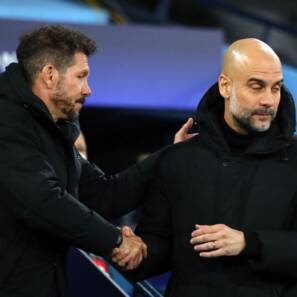 "We'll change how we play a little in the second half of this tie but it's all the same to the – City will play the same way. But with humility and hard work, we'll compete. Then we'll just see where that takes us."
Atletico goalkeeper Jan Oblak said: 'You don't have to go crazy because it's a long game. You have to be cold-blooded and take the chances that we are going to have.
"Any team who played here today would have played the same as us. Give them space and they can punish you. In Madrid, we're going to have to do that bit more offensively. That is the only way we can go through."
What do you think of the story? Tell us in the comments section below.