The family of Kayla Mueller, the 26-year-old aid worker held hostage by Isis since August 2013, has confirmed in a statement that she has been killed.
"We are heartbroken to share that we've received confirmation that Kayla Jean Mueller, has lost her life," her parents and brother said on Tuesday.
Supporters of Islamic State had claimed on Friday that she was killed in a Jordanian air strike intended to avenge the burning to death of a captured Jordanian pilot.
The National Security Council spokeswoman, Bernadette Meehan, said that over the weekend, the family received a private message from Mueller's captors containing "additional information".
"Once this information was authenticated by the intelligence community, they concluded that Kayla was deceased," Meehan said.
Barack Obama sent his "deepest condolences" to the Mueller family, and vowed to bring those responsible for Kayla's death to justice.
"Kayla represents what is best about America, and expressed her deep pride in the freedoms that we Americans enjoy, and that so many others strive for around the world," he said in a statement released by the White House. "In how she lived her life, she epitomized all that is good in our world."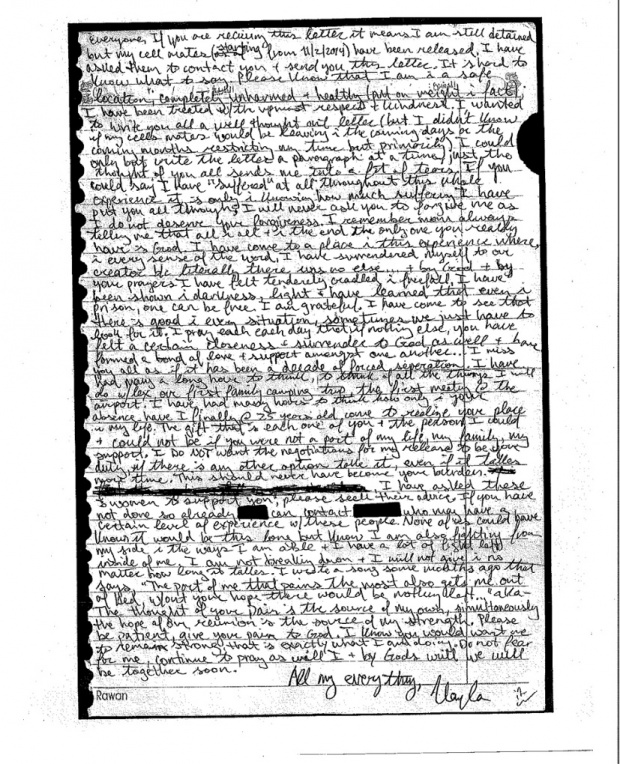 In a statement distributed widely by Isis supporters on Friday, the group had claimed that Mueller was killed when "missiles" targeted the building she was being held in in Raqqa, Syria. The statement included pictures of the badly shelled building but no photographic evidence of her death was shown.
Advertisement
On Friday, the Mueller family released a statement directed "to those in positions of responsibility for holding Kayla", saying that their daughter's safety and wellbeing "remains your responsibility".
Mueller was seized by Isis fighters in August 2013, as she left a hospital run by the Spanish branch of Médecins Sans Frontières in Aleppo.
In her letter, which her family said was written in the spring of 2014, Mueller says she had been "treated with the utmost respect + kindness", adding that she was being kept in a safe location, "completely unharmed + healthy".
The letter was brought to Mueller's family at her request by her cell mates, who she says had been released "starting from 11/2/2014".
In the letter, Mueller asks that her parents not take on the "burden" of negotiating for her release.
"I DO NOT want the negotiations for my release to be your duty, if there is any other option take it, even if it takes more time. This should never have become your burden. I have asked these women to support you; please seek their advice."
Of her family, she states that the only suffering she has endured throughout her time in captivity, is "knowing how much suffering I have put you all through forgive me as I do not deserve forgiveness".
Mueller, originally from Prescott, Arizona, had traveled to the Turkish-Syrian border in December 2012 to work with groups providing support to Syrian refugees, her family said.
The Article was First Published in The Guardian