As we all know, Dubai is on its way to breaking records, and now it's accomplished another one. There is a new petition to house the world's largest running track in a building: Sky Track.
As a result, Dubai has already provided a lot more adventure for people to do their best.
Sky Track is a 335-meter rooftop running route that threads around the Wasil building, a 43-story building in the Zabeel district. This is a Guinness World record for the 'highest running track on a building' and gives Dubai residents an alternative to the city's gyms.
Dubai Highest Running Sky Track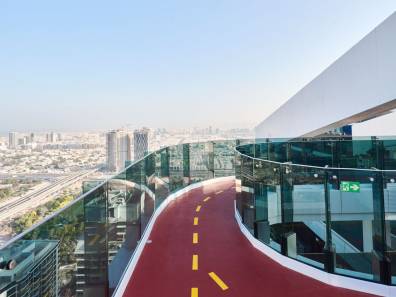 The chief executive of Wasl, Hesham Al Qasim, spoke at the point at which he promised to, wait for it, take running to new heights. Walkers and runners alike are able to enjoy the unrivaled sights of Dubai, including the Burj Khalifa, Zabeel Park, the Dubai Frame, Sheikh Zayed Road, Old Dubai, and the Arabian Gulf.
He said, "We are happy to achieve another Guinness World Records title for Dubai". Sky Track has achieved a world record, and we are happy that it is going to be useful to residents daily.
In contrast to a traditional gym, it's an ideal place for those who would like to lace up their running shoes and make their workouts more enjoyable.
Burj Khalifa, always visible over the city skyline, is an ever-present towering figure, along with the Dubai Frame and Zabeel Park.
With the Dubai Fitness Challenge, you can try new sports this winter, too; it's not the first record-breaking attraction in the UAE.