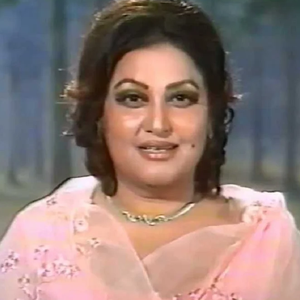 Biography
Noor Jehan was a well-known Pakistani vocalist and performer who provide her skills and performance to the countries both in India and Pakistan. An extremely versatile persona, she can sing in numerous languages, including Hindi, Urdu, Sindhi, and Punjabi, and has recorded over 10,000 songs in her singing career. She was born into a Muslim family that has an unlikely musical tradition in British India. She was exposed to the show business world at an early age. She started singing at the age of just five and received early training in classical singing under Ustad Bade Ghulam Ali Khan. He additionally familiarized her to the stage, and before time-consuming, she had flourished herself into a brilliant and confident platform performer. She established an interest in acting and singing and eventually made her early film appearances as a child star. After some time, she grew up into a good-looking young woman with a golden voice and portrayed her first role as an adult in the Hindi film 'Khandaan,' which became a massive hit. She then moved to Pakistan in 1947 following India's partition and struggled for a few years to establish herself. With her determination and hard work, she again achieved excessive accomplishments in Pakistani cinema and music. Noor Jehan has also been awarded the title of Malika-e-Tarannum (the Queen of Melody) in Pakistan.
Fact‌ ‌File‌ ‌ ‌
Birth‌ ‌Date‌

– 21

st

September 1926

Death Date

–

23

rd

December 2000

Birth‌ ‌Place‌

‌– Kasur, Punjab

Aged‌

‌–‌ 74 in 2000

Father

–

Madad Ali

Mother

–

Fateh Bibi
Husband(s)

Shaukat Hussain Rizvi

Ejaz Durrani

Children

Zile Huma,

Asghar Hussain Rizvi,

Akbar Hussain Rizvi,

Hina Durrani,

Mina Hasan,

Nazia Ejaz Khan
Nationality‌

‌–Pakistani‌ ‌

Religion

–‌ ‌Islam‌ ‌ ‌

Known as

–

Malika-e-Tarannum
Background
On 21st September 1926, Noor Jehan was born in a small village Kot Murad Khan near Kasur, Punjab, Pakistan. She was initially called by Allah Wasai. But when she turned six, she appeared on stage in Calcutta's city for stage director Dewan Sardari Lal as Baby Noor Jehan. In 1935, she sang on stage for the famous musician Ghulam Ahmad Chishti in Calcutta. Famous Pancholi Studio owner Dalsukh Pancholi gave her earliest great break in Lahore in his film Gul-E-Bakavli (1939). Her first big success came with the film Khandan (1942) and Zeenat (1945).
Then she tied a knot with producer-director of this film Shaukat Hussain Rizvi. In 1947, when the British divided the large land into India and Pakistan, Noor Jehan and her husband Shaukat Hussain Rizvi migrated to Lahore, Pakistan, to make their films in Pakistan. Noor Jehan continued to act and sing as a playback singer in Pakistani movies until 1961. In 1961, she wanted to concentrate on upbringing her children and spend quality time with them, so she gave up acting in films and just carry on her singing as a film playback singer until the year 1993. Due to advanced age and bad health, Noor Jehan had to quit her singing on her doctors' advice. She died in Karachi, Pakistan, on the 23rd of December 2000, at age 74, where she lived under the care of her daughter and son-in-law. She was known as a music icon in both Old Undivided British India and Pakistan due to her thousands of hit film songs that she left behind.
Married Life
Noor Jehan was first married to a producer-director of her film Shaukat Hussain Rizvi in 1942; the couple had three children, and the marriage ended in 1953 by divorce. The later, in 1959, she again married a film actor, director, and producer. Ejaz Durrani together had three children couple got divorced in 197.
Professional Life
As An Actor
During the 1930s, her entire family moved to Calcutta, hoping that the daughters might get chances to embark on film careers. Theatre owner Diwan Sardari Lal introduced the family to several producers. Noor Jehan, along with her sisters, appeared in the K.D. Mehra directed the Punjabi movie 'Pind di Kuri' in 1935.
The film offers started to come like anything for the emerging singer star cum actress, and she next acted in a movie called 'Missar Ka Sitara' (1936). Jehan also played the child role of Heer in the film 'Heer-Sayyal' (1937). All the Punjabi movies she acted in and sang for were made in Calcutta.
Noor Jehan relocated to Lahore in 1938, and her career reached newer heights. The renowned music director Ghulam Haider became her counselor and composed songs for her to sing. This helped her enormously in establishing herself in her singing career.
She was greatly interested in pursuing an acting career as well. She played her first adult role in 1942 when she acted as the main lead opposite Pran in 'Khandaan.' The film became a significant hit prompting her to shift her base to Mumbai with director Syed Shaukat Hussain Rizvi, who she later mater.
When India's partition happened in 1947, Jehan decided to move to Pakistan and settle in Karachi. The initial years following the separation were challenging for her though she was determined to rebuild her career. Noor Jehan got her first big break in Pakistan in 1951 when she appeared in the film 'Chan Wey,' opposite Santosh Kumar. She also directed this picture along with her husband, becoming Pakistan's first female director.
She continued to be busy with her family over the next few years, through which her marriage was unknotted and ended in divorce. However, her career succeeded during the 1950s, and she acted in and sang for many hit films, the greatest distinguished one being 'Intezar' (1956), in which she portrayed a blind singer. It went on to become one of her biggest successes.
Noor Jehan married for the second time in 1959.
She carried on singing during the 1970s and 1980s, but the later phase was somewhat disappointing. She gave her last contribution to music with the Punjabi song 'Ki Dam Da Bharosa Yaar' in 'Sakhi Badshah' (1996).
As Playback Singer
After leaving acting, she took up playback singing. She made her debut exclusively as a playback singer in 1960 with the film Salma. Her first initial playback singing for a Pakistani film was for the 1951 film Chann Wey, for which she was the film director herself. She received many awards, including the Pride of Performance in 1965 by the Pakistani Government. She sang many duets with Ahmed Rushdi, Mehdi Hassan, Masood Rana, Nusrat Fateh Ali Khan, and Mujeeb Aalam.
She had an understanding and friendship with many singers of Asia, for example, with Alam Lohar and many more. Jehan made great efforts to attend the "Mehfils" (live concerts) of Ustad Salamat Ali Khan, Ustad Fateh Ali Khan, Ustad Nusrat Fateh Ali Khan and Roshan Ara Begum. Lata Mangeshkar commented on Jehan's vocal range, that Jehan could sing as low and as high as she wanted, and that the quality of her voice always remained the same. Singing was, for Jehan, not effortless but an emotionally and physically draining exercise. In the 1990s, Jehan also sang for then débutante actresses Neeli and Reema. For this very reason, Sabiha Khanum affectionately called her Sadabahar (evergreen). Her popularity was further boosted with her patriotic songs during the 1965 war between Pakistan and India.
Awards & Recognition
She was the recipient of several prestigious awards, including the Pride of Performance bestowed upon her by Pakistan's Government in 1965.
Noor Jehan received more than 15 Nigar Awards for Best Female Playback Singer, eight for best Urdu Singer Female, and the rest for Punjabi playback. She has also been given the award for the Singer Of Millennium.
In 1945, for the film Zeenat she was awarded a gold medal by Z.A Bukhari.

Noor Jehan was ranked at eighth position in a list of Most Influential Pakistanis after Mohammad Ali Jinnah.
In 1945, she became the first Asian woman to sing Qawali in the film

Zeenat

. American Queen of Pop Madonna Louise Ciccone said, "I can copy every singer but not Noor Jehan."

In 1957, she received President's Award for her acting and singing in the film Intezar. The same movie for which Khwaja Khurshid Anwar also received President's Award for Best Music Director.

In 1965, she received Special Nigar Award for her wartime songs.

In 1965, she was awarded Pride of Performance by the President of Pakistan for her singing and acting capabilities.

She became the Second Pakistani Female Vocalist after Roshan Ara Begum to receive Pride of Performance.

In 1965, she received Tamgha-e-Imtiaz from the army for her moral support in the Indo-Pak war.

She was the only Pakistani singer to sing with the Egyptian singer Umm Kulthum.

In 1981, she received Special Nigar Award for her excellence in 30 years of her Pakistan career.

In 1987, Noor Jehan received NTM Life Time Achievement Award.

In 1996, Noor Jehan received Sitara-e-Imtiaz.

In 1999, Noor Jehan received Millennium Award for her services to the Pakistani Cinema.

In January 2000, Pakistan Television PTV gave her the title of Voice of Century.

In 2002, she received First Lux Life Time Achievement Award.

In August 2014, she was declared as the Greatest Female Singer Of Pakistan of all times.

In August 2017, she was ranked at the top of Female Pakistani Singers.
Google Doodle also commemorated her birthdays in its own way.
A journey from Allah Wasai to Baby Noor Jehan, to Madam Noor Jehan, and ultimately receiving the title of Malika-e-Tarannum (Queen of Melody) in a literally insufficient resources country female singing department, it is the same musical road Noor Jahan pass through. An unpredictable character who swift through life at breakneck speed led a glamorous life complete with torrid liaisons with co-stars, marriages to film personalities, and relations with Pakistani Presidents. The journey began much before Partition. Had she not crossed over in 1947, she would have continued to sing in India. How that would have criticized out in terms of the musical landscape that developed in the Hindi film business since Independence is anybody's guess. But the fact is that she did leave India and continued to weave her magic in Pakistan. She was a musical singer of the subcontinent. Mohammad Rafi, the famous singer, always wanted to make duets with Noor Jehan. Another Bollywood famous playback singer Asha Bhosle also praises her in multiple places
"The world will never see a singer like her. Just as people have not seen another Mohammad Rafi and Kishore Kumar, there would never be another Noor Jehan."