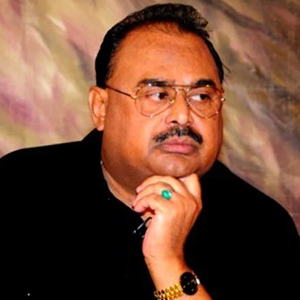 Altaf Hussain was born on 17 September 1953, Karachi, Sindh. He is the son of Nazir Hussain and Khursheed begum. Before the partition, Altaf Hussain's family used to live in Agra, British India. Later they migrated to Pakistan for a better future.
Altaf is well known in Pakistan for being a political leader under the name "Muttahida Qaumi Movement" MQM. He is famous amongst his followers as Altaf Bhai or Pir Saheb. In a short amount of time, Altaf was able to gather a good number of followers.
After migrating to Pakistan, Hussain's family changed a few homes, and eventually, in the late 1970s, they settled in Azizabad which later on, became the headquarters of MQM. 
EDUCATION AND EARLY LIFE 
Hussain received his early education from the Government Comprehensive School in Azizabad. He later enrolled in the Government Boys Secondary School to complete his matriculation in 1969.
In 1974, Hussain graduated from the Islamia Science College with a Bachelor of Science. In 1979, he graduated from the University of Karachi with a Bachelor of Pharmacy. 
POLITICAL CAREER
Altaf Hussain was known for speaking up for minorities, he wanted to give them his and the nation's full support however it started with (according to their version of people of MQM) the selection for the army.
Altaf Hussain got rejected by the officer because his parents were 'muhajir" (immigrants). Well moving on Hussain rose as a student leader and co-founded the All-Pakistan Muhajir Students Organization (APMSO) at Karachi University in 1978.
By 1984, it had evolved into a full-fledged political party — the MQM back then stood for Muhajir Qaumi Movement. However, on 2 October 1979, he was sentenced to 9 months of imprisonment.
The MQM became the platform for the Muhajirs to seek social, economic, and political justice. The party also managed to garner the support of the urban "petit-bourgeoise" and the Muhajir youth. 
The entire MQM narrative, indeed, is based on two strongly interlinked strands: a powerful ideological discourse heavily informed by religious symbolism, and brotherhood and loyalty amongst everyone in the political party. Even the oath for the MQM party is to be utterly loyal to Hussain and the people of MQM, no matter what.
Through the mid-1980s, the MQM also went through rapid weaponization, catalyzed by the 1985 killing of Bushra Zaidi, a young Muhajir student, and the Muhajir-Pashtun riots.
The Soviet-Afghan war was underway and American weapons for the Afghan mujahideen were transiting through Karachi, giving the MQM easy access to them. Moving on.
 Weaponization was already introduced and hundreds and thousands of people were ending dead, there was fear, chaos, especially in Karachi. Riots and conflicts keep rising so did the name and the power of MQM and Altaf Hussain. 
By the late 1980s, Altaf Hussain was imprisoned for the wrong ways he was opting to get the work done meanwhile the entire MQM party was working on getting the maximum seats in local bodies of election in 1987 and put great pressure on the police to release Altaf Hussain and he was released in January 1988.
Furthermore, Altaf Hussain came up with the idea of making a 5th sub nationality for the muhajirs. Altaf Hussain's support was too much for the muhajirs community, He claims that he and his party stand with equal rights and responsibilities regardless of gender, color, and ethnicity.
 In 1988 MQM had the same number of seats as PPP which was amusing because four years ago, they were on the initial stage and now MQM was the third biggest political party of Pakistan. 
KARACHI UNDER CONTROLLED- MQM
In the early 1990s, the MQM had gained enough electoral power that it joined federal coalition governments in Islamabad. But Hussain and his party's militant tendencies became an irritant for the Pakistani military.
Pre-empting a crackdown, Hussain fled to London. Several reports describe the power, the terror he wielded from the British capital, getting the city locked down with a mere phone call.
Even as a kid I remember how the entire Karachi used to shut down right after one call from Altaf Bhai. Party workers who dared to criticize him were allegedly killed.
"After being formed in 1986, the MQM used to say that in Karachi not even a leaf would bristle without Bhai's (Altaf's) permission," wrote Pakistani political economist S. Akbar Zaidi in an opinion piece for The Hindu.
A list of factors helps explain Hussain's hold over his party from London, including spiritual, ideological, and emotional connections with his party workers, social and economic empowerment of his constituents, and the brute use of force.
But it was far from rosy for Hussain and the MQM through the 1990s. Following a major crackdown by the Pakistani security forces, more than 10,000 MQM activists were reportedly killed between 1992 and 1999.
Police and army had enough of MQM so they opened a clean operation in 1992 and Hussain escaped to London a month before the operation began.
THE DOWNFALL OF ALTAF HUSSAIN. 
 Altaf Hussain and other leaders of the MQM were having cases against him which the party alleges were false politically motivated cases against MQM in the backdrop of the 1990s operation against them.
But in November 2009 all the cases were dropped under National Reconciliation Ordinance.
On 20 June 2013, a Metropolitan Police started a money laundering case against Altaf Hussain when it recovered some cash from his residence during search, On 3 June 2014 he attended the police station for an interview.
On 17 September 2016, Altaf Hussain's bail was canceled for insufficient evidence. On 13 October 2016, Scotland Yard officially, dismissed the money laundering case eventually based on lack of evidence however, later in 2019 Hussain was arrested by Scotland Yard because of promoting hateful and violent words against Pakistan.
Pakistan Tehreek-e-Insaf's chairman Imran Khan accused Altaf of inciting violence and soliciting murder in Karachi.] In response numerous complaints were filed with London Metropolitan Police against Altaf for inciting violence but again Scotland couldn't find any worthy evidence. 
Scotland Yard couldn't find any credible evidence in incitement of violence case and subsequently dropped the case.
Since 2015, he has been a fugitive from the Anti-Terrorism Court of Pakistan on charges of murder, targeted killings, treason, inciting violence, and hate speeches. He fled the country in 1992 after the crackdown against his party was launched and since then he is living in the United Kingdom.
The Scotland Yard maintains that sufficient evidence for the charges is lacking and the content of his speeches do not violate UK laws. 
On 11 June 2019, he was detained by Scotland Yard in connection with a hate speech made on 22 August 2016 under Section 44 of the Serious Crime Act 2007
The last nail in the coffin came in 2016 when Hussain called Pakistan the "cancer of the whole world". His party members passed a parliamentary resolution distancing themselves from Hussain and he was met with complete media blackout — taking away his most important medium of running the MQM and Karachi.