We witness crimes against humanity every single day around us. We hate them. Most of the time, we watch them silently and very conveniently, forget them. Some times, we take pictures and shame the wrongdoers on social media while sometimes we chose to rant in front of friends at how inhuman someone is. But it is exceptionally rare that someone stands up against cruelty and injustice.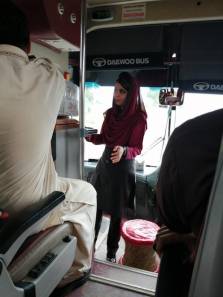 This amazing guy who boarded the bus from Islamabad is one of those very few people who not only raise their voice against the wrong but who also make sure to do everything in their capacity to stop this injustice.
Let's hear him out…
"Mai currently rasty mai hon islamabad to bahawalpur faisal movers bus no 4242, subah 8:30am per gari chali. and terminal per in logo ny hostess ki seat b aik admi ko bach di. or hostess ko kaha k 10 ghanty khary ho k jao and morha rakh dia. hum ny shor machya k yeh kia batmizi hai. and aggy sy terminal person jis ka name Tipu hai. he said yeh to aisy hi khari ho k jay gi. jo karna hai okhar lo. inho ny gari chala di. and hum motorway police ko call kia, onho jlny chakri k pass bus roki 5000 ka challan kia.
And driver ny kaha k servixe area per ja k seat ka intazam krty hain. and abhi tak kuch b ninhoa. hum ny shor macha k os admi ko hostess ki seat sy otha k morhy per bhitaya. and khwaja faisal (owner faisal mover) ko b call ki pictures b whatsapp ki mager kuch nai hoa. terminal manager Abbas ko b cal kia picture byjhi mager os sy olta hi hoa aik larki jo incharge hai hostess ki os ny hamari bus ki hostess ko cal kar k bola k tum drama karna band karo."
"Still we suffer this situation and kuch b nai hoa."
"intaha darjy ki @faisalmovers ki motameen begharti. hostess ko 15000salary per banda to buy nai kar lia, izzat e nafas ka full time janaza niqal dia ha inho ny. apni ma behno ko 10ghanty khara kr k safer kio nai krwaty. ma ny Pakistan citizen portal per b complane ki hai, Allah kary koi sun lay. ager ap ma sy koi madad kr sakta hai to plz help. she is still standing and sham 6 bajy tak safer hai.
Regards — at M2 (Motorway LHR – ISB)"
Read also: This Time Something Happened In The PIA Flight That You Will Never Be Able To Forgive Or Forget
So, the bus company Faisal Movers are the cruelest employers ever. Probably they believe that the poor girls who chose to become bus hostess have sold their self-respect and basic human rights for a meager salary of 15,000. The bus company sold even the hostess's seat to a passenger and provided a stool for her. This is a 10-hour-long journey from Islamabad to Bhawalpur we are talking about.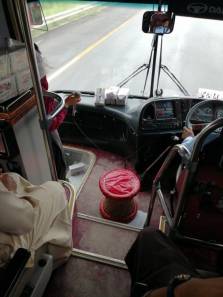 When some of the passengers protested, the terminal in charge said, "She will travel like this, do anything that you can." Now the passengers called the motorway police, and they issued a challan. Upon asking the driver, he said we will arrange something at the next stop.
You may also like this: This Careem Driver Saved His Passenger's Life Becoming A Hero And We Need More People Like Him!
But nothing happened. The passengers contacted the owner of Faisal Movers and other concerned people. But instead of taking any action, they called the bus hostess and harassed her. Disappointed in them all, the passenger complained at the citizens portal.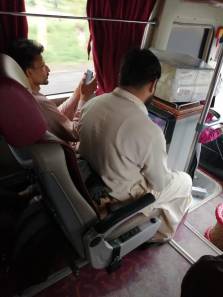 But the hostess never got her seat.
This sad incident has a positive side to it, this one passenger who refuses to accept injustice, he tried everything he could to safeguard the bus hostess's rights. We hope the authorities take notice and the poor bus hostess doesn't lose her job.
What would you have done in this situation? Let us know in the comments.