Political unrest is roiling the country at the moment, with the opposition submitting a no-trust motion against Prime Minister Imran Khan and he scrambling to gather support. But hey, when things are not going well, make memes! How else will one cope? Of course, the internet found meme fodder amidst all this.
A ray of sunshine broke through all of this as PPP Chairman Bilawal Bhutto Zardari slips up at a rally in Islamabad. Where his legs should have been shivering, his shivers were legging, and no one can get over it.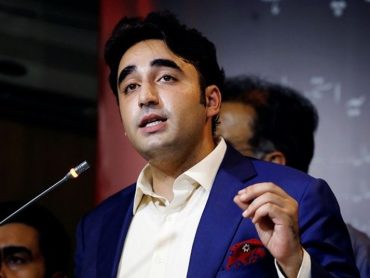 Bilawal was speaking at the rally in Islamabad on Tuesday night to mark the culmination of a 10-day Awami March. "I am shaking Islamabad. Islamabad may kaampein taang rahi hai [Shivers are legging in Islamabad]," he said.
He meant to say taangein kaamp rahein hain, but his slip of tongue launched a thousand (or more) memes.
Have a look at the viral video:
While most people could not get over the slip of tongue and some thanked the leader of the party for bringing some laughter to the world.
'Kaampein taang rahi hai'
Nothing can escape becoming a meme in this country.
"BIlawal is a gift that keeps giving," said one user.
Several found him relatable.
Looks like the politician also prevented some breakdowns.
Definitely sounds like a movie dialogue from a comedy horror movie!
It is never a dull day in this country because there is always something to make a meme out of.
The Pakistan Peoples Party (PPP) concluded its long march against the government, reaching the D-Chowk of the federal capital on Tuesday evening, as the party geared up for its final push to dislodge the government of Prime Minister Imran Khan.
Led by PPP Chairman Bilawal, the Awami Long March' had set off from the Mazar-e-Quaid in Karachi on February 27. On its way, it has had several stopovers in Sindh and Punjab, where Bilawal and other PPP leaders delivered fiery speeches against the prime minister.
The marchers were received by charged party workers. A delegation of the Pakistan Muslim League-Nawaz (PML-N) led by party Secretary General Ahsan Iqbal and party spokesperson Marriyum Aurangzeb also welcomed the PPP chief. The march entered the federal capital via Faizabad Interchange in the morning. 
It may also be recalled that the opposition alliance earlier announced its decision to march against inflation amid Covid-19 and bring down the government by entering the country's federal capital on Republic Day on March 23.
PM Khan has reportedly flown to Karachi today, Wednesday, to meet the Muttahida Qaumi Movement (MQM) leaders after opposition parties filed a no-confidence motion against him.
What do you think of this story? Let us know in the comments section below.