Prime Minister Imran Khan has reportedly flown to Karachi today, Wednesday, to meet leaders of allied parties of the ruling Pakistan Tehreek-e-Insaf (PTI) after opposition parties filed a no-confidence motion against the premier that would see the fall of his government if the request gets a majority vote in parliament.
The Pakistan Democratic Movement (PDM), an alliance of opposition parties, announced last month that it planned to topple the Khan government through a vote of no confidence in parliament.
The opposition leaders formally submitted the request to the National Assembly Secretariat on Tuesday. The following day, Khan scrambled to meet senior officials of his party, including the attorney general of Pakistan and chief minister of Punjab, Usman Buzdar.
Buzdar's removal from office has been demanded by both opposition parties and disgruntled factions of the ruling party. They accused him of poor leadership and mismanagement of Punjab, the largest and richest province.
Local media reported that Khan assured Buzdar he would continue as CM until the end of the PTI's term in office. Speaking to Dawn News, Information Minister and close Khan aide Chaudhry Fawad Hussain said the opposition would be defeated. "The government will not be ousted, and will emerge stronger," he quoted Khan as saying.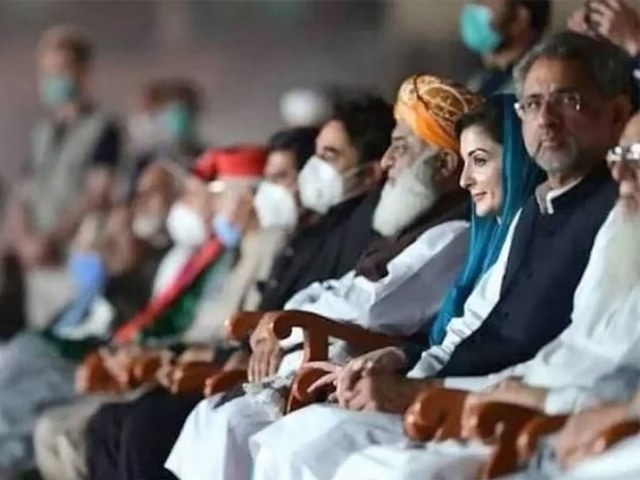 "Bringing a no-confidence motion is their [opposition's] constitutional right," Foreign Minister Shah Mahmood Qureshi said in a statement on Tuesday. "We will fight them constitutionally, legally, and politically and defeat them, God willing,"
Qureshi said Khan was an elected prime minister given a huge mandate by the people of Pakistan in 2018. "I am sure all members of the party will make the right decision and will support Imran Khan in their decisions."
PM Khan to meet the allied parties
Today, the PM reportedly visited the port city of Karachi to meet leaders of the PTI's allied parties — the Muttahida Qaumi Movement (MQM), and Grand Demo­cratic Alliance — and other politicians in Sindh.
The opposition needs a simple majority of 172 to win the no-confidence vote and says it requires just 11 more votes to force Khan out. The speaker of the lower house must now convene parliament within two weeks, though it could take weeks before a vote takes place.
It may also be recalled that the opposition alliance earlier announced its decision to march against inflation amid Covid-19 and bring down the government by entering the country's federal capital on Republic Day on March 23.
Maulana Fazlur Rehman noted it was important to bring down the government since it was creating economic deprivations among the people of the country.
Read More: Will The Acquittal Of MQM Founder Altaf Hussain Have Any Impact On Local Politics In Karachi?
What do you think of this story? Let us know in the comments section below.