As the Pakistan Democratic Movement (PDM) threatens the Army with a march towards Rawalpindi, DG ISPR said it will welcome them with chai pani.
Major General Babar Iftikhar, director-general of the Inter-Services Public Relations (ISPR), was answering a question at a press conference today.
"Leaders of the opposition PDM will be offered tea and snacks." PDM will be looked after if it decides to do a long march towards Rawalpindi, he said on Monday.
PDM President Maulana Fazlur Rehman recently said the opposition could turn its movement towards the army leadership.
"I don't see a reason for [them] coming to Pindi. And if at all they want to come, we will offer them refreshments (chai pani) and look after them. What more can I say?" the DG ISPR said.
Rehman had said the PDM movement would no longer target only the government. Moreover, he had said the PDM would also hit Imran Khan's "backers". Meanwhile, Rehman hinted the long march to the capital "could also be go to Rawalpindi".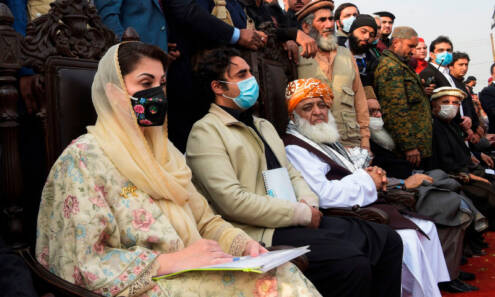 Watch the whole press conference here
'India promoting anti-Pakistan agenda'
DG ISPR said India was promoting anti-Pakistan agenda in six domains. These include abetting terrorism, targeting economy, using diplomacy, fomenting chaos, Kashmir and social issues. 
He said Indian was creating instability in Pakistan by backing banned terrorist organizations, besides ceasefire violations along the Line of Control.
Meanwhile, talking about the Western Border, the military spokesperson said socio-economic development projects were launched in the area. He said coordinated measures were taken to secure Pak-Afghan and Pak-Iran border.
What do you think of this story? Let us know in the comments section below.