Another couple in the Pakitan entertainment industry is about to get hitched. Seriously it was only a matter of time and was quite clear as day that Iqra Aziz and Yasir Hussain will be getting married sooner or later and it finally happened.
Iqra and Yasir showed up at an award show looking sharp. Yasir sometime in the show got down on one knee and proposed to Iqra. The video of the proposal has taken the internet by storm and honestly, it is quite adorable.
The way he gets down and asks her "Mujh sey shaadi karo gi?" is so filmy. Iqra probably in a state of shock at the sudden proposal was taking her sweet time when Yasir asks her, "Han bolo bauhut besti ho jaye gi yahan" to which she immediately nodded and hugged him.
Look At These Madly In Love Cuties Declaring Eachother As Their Own:
Exclusive: #YasirHussain proposed #IqraAziz at #LSA2019!! Omg this is so cutee🙈😍 #LSA #LuxStyleAwards #LSA2019 #LuxStyleAwards2019 #LSA19 pic.twitter.com/TEsjEslIpt

— Showbiz & News (@ShowbizAndNewz) July 7, 2019
Their Instagram feed is definitely couple goals. Iqra and Yasir openly displayed their blissful togetherness online and were constantly speculated to be secretly engaged already. However, they made sure to loudly announce their engagement to the entire nation at the most awaited award show putting all their fans in a hysteria.
Another Video Of The Proposal Where Yasir Embraces Iqra Has Gone Viral As He Continues To Devour Her With His Smooches:
Aaaaand that didn't sit well with several Pakistanis attracting quite a lot of snarky remarks but many celebrated their happiness and wished them well for their future together.
#yasirhussain proposed #IqraAziz officially during #LSA19 tonight. Congratulation the them .❤ pic.twitter.com/gCsczpflDC

— All Pakistan Drama page (@Allpakdramapage) July 7, 2019
They Definitely Awoke Public's Hidden Phoppos Inside:
A lot of the people suggested them to 'get a room' and called their proposal a cheap stunt.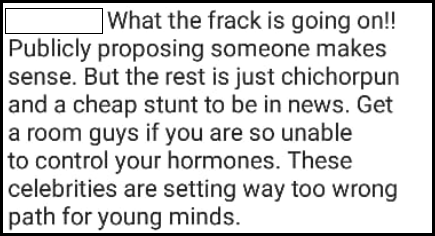 Haters consider Iqra and Yasir an attention seeking couple that is desperate for fame.

Not sure what the first part implies but the angry user is worried about the younger generation and how wrongly these celebrities are influencing them.

Unethical and lack of education? Well well well not sure how that relates to a few kisses that aren't in line with our culture and religion, yes but not sure how that makes one uneducated.

Yasir's actions were bold for our society and it was expected of Pakistanis to go completely off on it and they sure typed their hearts out. Nonetheless, we wish them a happy and blessed future. Iqra will surely make a gorgeous bride!
What are your thoughts on this? Let us know in the comments below!