The Pakistan Air-force has just acquired 8, F-16 Fighter Jets from the United States of America. On Saturday, the Indians caught fire from the topnotch deal Pakistan has just made. And mind you, this isn't the first time India wore a bib and a diaper. They have always cried about something or the other. However, in this deal it wasn't the Aircraft that hurt the Indians – it was the Pakistan-USA ties that are coming to a long halted beginning.
The Indian Foreign Secretary showed his displeasure of the deal to the US Ambassador, saying:
"We are disappointed at the decision of the Obama Administration to notify the sale of F-16 aircrafts to Pakistan. We disagree with their rationale that such arms transfers help to combat terrorism."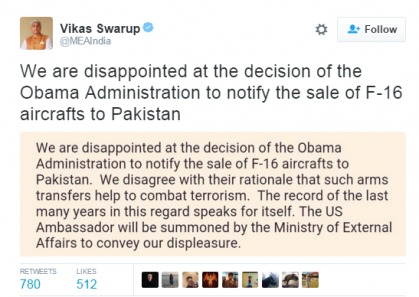 The US Officials made a quick reply by saying that:  "F-16s are the right platform to support Pakistan's counter-terrorism and counter-insurgency operations."
So, that pretty much summed up the case. A tight white slap on the face. And as we said, this wasn't the first time Pakistan pissed India off..
1. Since 1947, India has been crying about Kashmir. They've never given it up, even though deep inside their hearts, every Indian knows that the people of Kashmir only want to be a part of Pakistan.
2. When the Delhi attack happened, before ever identifying the people, India had already held Pakistan responsible. They created a terrorist form within a small village and labeled him a Pro-Pakistani, whilst Kasab was their own creation.
3. India was left frustrated when Pakistan bought 8 Chinese submarines. This was the most expensive arms deal from China. The deal cost about $5 billion.
4. Indian media was actually very angry on Pakistani Lollywood's super-hit Waar. They stated that we are the ones who fund the Taliban and then we made a movie about it. Really India?
5. Shiv Sena's anger at Pakistani artists' influence in India is laughable. They recently sent back Ghulam Ali Sahab. Also, other artists have faced troubles in India, singers like Rahat Fateh Ali Khan and Atif Aslam.
6. India have often raised the case of Pakistan funding and safekeeping Daud Ibrahim. From fake telephone calls to actual RAW agents looking for the D-Company.
7. Pakistan and China's deal on CPEC pissed India off to the limit. If CPEC goes through, India will be the second choice of trade in the sub-continent, that too through Chabahar, Iran.
To be fair, even Pakistan hasn't really left India behind in all these things. We might always keep arguing with each other on everything. However, the fact remains – we are neighbors and we'll stay neighbors.