It is that time of year again! Yes, we are all highly anticipated for the much sought after El-Clasico that is going to held at Camp Nou, Barcelona tonight.
The two fierce rivals face each other again in what is going to be a cutthroat face-off like all past times. All sports fanatics have shoved their attention to this game. The streets are going to be nearly empty, the markets closed, cafe's and public places will arrange screening events and people will be desperate to reach home before it is kick-off.
Every area around the world that is comprised of sports fans will be a ghost town. You see it; our own Pakistan will prep up to catch the El-Clasico.
The la liga fixture will see both sides competing for a key outcome that will be decisive for their position on the league table. Real Madrid leads the league table by 33 points, while FC Barcelona trail behind with only 27. Barcelona has faced 2 defeats at the hands of Celta Vigo in early October and Alaves during September, their first defeat of the season.
Barcelona has also drawn thrice, first to rivals Atletico Madrid, followed by 2 more draws in their last 2 games. It is a little early to rule out Barcelona as recipient's of defeat due to their latest results. We are well aware of the possibilities of Barcelona mustering shocking comebacks, evident of the past. They simply aren't a side to set expectations about pulling out a mediocre display during an El-Clasico fixture.
While, Real Madrid, the only way they seemed to be headed is up. Top of the league table and with Cristiano Ronaldo reigning as the top scorer of the competition. Currently, Madrid is unbeaten in 32 games and their latest fixture saw them scoring 2 goals past Sporting Gijon with their main man, Ronaldo bagging two goals.
Madrid also has overcome the tenacity of rivals Atletico in the past league derby, which is basically a summation of confidence Madrid marches on with. With world class players coming at every key position, they are surely a fierce side to face Barcelona.
But where these giants stand with their strengths, they also cast certain weaknesses that are going to be a key factoring measuring up the result of tonight's El-Clasico.
Ahead of El-Clasico, let's find out where these two sides stand:
Strengths and Weaknesses of Barcelona and Real Madrid:
Barcelona have MSN (Messi, Suarez and Neymar) up front in attack, which constitutes as their biggest strength
Barcelona is playing at home. Surely the chants, songs, and pressure build-up at Camp Nou by home fans is going to put hefty pressure on Madrid
Their style of play involves a lot of passing or as it is said, "tiki taka". This puts a lot of pressure and frustrates the opposition
Andres Iniesta – the key man for Barcelona. The mature ranger in the midfield always spawns magic out of nowhere. He was supposedly sidelined due to a knee injury but Manager Luis Enrique confirms his availability in the following words: "The biggest news is that we're getting Iniesta back, which has extra importance since he's our captain. If there's one player who helps most with our style, it's him."
Luis Enrique's tactical masterclass: it involves giving less room to Madrid by closing in and leaving fewer spaces. Ultimately, frustrating the players who seem desperate to break in
However, Barcelona lacks something. They lack the ability to anticipate sudden counter-attacks played by Madrid
Barcelona is always immersed in attacking by closing in, while Madrid likes to sit back and fire on the counter. Barcelona seems to concede goals on counter-attacks in an El-Clasico.
Barcelona goalkeeper may not be called world class. Ter Stegen is most likely to start and Madrid seems to know how to tame him.
Real Madrid is showcasing their confidence in Ronaldo who seem to be charging in. The eminent victor for the best player of the year award in January, Ronaldo is surging with utmost confidence. Scoring goals after goals, he is still a machine at 31. Not to forget, he scored a hat-trick past Atletico, which also reinforces his confidence to face another strong side in tonight's El-Clasico.
Their holding midfielder Casemiro returns from a long injury spell. The Brazilian is a major and proven threat against Barcelona.
Madrid has pace on wings, nothing like anything. Marcelo and Ronaldo will run like crazy to create chances. They are hardest to stop on counter attacks.
Their 32-game unbeaten run is surely going to be a factor. It mentally adds a capacity among players and coach.
Madrid will still lead the league table should they lose. This is sort of a relief that they will be resorting to, and certainly, lifts off some of the pressure.
But, no Gareth Bale for Madrid. That means, no pace down the right flank. That also means no bolstering shots from the right flank as well. That also means a boost for Barcelona as their game plan would not involve stopping the world-class Bale
Missing Toni Kroos as well which will be a maddening backdrop for them as no one is going to provide those super accurate long balls for Ronaldo to jump high above and head in. Danilo and Coentrao are also set to miss out the El-Clasico.
Messi vs. Ronaldo
How can we forget? Half of the hype about this match is thanks to these individuals. We should be grateful that another year, another weekend, another El-Clasico and another time Messi and Ronaldo face each other.
Messi is remarkable seasoned by performances from last times. Ronaldo does not come languishing as well. Messi 'the magician' is surely going to induce is ability into Barcelona's attack, causing disaster for Madrid. Ronaldo is going to run, pass, run, pass, play tricks and shoot, meaning, being unstoppable every time he gets the ball on his feet. Ronaldo has scored a staggering goal in former El-Clasico which also fortifies is present confidence.
All eyes of the viewers are going to be on these two. Imagine being either of the two tonight. Certainly, it cannot be said for everyone that the pressure induced feels like nothing, because they both seem to take it as routine.
Zidane vs. Luis Enrique
Times have changed. The current people who are managing both the clubs once competed against each other and pulled master classes. Tonight, they are going to be put on the run for their management masterclass. Zidane joined Madrid on January 4th, 2016, and since his arrival, he seems to come nothing short of brilliance. Beating former manager Carlo Ancelotti's unbeaten record, Madrid is cruising with a 32-game unbeaten run.
While Luis Enrique, nothing less can be set about him because he already has proven a lot. In fact, his debut El-Clasico saw a victory. He seems to have provided a maturity, an impulse that Barcelona always needed after the departure of Pep Guardiola. Enrique has won almost everything with the club and looks forward to facing another challenge of his career. Pressure on him because the result will be significantly decisive to the league table.
Possible line-ups:
Barcelona XI: Ter Stegen, Vidal, Pique, Umtiti, Alba, Busquets, Rakitic, Iniesta, Neymar, Messi, and Suarez.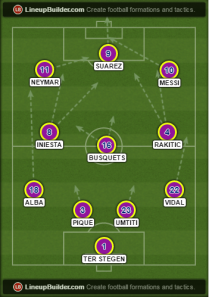 Real Madrid XI: Navas, Carvajal, Ramos, Pepe, Marcelo, Isco, Modric, Casemiro, Ronaldo, Vazquez, and Benzema.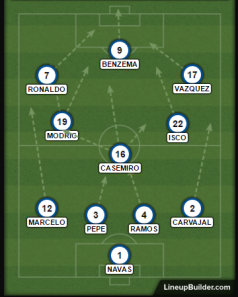 Many predictions have been made. Fans of either side rooting for their favorites everywhere. Statistics and analysis have all come to play and conclude that anything can happen. That is the beauty of El-Clasico, one of the elements that keep fans from all over the world clung to it.
So, clear out your schedule at 08.15pm on local television because El-Clasico isn't something to be missed tonight!