A Palestinian citizen besieged by the Israeli occupation has asked Prime Minister Imran Khan for help in treating his ailing daughter.
Walaa Yousif, 15, daughter of Yousef Hassan, is a resident of the besieged Gaza Strip and is suffering from congenital bone deformation disease for the last 14 years. The aunt of Waala shared Hassan's letter. In the letter, the father asks Imran Khan for help in treating his daughter so that she can lead a normal life.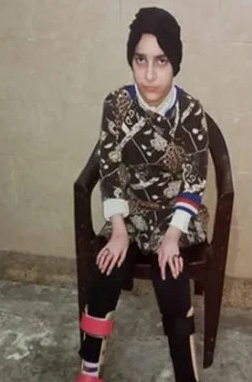 "I am Yousef Hassan Assad, a resident of Gaza, occupied Palestine. My 15-year-old daughter Walaa Yousif is suffering from congenital bone deformation," reads the letter. "The disease is dubbed as "Multiple Arthrogryposis with DDH". The girl urgently needs a series of surgical interventions with timely follow-up."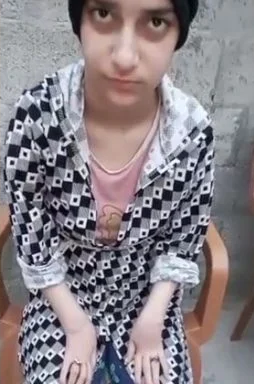 "Fortunately, the facilities at the Jinnah Hospital Karachi and other medical centers in Pakistan can heal little Walaa. I am much hopeful that the surgery could help her live a normal life again," the father continues. "At this moment, it is my humble request to Prime Minister of Pakistan Imran Khan to provide medical assistance on a humanitarian basis for the ailing girl. Kindly do not hesitate if you need further information from me or my doctors in Palestine."
Take a look at it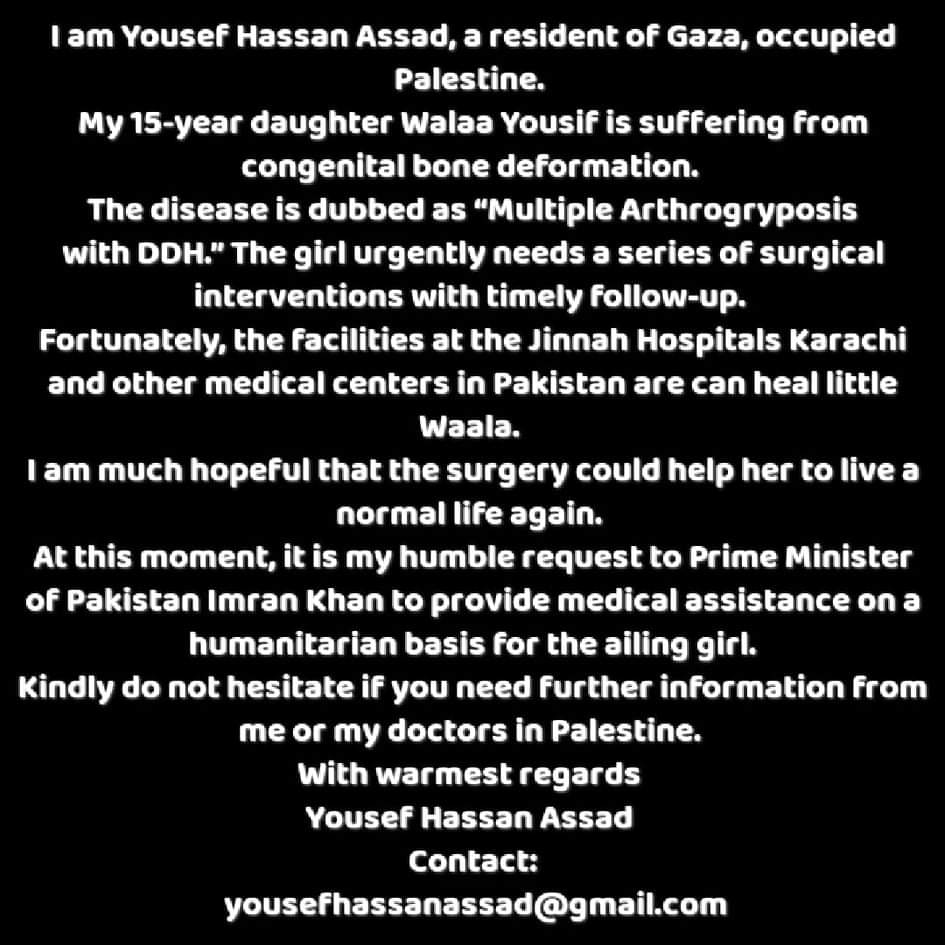 The 15-year-old's aunt has requested the prime minister, Foreign Minister Shah Mehmood Qureshi, Sindh Governor Imran Ismail, and PPP Chairman Bilawal Bhutto Zardari to help in the treatment of her niece.
It may be recalled that the besieged Palestinian territory of Gaza has been under illegal Israeli blockade for the past 14 years. Since 2007, the Palestinian territory has been under a crippling Israeli blockade. Moreover, more than two million Gazans remain forced to live in the world's largest open-air prison due to the siege.
As a result of the Israeli blockade, there is a severe shortage of medicine in the hospitals of Gaza. In addition to that, electricity is also not available even for the operation theatre.
A resurgence in violence against Palestinians has the world talking. Hundreds of Palestinians were wounded in attacks by Israeli forces on the Al Aqsa Mosque compound and protests against the illegal occupation of Sheikh Jarrah.
Clashes broke out between Palestinian protesters and Israeli police outside the Old City of Jerusalem in May. It erupted an 11-day-long violence genocide against Palestinians.
What do you think of this story? Let us know in the comments section below.