Israeli police fired rubber bullets and stun grenades towards rock-hurling Palestinian youth at Jerusalem's Al-Aqsa Mosque on Friday amid growing anger over the potential eviction of Palestinians from homes on land claimed by Jewish settlers.
More than 170 Palestinians have been injured after Israeli police stormed the Al-Aqsa. Worshippers dispersed elsewhere in occupied East Jerusalem, as weeks-long tensions between Israel and the Palestinians over Jerusalem soared again.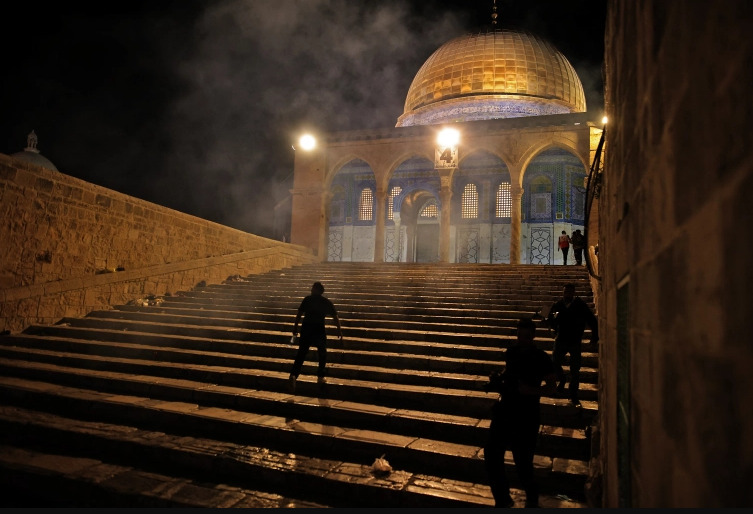 At least 205 Palestinians and 17 officers were injured in the night-time clashes at Islam's third-holiest site. Around East Jerusalem, Palestinian medics and Israeli police said, as thousands of Palestinians faced off with several hundred Israeli police in riot gear.
Tension has mounted in Jerusalem and the occupied West Bank during Ramadan. With nightly clashes in East Jerusalem's Sheikh Jarrah. It is a neighborhood where numerous Palestinian families face eviction in a long-running legal case.
WATCH:
Earlier in the day, tens of thousands of Palestinian worshippers packed into the mosque on the final Friday of Ramadan. Many stayed on to protest in support of Palestinians facing eviction from their homes on Israeli-occupied land claimed by Jewish settlers.
But following the evening meal that breaks the Ramadan fast, clashes broke out at Al-Aqsa with smaller scuffles near Sheikh Jarrah, which sits near the walled Old City's famous Damascus Gate. Police used water cannon mounted on armored vehicles to disperse several hundred protesters gathered near the homes of families facing potential eviction.
'Calm down & be quiet'
An Aqsa official called for calm over the mosque's loudspeakers. "Police must immediately stop firing stun grenades at worshippers, and the youth must calm down and be quiet!", Reuters news agency quoted them as saying.
The Palestinian Red Crescent emergency service said 88 of the injured Palestinians were taken to hospital. Police said some of the six officers injured needed medical treatment.
Twittersphere raises its voice
During the past week, residents of Sheikh Jarrah, as well as Palestinian and international solidarity activists, have attended nightly vigils to support the Palestinian families under threat of forced displacement.
Israeli border police and forces have attacked the sit-ins using skunk water, tear gas, rubber-coated bullets and shock grenades over the past few days. Dozens of Palestinians have been arrested.
The UN has said Israel should call off any evictions and employ "maximum restraint in the use of force" against protesters. Israel's Supreme Court will hold a hearing on the long-running legal case on Monday.
Last year, Israel bombed Gaza for days. Moreover, the Palestinian territory has been under a crippling Israeli blockade since 2007.
Story Courtesy: BBC
What do you think of this story? Let us know in the comments section below.