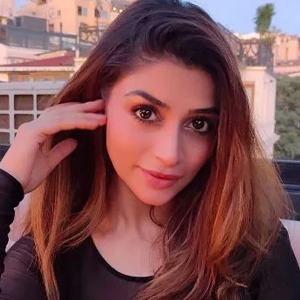 Zoya Nasir biography
Zoya Nasir is a new star of the Pakistani Showbiz Industry who made her entry to this field quite late, yet with a few dramas she acted in, she succeeded in making a prominent place. Her charisma in the drama serial 'Zebaish' rose her to prominence. The other reason for her dominance is her friendship with German V-logger Christian Betzmann that in recent times took the internet by storm after converting to Islam.
Renowned television actress and entrepreneur Zoya Nasir, who is playing the lead role of Hania on a drama serial has also shared her life experiences of overcoming fears at the esteemed international platform TEDx Talks organized by Government College University (GCU) Lahore to share ideas worth celebrating and spreading.
She is also a well-known makeup artist, actress, and model. She got popularity for her super hit role Hania. She is a famous makeup artist. She started her career in the field of fashion and later on start acting. Here you can have some more interesting facts and comprehensive biography of Zoya Nasir.
Fact file
Birth Year – 1990
Birth Place – Lahore, Pakistan
Age – 30
Father – Nasir Adeeb
Mother – Amna Ulfat
Siblings –
Brothers- Kamran Nasir, Jani Nasir
Sister- Sasha Nasir
Marital Status – engaged to Christian Betzmann
Nationality –Pakistani
Religion- Islam
Occupation – actress, beautician, and model
Years active – 2018-present
Background
Zoya is the daughter of notable Scriptwriter Nasir Adeeb, yet she had to face difficulty joining the Industry. Besides this, she also runs her Salon in Karachi that is her second biggest passion. Zoya is a workaholic who loves to practice new things daily and keeps motivating herself to achieve something big. Prior to her jumping onboard the play, Nasir had been working as a junior partner at Sabs, and also owns salons in Miami, New York and Lahore. She visits America every summer to look after them. She proudly says;
"The transition has been very surreal; I love both the professions that I have adapted,"
Zoya also has the intention of treating her fans and followers with something big as once she can make a mark on television, she would love to make her big-screen debut.
Educational qualification
School- Garrison academy for girls
College- She went to Lahore College of Arts And Science (LACAS) for secondary education.
University- She gets her higher education from the fashion institute of technology, New York in cosmetology.
She's a well-educated and highly talented girl.
Current Marital Status
She is currently engaged to Christian Betzmann; they both are in with acquaintance Shahveer. She met Christian Betzmann through Shaveer . Christian and Zoya went to the Bahamas, and he proposed to her on 19th February 2021.
Previously got married at a very early age and got divorced in her early 20s as well.
Professional Life
Initial Profession
Zoya started her career as a beautician and opened her Salon in Karachi. It was one of her biggest wishes to become a beautician that she fulfilled. It took a little time for her to make her entry into the Showbiz Industry as an actress. She also runs her Youtube channel where she posts videos regarding makeup etc.
As An Actress
Hania
In 2019, her drama series 'Hania' came where she portrayed a wife suffering from domestic violence from her husband. Humayun Saeed produced it, and the casts include Junaid Khan, Osama Tahir, and others. 
Deewangi
Later on, she appeared in a blockbuster drama serial 'Deewangi, 'opposite  Danish Taimoor. She appeared with exceptional acting in this serial. 
Zebaish
Zebaish is another big project of Zoya Nasir with famous actors Asad Siddiqui and Zara Noor Abbas. Meray Apnay is a family drama of Zoya Nasir with fantastic acting.
Chambeli
The short film titled 'Chambeli' is an amalgamation of mystery, suspense, drama, and deceit. It depicts the life of a couple who in order to escape the boredom of COVID lockdown, decide to go to a guest house for a holiday getaway. What follows is an exhilarating and horror-filled stay at the 'haunted' guest house where the couple turns on each other to scare the partner with the story. Penned by Shahid Doger, the short film has been co-produced by Mahib Bukhari and Ali Hussain. The short film is directed by Awais Sulaiman and stars Aijaz Aslam and Zoya Nasir in the lead and Zohreh Amir and Tanvir Abbas in pivotal roles. Keeping the viewer's inclinations for content consumption, See Prime is streaming back to back original content and this latest release 'Chambeli' has been out already on See Prime's YouTube Channel
Current life
Zoya Nasir has gained the hearts of her followers. She is also very active on social media. She has a fan following on social media. Everyone is waiting to watch her new drama serial. Her followers are waiting to see her again and again on television and enjoying her acting. She has become a favorite actress of many people. With her hard work and talent, she has gained a lot of reputation in showbiz.
According to Zoya, she has been getting good feedback, and she is grateful that her potential is being noticed. While Zoya has signed on for her next TV project, she also works at her mother's salon simultaneously. She has three salons in Miami, Boston and New York and she visits America every summer to look after them.
Highly applauded as a beautician and an actress, Zoya Nasir, has now joined the world of YouTube and would be sharing her skills with the audiences. The actress made her debut on the video-sharing platform with a video on her 'go-to makeup look.' Talking about this new step, Zoya Nasir said,
"I want to give back all the love that I have been receiving from my wonderful fans and wanted to make something where they could see another side of me than what they see on their screens. This channel is all about beauty, lifestyle- all things that I love and want to spread around too!"
The actress also revealed her upcoming salon, which was an additional surprise for her fans. She has previously reached 8k subscribers in a day with over 11k views on her first video.