As we have already identified Katrina Kaif, Madhuri Dixit, and Aishwariya Rai Bachan's lookalikes in Pakistan. We believe we have also spotted lookalike of Priyanka Chopra But that person has always been under our nose, yes, we are talking about Zhalay Sarhadi.
As an actor, Sarhadi has worked on various successful projects, including Uraan, Madiha Maleeha, Aks, Digest Writer, and Rang Laaga. In addition to being the niece of television artist Khayyam Sarhadi, the actor is also the granddaughter of director Zia Sarhadi.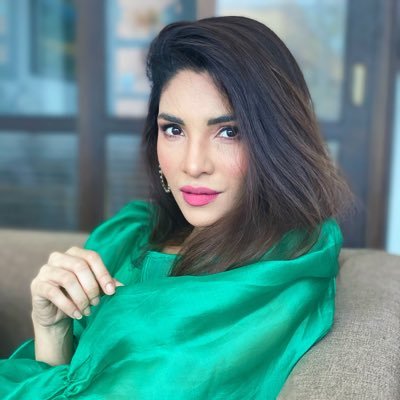 Sarhadi is all about keeping it real. The film star did a Q&A session on Instagram lately. Sarhadi responded in a super sweet way to some really fun questions posed by fans and followers.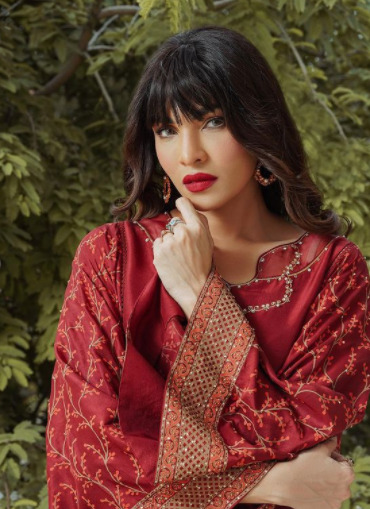 "You look like Priyanka Chopra same to same [sic]," wrote one user. Well, the Digest Writer actor gave quite an interesting response to this. Apparently, this is not the first time someone has compared her to Chopra.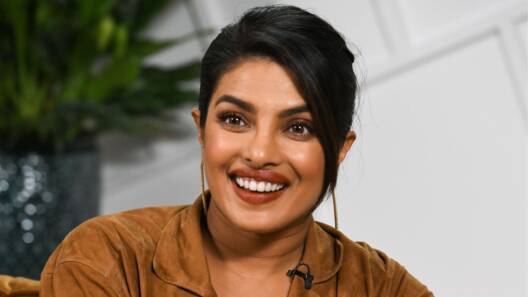 "Ahh I have been told this a zillion times…," she replied. "I could be related to her, distantly."
Have a look at it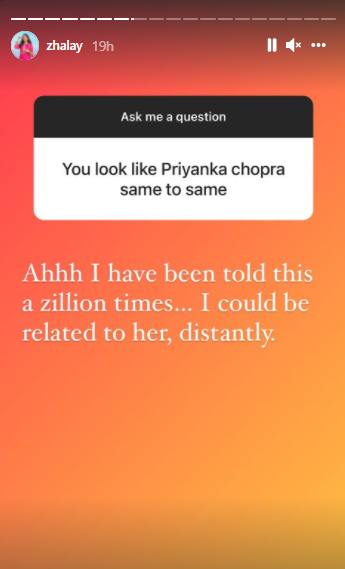 Interestingly, do you know that Zhalay Sarhadi was approached by Bollywood to play the body double of Priyanka Chopra? The Jalaibee star claimed so in an interview a few years back.
"I started working the same year that Indian channels got banned in Pakistan and Priyanka became Miss World," she said. "I remember, I was hosting a show back then and everyone thought it was Priyanka and not me."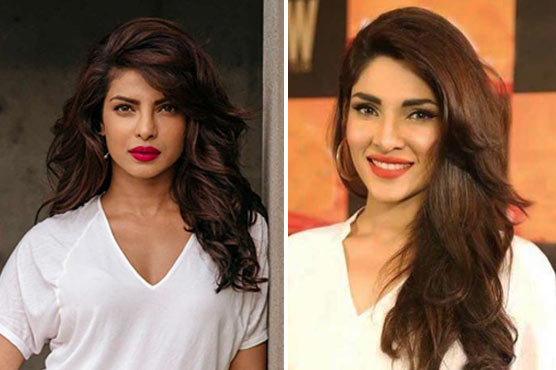 "It has been this way ever since that time. I bet even Priyanka knows about me by now," quipped Sarhadi. During the confusion and comparisons between the two, Sarhadi shared that once her Indian co-star shared her images with his Indian friends and agents, who in turn approached Sarhadi to play Chopra's double. "The agent asked him, 'Who is this? Priyanka ki cousin aisi toh nahi hai [she can't be Priyanka's cousin]'," shared Sarhadi.
In our Pakistani entertainment industry, there are a few actors and actresses that look alike to their Indian counterparts. As much as Sarhadi seems to take pride in her similarities to Chopra, Nausheen Shah seems to think the opposite upon hearing she is compared to Kareena Kapoor, one of the most beautiful stars of Bollywood.
Being compared to the Bollywood diva feels like an insult to Shah. "Another compliment that feels like an insult to me is when people compare you with other actors," said the Dugdugi actor. "I don't like that. People compare me with Kareena Kapoor." In fact, she also joked that Kapoor has "big teeth".
What do you think of this story? Let us know in the comments section below.