No matter on side of the border you live in, whenever it comes to supporting each other Pakistani and Indian celebrities showcase it openly.
There have been a lot of incidents took place where Pakistani artists or Indian artists exhibited a great gesture by supporting each other.
The recently same scenario took place when Zara and Durefishan stood tall with Bollywood actress Alia Bhatt against sexist comments.
It all happened when Ali Bhatt called out an Indian publication that participated in sexist commentary rooted in patriarchy, many of the netizens stood for the new mother-to-be and among them, Zara and Durefishan are also included.
Zara and Durefishan stood with Ali Bhatt
On this stance, Pakistani actors Zara Noor Abbas and Durefishan Saleem also made the cut with the duo sharing their personal experiences and also giving a shout-out to the Gangubai Kathiawadi actor. They took the support on each other's respective Instagram accounts sharing Alia's furious and angry post emphasizing the apparently misunderstood fact; that women do not have to prove anything to anyone.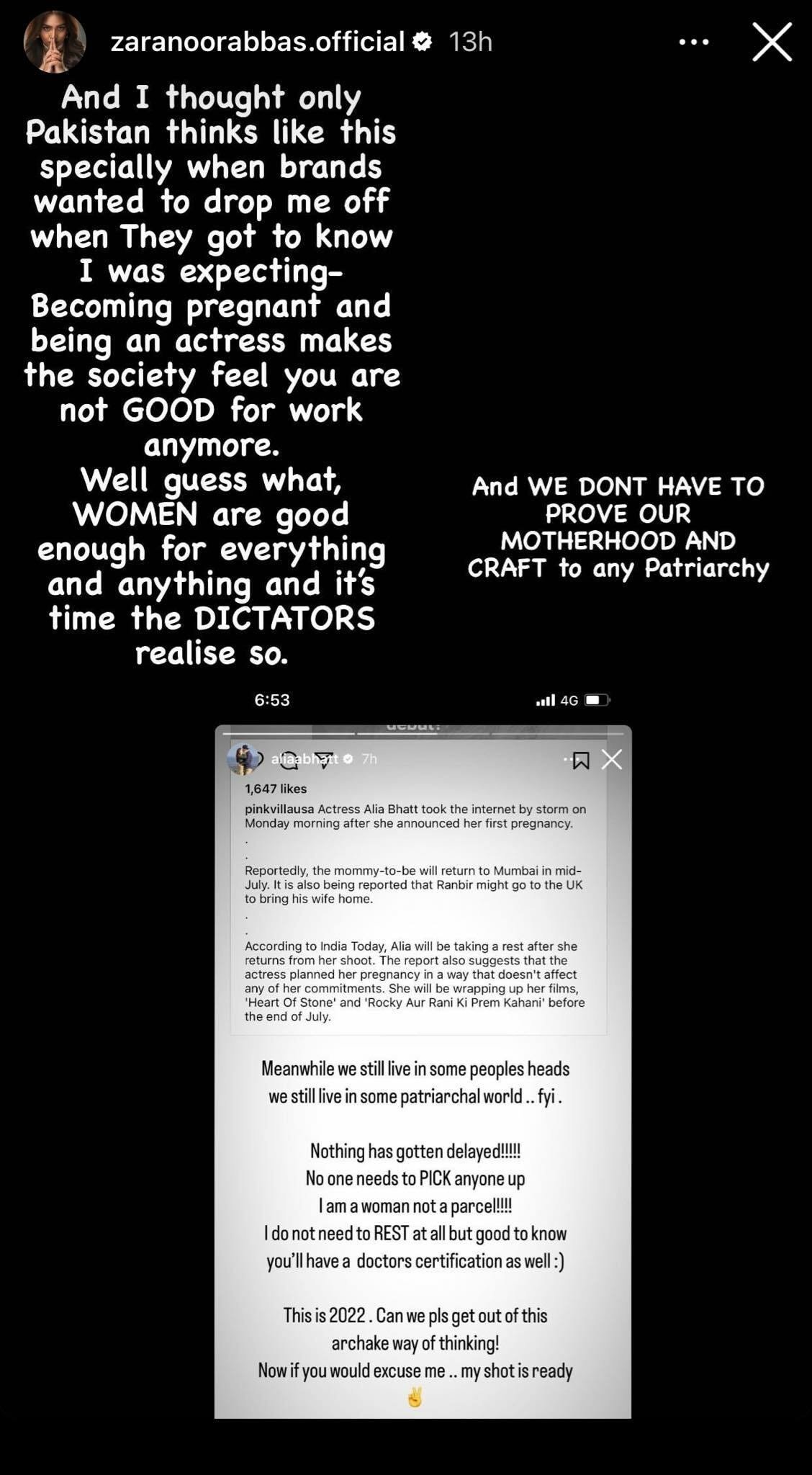 "Becoming pregnant and being an actress makes society feel you are not good for work anymore. Well, guess what, WOMEN are good enough for everything and anything and it's time the dictators realize so. We don't have to prove our motherhood and craft to any patriarchy," the Badshah Begum actor shared.
On the other hand, Saleem also put her stance on sharing that being married and becoming a mother are part of life but that does not restrict a woman from achieving their goals.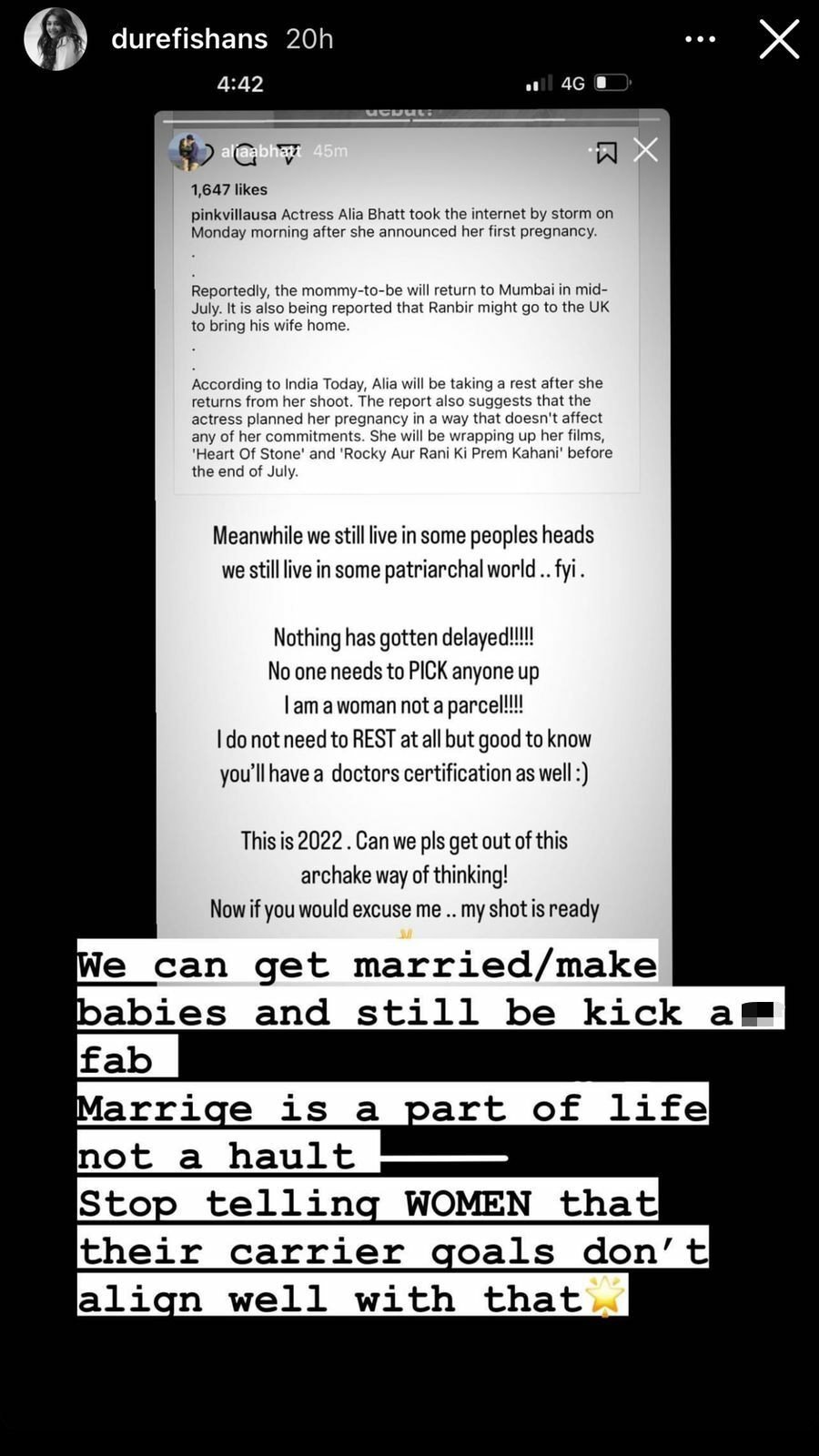 Saleem wrote, "We can get married/make babies and still be kick a** fab. Marriage is a part of life, not a halt." She also added people need to stop telling women that their career goals don't align well with that.
Background story
It all happened when Alia Bhatt and Ranbir shared the news of being pregnant. But Indian media outlets didn't publish it in a good way and spread some false rumors. They stated that she's been called to Mumbai and they have gone to pick her up.
On Wednesday, Alia Bhatt shared a post in response to Indian media outlets' fake news rumors and wrote a furious note.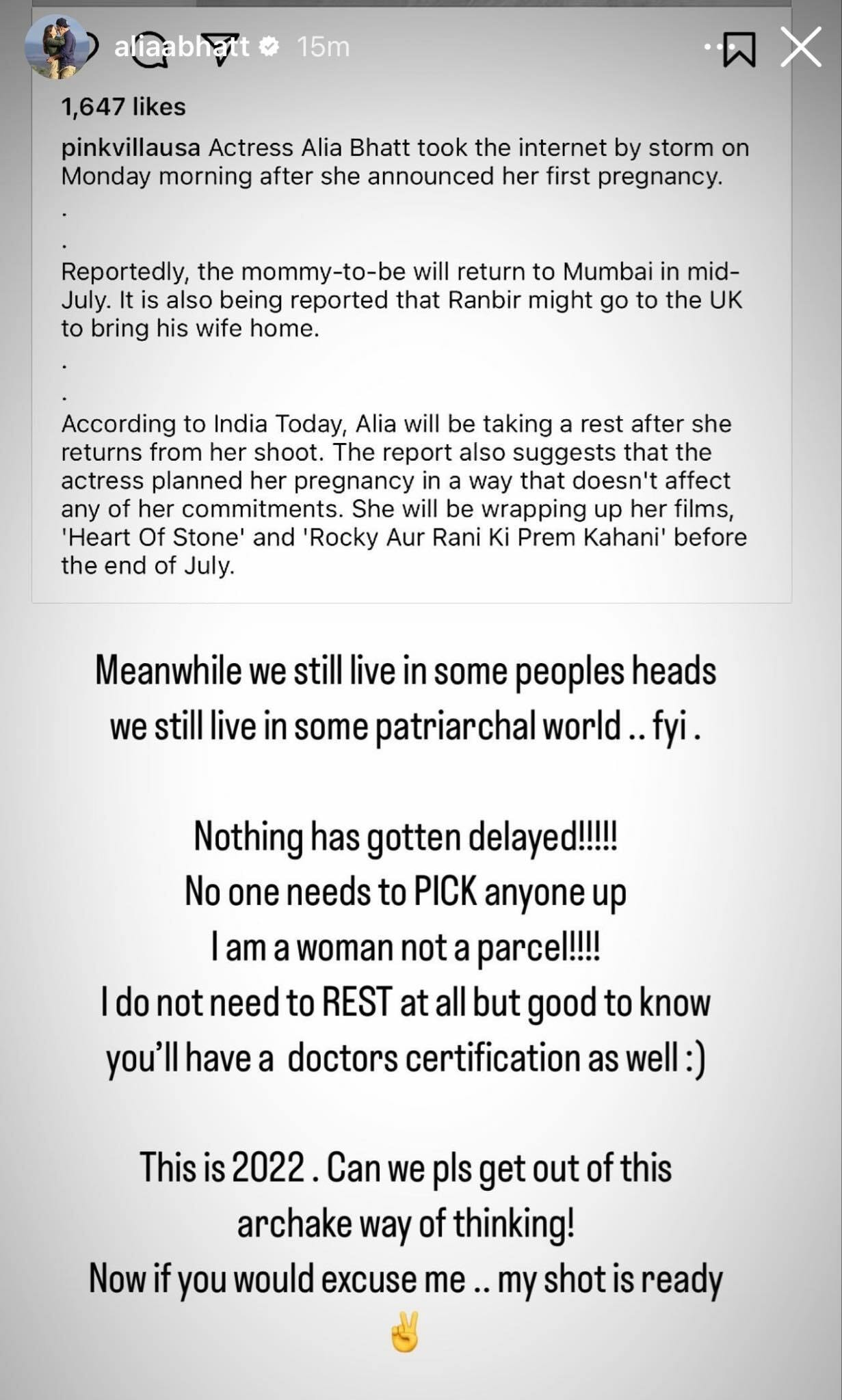 "Meanwhile we still live in some people's heads. We still live in a patriarchal world. For your information, nothing has gotten delayed! No one needs to pick anyone up."
She went on to add, "I am a woman, not a parcel! I do not need to rest at all but good to know you'll have a doctor's certification as well. This is 2022. Can we please get out of this archaic way of thinking! Now if you would excuse me, my shot is ready."
What do you think of the story? Tell us in the comments section below.