The Islamic televangelist and preacher Zakir Naik took to social media recently to share a rishta ad for his son Fariq Naik. It includes a long list of unusual demands that a potential bride would have to meet.
Embarking on a search for a daughter-in-law, the non-Arabic scholar Zakir Naik shared a detailed list of requirements in a rishta ad. "I am looking for a wife for my son Fariq, a virtuous Muslim girl of good character, such that my son and his wife can be a source of guidance and strength for each other," wrote Zakir Naik.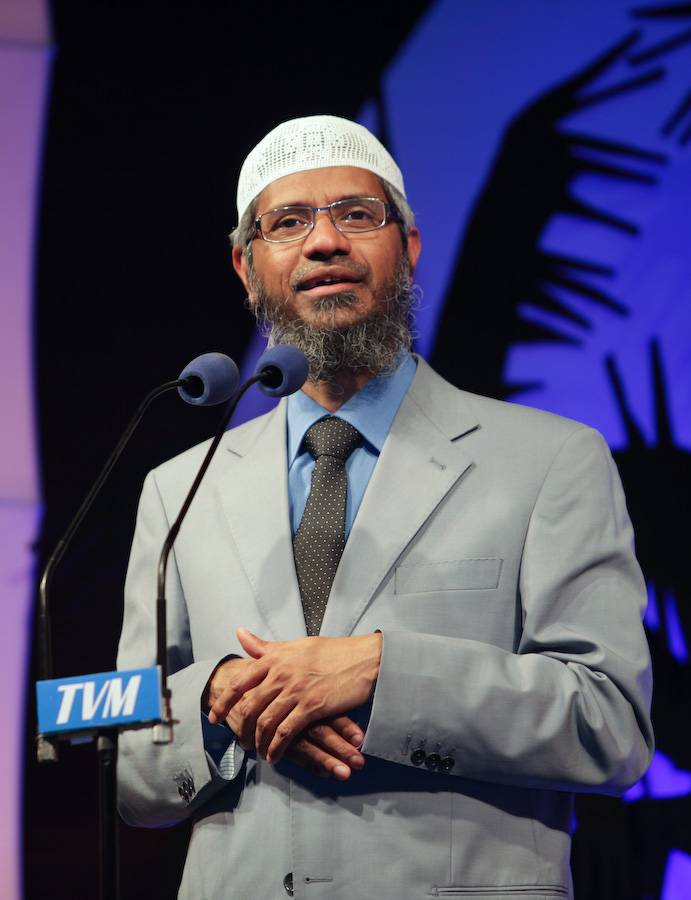 Some of the "necessary qualities" the girl must possess include: practicing Islam according to Quranic and Saheeh Hadeeth teachings, fluency in English, willingness to live in Malaysia, and a non-luxurious life, abstaining from all haram activities and being passionate about Da'wah. This list consists of further detailed requirements.
Meanwhile, the list of "preferably most qualities if not all" includes: fluency in Fus'ha Arabic, propagating Islam, bachelor's degree in any field of Islamic Studies, being associated with an Islamic organization, and etc.
"If you are the father or relative of a girl you think is eligible, and who agrees to look into this, I would humbly request you to respond to this post with the required information," said the post.
Further, the advertisement asked the interested ones to send a detailed bio of the girl, as well as a list of the qualities she is looking for in a husband, to a provided WhatsApp number.
Have a look at it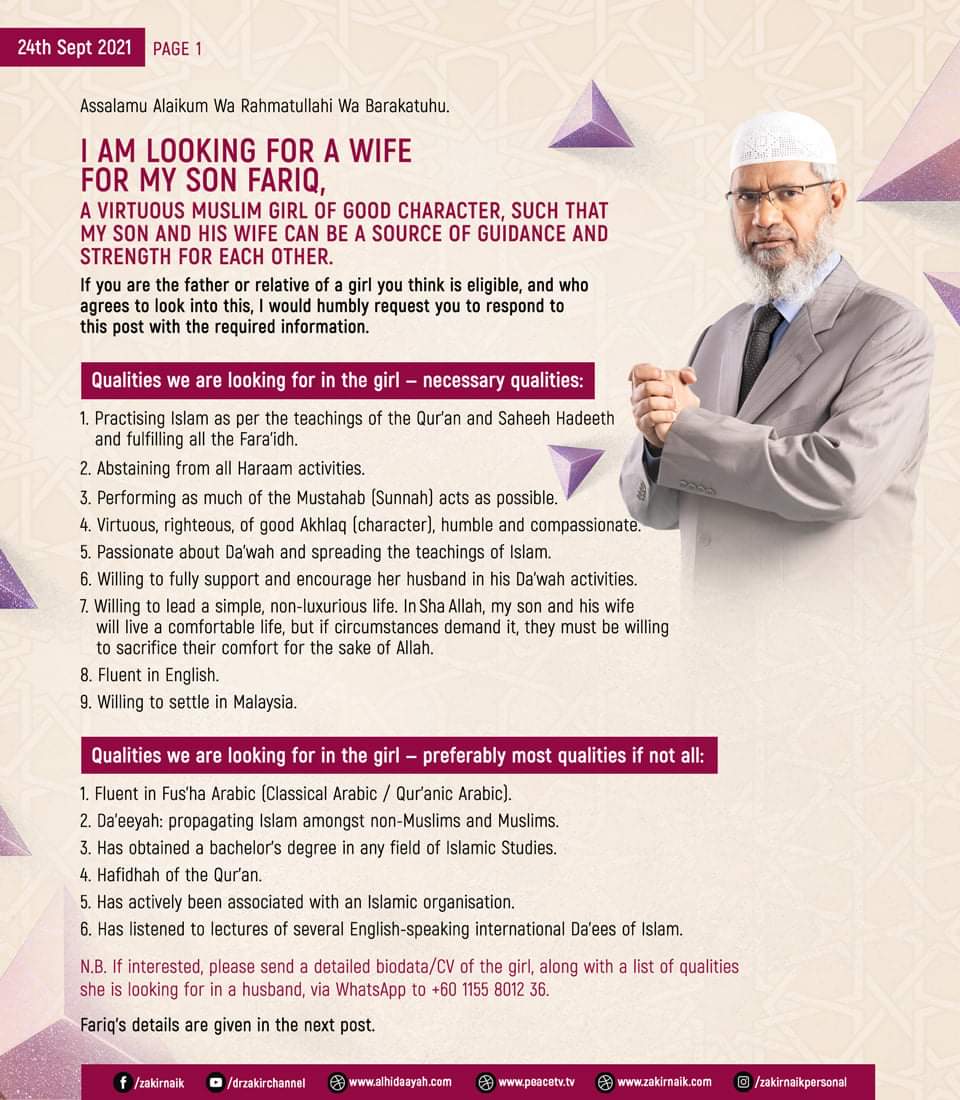 In addition to the requirements for his future daughter-in-law, he also provided detailed information about his son Fariq Naik.
Interestingly, the son's personal information included his date of birth, height, complexion, educational qualifications, personality, languages, Islamic activities, and achievements, plus information about his father, mother, siblings, and more.
Check it out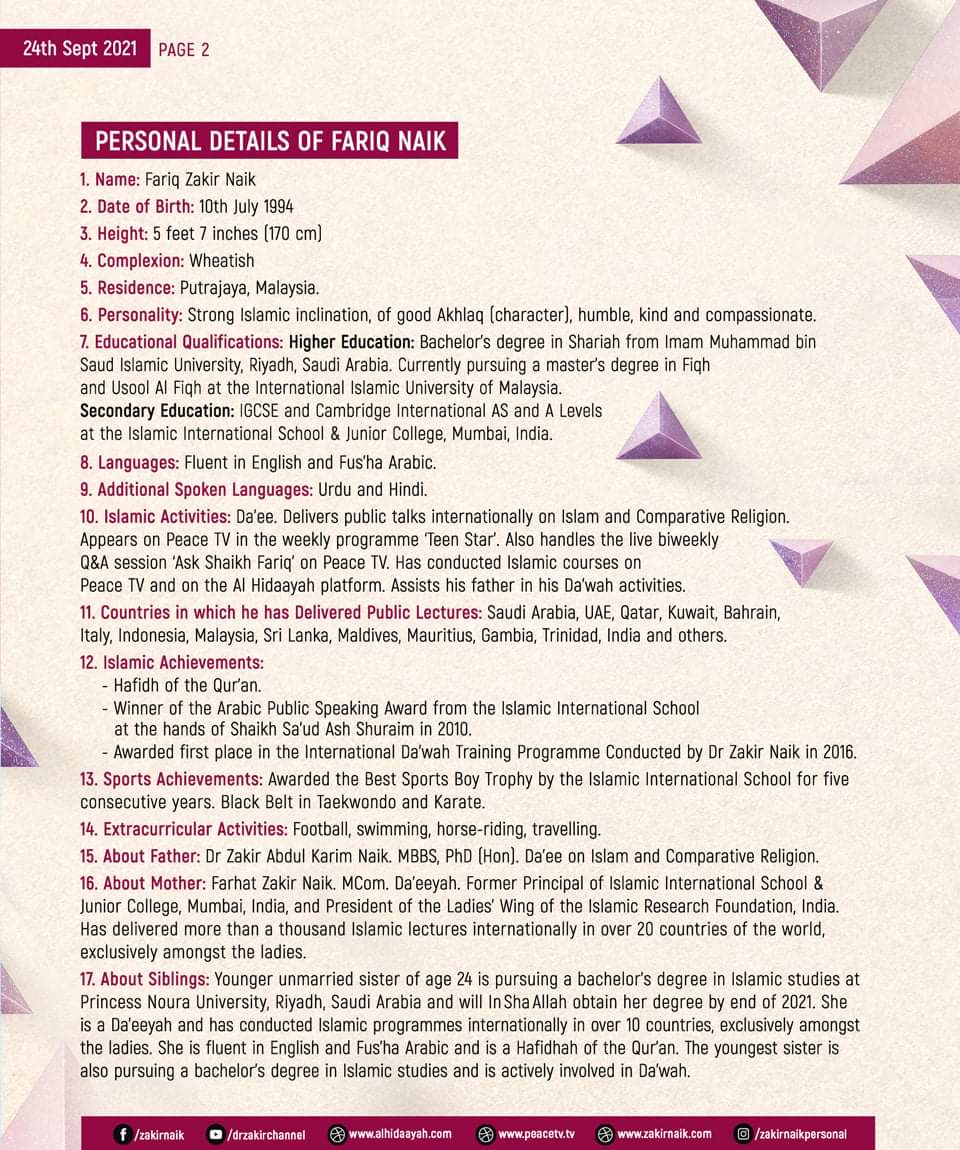 In response to the rishta ad, the internet had mixed reactions. While some were furious over the list of requirements the girl had to meet, others found it amusing. Moreover, some simply wished them luck.
Here's what the internet thinks
While we wish the Islamic preacher all the best on his quest to find his daughter-in-law, he could have used another appropriate approach.
Nearly every other girl in our society undergoes the rishta screening test, or else she is not deemed 'marriage material'. Girls are often displayed in front of women who are completely unfamiliar to them and are able to cast any piece of unbound judgment at her face with no shame.
A while back , we came across another rishta ad that listed a long list of abnormal requirements for an ideal bride. The internet was quite shocked at the audacity of the guy who was only intermediate pass.
What do you think of this story? Let us know in the comments section below.