Zaira Wasim is a popular Bollywood actress who was shot to fame after appearing in the movie Dangal alongside Aamir Khan.
The 17-year-old actress has previously been surrounded by grave controversies revolving around some grim socio-political subjects. However, it's no doubt that she has emerged as one of the major actresses in the industry.
Zaira shared an appalling encounter during a flight to Mumbai from Delhi. She was allegedly harassed by another passenger who was sitting right behind her. Zaira Wasim shared details of how it came to be and according to her, the man put his feet on her armrest under the pretext of "resting due to turbulence".
Followed by, she fell asleep and abruptly found the man caressing her back and neck using his foot. She tried to record the man's movements but it was way too dark.
Thereafter, Zaira took to social media. Upon landing, she started a live video on Instagram, sharing the whole incident of harassment she encountered and broke down to tears multiple times.
Here's the complete live Instagram video:
Her live video went viral on social media. She was surrounded by a heap of reaction from her fans and followers. People are supporting her in this case and absolutely condemn what she had to go through.
She shared more details regarding the story; here are some screenshots of her Instagram stories:
….
She was quick to share it all on Instagram.
Took a jab at the airline for not taking it seriously.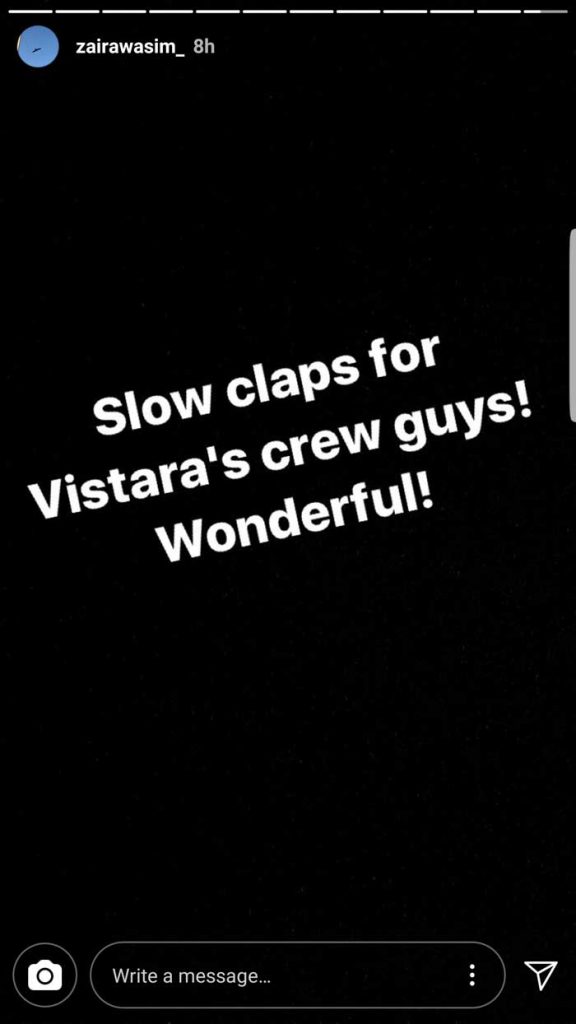 Condemnable.