Zainab Abbas has been a crush of all the Pakistani cricket fanboys since PSL 2017. She is definitely the most adorable Pakistani Sports presenter of all time. And when she came back to host the ICC Champions Trophy everyone got hearts in their eyes.
However, the poor girl became an internet sensation for her cursed selfies. Whenever she took a selfie with a player he failed to make a perform despite being one of the World's greatest players. The two most famous victims of her curse were Virat Kohli, Indian and AB De Villiers, South African player.
Pakistani fans were really enjoying that curse though. In fact, they kept asking her to take selfies with the best players of the teams playing against Pakistan.
When the bruit of her curse was over she thought she could take a sigh of relief now. But then the rumors of a flame between Darren Sami and Zainab went up. She did an interview in which a click-baiting Urdu publication turned into something entirely different. That post went viral and everyone started mocking it in the memes.
It was like a whole imaginary love story was going on between Zainab and Darren.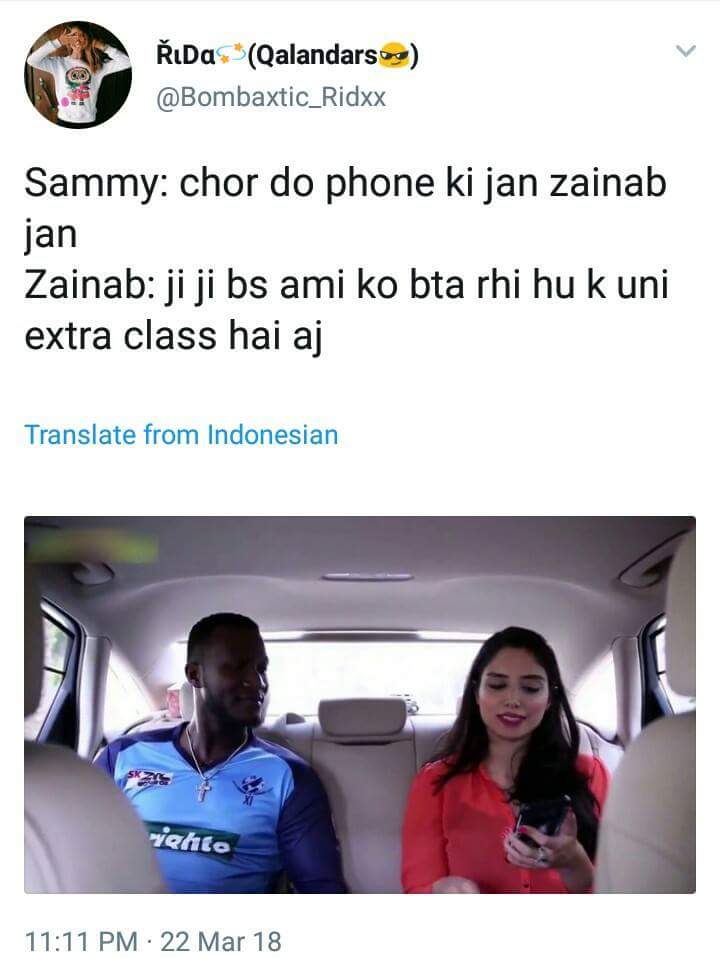 Ok, haha. So they're some high school bunkers now. Who did this?  Well, even Zainab went along with these memes and gave some really cool responses.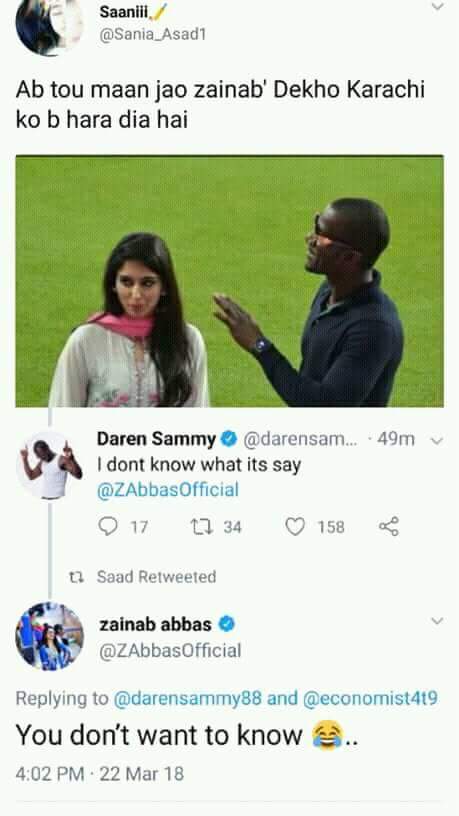 These memes had an expiry too. So they died too.
But just today, on Shadab Khan's birthday Zainab made a short and sweet post specially to wish him. And we think we saw an actual spark between the both. Not the meme material spark but the real one.
Happy birthday @76Shadabkhan – have an amazing year ahead!

— zainab abbas (@ZAbbasOfficial) October 4, 2019
To which Shadab responded with a simple "Thanks"
Thanks Zainab

— Shadab Khan (@76Shadabkhan) October 4, 2019
A nice and decent birthday wish and a nice and decent response to it. This is not what had us thinking. Na-uh. The real hint is coming ahead.
Hi @76Shadabkhan Happy Birthday and enjoy a Healthy & Rewarding Year ahead! And you're still talking to @ZAbbasOfficial ?? ??

— Alan Wilkins (@alanwilkins22) October 4, 2019
Alan Wilkins mentioning Zainab in Shadab's birthday wish? Umhm that brings us to some conclusion. Is Alan being a "Rishte wali aunty" here? We totally think so. Something cooking. Good one though, haha!
But Zainab Abbas's response to this tweet was equally hilarious.
Alan stop being a phupo.. ?

— zainab abbas (@ZAbbasOfficial) October 4, 2019
Alan just got himself phuppo-zoned for that post, haha! But we definitely know what that means.
Well, we don't know what exactly it is right now could be another fake love story fueling up with everyone's comments. But we surely are missing on something here. Let's hope it's out soon. Because bless you both!
Anyhow, if Shadab is the one, the news is sure going to break many hearts. So be prepared for anything boys.