Since the last few months, Altaf Hussain has been having a tough time due to various reasons. The MQM founder once used to rule in Karachi as one of the most popular parties in the city. However, now he is even struggling to make his ends meet. Zaid Hamid even called the founder of MQM a sweeper.
Last week, the MQM chief revealed that he was having financial difficulties. Mustafa Azizbadi, MQM chief's deputy, issued a hand-written letter from Altaf Hussain.
In the letter, Hussain requested funds from supporters. The MQM chief said his financial situation was getting worse and he was unable to pay for his bills and other expenses.
It now seems that the MQM founder is in such a deep crisis that now he has to clean his home by himself. He can't even afford housekeeping services to do his regular chores. This was further evident in a video posted by analyst Zaid Hamid on social media.
Altaf 'Bhai' mopping floor & cleaning gutter in viral video
In a recent viral video posted on Twitter by Hamid, Hussain was seen sweeping and mopping floors in the UK. In his tweet, Zaid Hamid claimed the MQM founder is "an insane serial killer" under the protection of the British government and MI6 and called him a sweeper.
MQM chief going through a tough time?
The MQM founder has been under close scrutiny of the British government over the last few years. In September 2020, the UK government imposed a £2 million fine on Hussain for evading income taxes.
The amount is equivalent to almost Rs441 million. There is already an ongoing investigation to ascertain the extent of the MQM leader's financial matters by the British government.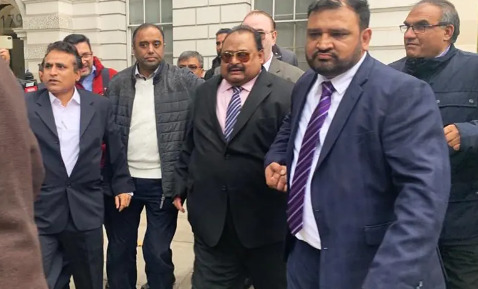 In August 2016, the MQM founder was arrested in London for inciting violence through hate speech. Altaf Hussain was arrested on suspicion of intentionally encouraging or assisting offenses contrary to Section-44 of the Serious Crime Act 2007.
Apart from that, the court also ordered to raid Hussain's house in north London. In the raid, 15 officers took part. The residence was on search by a forensic unit of Scotland Yard.
What do you think of this story? Let us know in the comments section below!