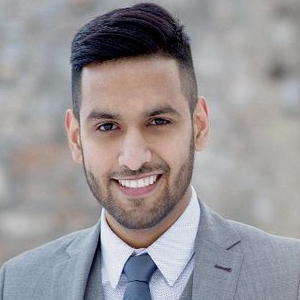 In the digital world, where YouTubers making their way towards success and fame. A Pakistani-Canadian brown guy, Zaid Ali, comes in with the trend of making videos based on comparing desi and firangi families. Soon he started sharing the videos, he didn't expect the craze for his videos and views he got.
Now he's one of the most popular YouTubers in the world and representing Pakistan with great pride. In the world of YouTube people know him as Zaid Ali T and he's the social media star. His comedy skits made everyone laugh and relate to real life.
His main goal from the beginning was to let the world know the South Asian culture and believe it or not, he did it brilliantly. He's one of the YouTubers who hasn't been in the controversy or cursed in his videos to get fame.
Mainly, no one knows his background and when he started his YouTube career. So, let's dig into Zaid Ali's life who has always inspired others and spread positivity.
Early Life
Zaid Ali was born in a Muslim family on 2 July 1995 in Waterloo, Ontario, Canada. At an early age, he was moved to Pakistan, he received his schooling education in Pakistan and later he moved to Canada for higher education and ultimately completed a Bachelor of Business Administration (BBA) from the University of Waterloo', Toronto.
Zaid isn't alone, apart from his beautiful mother and father, he has a younger sister Amna Tahir and has one brother. Just like every other YouTuber, Zaid also started his journey at a very early age, he explored a new world and made his state there.
He first created a YouTube channel with the name 'ZaidAliT Vlogs' on 7 March 2010 and began posting videos about desi South Asian culture. Many of you won't believe that when he started his first channel he was just 14 years old and he has done several female characters which received a lot of love from the viewers.
His family friends' videos were loved by everyone, but in 2015 there was a big turning point that raised the bar of his channel when he started making videos about 'On the lives of "brown" people, 'PILLOW FIGHT PRANK!, and 'WEED PRANK GONE WRONG!' etc.
These kinds of videos undoubtedly made him the most popular YouTuber and fans loved it endlessly. As time passed on, his popularity reached another level that made him create another channel where he started vlogging and another one for comedy videos.
There are such amazing videos, he also featured his mother in his videos and it was great to see them. He was rising like a phoenix, no one can stop him that's the reason he also got an offer from Hollywood for a film, but he turned down because the script required a kissing scene. Zaid does not support getting intimate on-screen.
Personal Life
on 19 August 2017, Zaid decided to tie the knot with Yumna Zaid and has been part of his vlogs mostly. When the marriage happened, people have criticized his wife but the way Zaid handled the situation was fabulous, and didn't react much. By the grace of God, Zaid's family also expanded with the arrival of their newborn son Izyan Ali Zaid who was born on 18 August 2021.
Lifestyle and endorsements
Zaid isn't just an ordinary YouTuber, he's a big star of this world and being the most influential one too. With the rise of his popularity, his lifestyle also changed and brand endorsement also knocked on his door as well. Undoubtedly Zaid is living his dream luxurious life, he owns a very beautiful apartment in Waterloo which is located in one of the most expensive places in Canada.
Although currently he also bought his dream house, the total worth of the apartment he was living in is more than $1 million.
Everyone knows that he loves cars and it has been seen in his stories and vlogs. He owns some of the amazing cars as well. He bought his dream car 'BMW I8, and the total cost of the car is $169,900 in Canada. Despite having that, he recently bought another brand new new 'BMW 330I M Sport, for his wife Yumna, and the price of the car is $49,000 in Canada.
The millions of fan followers also led him to the elite brand endorsement which also made him popular as well. When it comes to followers, Zaid's 'Twitter' account has over one million followers, while his 'Instagram' page has over two million followers.
Talking about his lifestyle, let's also jump into his total net worth. Zaid Ali's Net Worth is $3 Million in 2022. He is one of the richest Pakistani YouTubers who lives in Canada.
Zaid Ali has inspired many of the young YouTubers in Pakistan and all the desi boys to begin their careers as YouTubers.