Pakistani-Canadian comedian Zaid Ali T and his better half Yumna have been the center of social media troll for unnecessary reasons for a while now. When it comes to desi trolls, even something as minor as a married couple showing mild PDA makes them lash out. Zaid Ali gives a shut-up call to the people who trolled him and told him to stop kissing his wife.
How hard is it for people to mind their own business? Despite living in the 21st century, our people seem to be allergic to growth. So many questions prevailing in our society as we all know that every other day, there is some person who becomes the victim of these trolls. 
Recently, Ali shared a video of kissing his wife on the cheek, giving yet another reason to trolls to slam him. There is no doubt that both are one of the cutest couples and they have never shied away from showing off their love for each other. Be it adorable birthday wishes, or lovey-dovey pictures, they share it all with their fans!
However, this time around, the couple got brutally trolled on social media for their kiss on cheek video. The loving husband could not resist the cuteness of his wife and planted an affectionate kiss on her cheeks. But no, how could he without the permission of the public?
HOW DARE HE KISS HIS WIFE? Netizens troll the YouTuber
Needless to say, it was a beautiful moment to witness between the couple. But sadly, their PDA did not go down well with the online users who started trolling the two for going overboard with the romance in public.
Swipe right to see the video!
Social media is an entertaining place for sure. And as much as trolls play a huge part in contributing to this worthy cause, oftentimes, they are the reason for extreme stupidity, hatred, and extremities. In Ali's case, the lad is more than accustomed to the trolling, hating and various other negative connotations that come along with being an 'Internet Celebrity'.
Take a look at how this online user criticized Zaid Ali and his wife during their recent outing.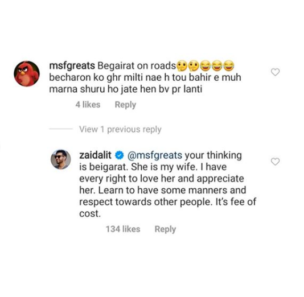 Oh yes, Zaid Ali gave him a much needed shut-up call who trolled him on kissing his wife! After all, why not? The troll certainly asked for it. Like, come on. They are husband and wife. Leave them alone. Why do people have to poke their nose everywhere? Don't like it? Keep scrolling. It is beyond one to understand how hard it is for some people to mind their own business.
Anyhow, we absolutely love his comeback! This is not the first time Ali spoke out against the trolls. It is no news that the couple has been subjected to online trolling ever since they got hitched over. Be it over their cheesy interactions or the age difference between the couple, Ali never stayed quiet. He is known to give a shut-up call to all the haters!
GROW UP PEOPLE! Spread love, not hate. We wish them tons of happiness and prosperity. May they keep posting cute photos together!

What do you think of this story? Let us know in the comments section below.