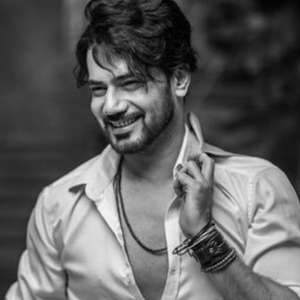 Zahid Ahmed biography
Zahid Ahmed is a Pakistani model and actor. He started his career as a talk show host on radio and TV but got unprecedented success when he started his acting career. He started acting by performing in Theater plays.
Like several other Pakistani actors, Zahid Ahmed has come a long way, specifically in terms of his looks. He has done his absolute best to maintain his fitness. He is also constantly seen experimenting with his looks.
Personal life and education
Zahid was born on September 20, 1984. He received his early education in Rawalpindi. He graduated from Preston University in marketing. Zahid is also happily married.
His wife's name is Amna Zahid. They have two sons; Zaviyar Zahid and Zayan Zahid.
Zahid sharing his inspirational life story on social media
The inspirational actor has shared his life story with fans on social media. His Instagram post on September 2nd, 2016 is what had won the hearts of the entire nation.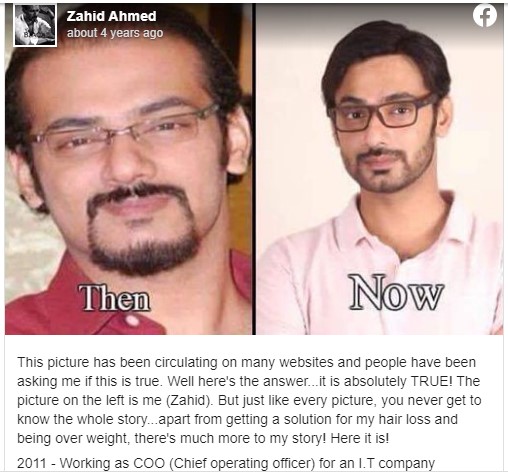 He said: "This picture has been circulating on many websites and people have been asking me if this is true. Well here's the answer…it is absolutely TRUE! The picture on the left is me (Zahid). But just like every picture, you never get to know the whole story…apart from getting a solution for my hair loss and being over-weight, there's much more to my story! Here it is!"
2011 – Working as COO (Chief operating officer) for an I.T company
2011 – Got married
2011 – went for fabulous honeymooning in Malaysia
2011 – on the last day of honeymoon found out that the company didn't exist anymore (they were fraudulent)
2011 – came back to Pakistan with a new terrified wife, no job and huge debt on credit card
2011 – job hunt started, marriage was about to fall apart
2012 – Had a terrible accident and injured spine
2012 – 4 months of not being able to move, divorce seemed a reality
2012 – got a radio show because of the voice
2012 – further destroyed the spine by trying to go to the radio
2012 – now a vegetable, lost all movement, lost radio, had some self-esteem left
2012 – head of PIMS Islamabad recommended spinal surgery
2012 – got surgery, started walking again
2012 – got a job which paid 10 times less, worked hard – marriage still on the rocks
2012 – started doing a show for PTV home discussing English movies. Some pride restored.
2012 – Head of PTV notices my English, hires full time to launch PTV WORLD English.
2013 – worked against the culture of PTV to launch the channel.
2013 – PPP Government topples, chief of PTV fired. Now I was left without a boss.
2013 – Team working with Anwar Maqsood approaches me for playing Jinnah in SAWA 14 August. Wife supported
2013 – Played theater for a year. Got hair solution for Jinnah. Lost 22kgs
2014 – left the theater because the producer was a corrupt soul who owed everyone money
2014 – no home, no money, with wife..left for dead on roads of Karachi
2014 – A lady from a production house of HumTV calls for an audition after seeing me on stage
2014 – Gets selected for MEHRAM
2016 – Became what you see now."
Professional Career
From the year 2003 to 2011, Zahid worked as a COO facilitator for sales and customer service operations in an IT company. However, he had to soon leave his job when the company was discovered fraudulent. After that, he joined Pakistan Television Network's flagship channel PTV Home and later as a creative manager to launch the channel PTV World. There he met Anwar Maqsood and accepted the offer to play Muhammad Ali Jinnah in Maqsood's theater play Sawa 14 August in the year 2014. In the same year, Zahid made his TV debut with a serial named "Mehram". It was aired on HUM TV.
In the year 2015, Zahid appeared as a villain in the serial "Alvida". The performance also helped him to win the Hum Award for the Best Villain. The performance also earned a nomination in the category of Best Supporting Actor. After that, he accepted a wide variety of acting roles in different serials. This included Jugnoo (2015), Tum Mere Paas Raho (2015), Zara Yaad Kar (2016) and various other dramas.
He was highly acclaimed for his performances in Ishq Zah-e-Naseeb for an individual who was suffering from Dissociative identity disorder (DID). He has also acted in various serials and plays for which he got huge recognition.
Addressing important social issues
Zahid is an actor who has always been honest about social issues. He has openly admitted that he used drugs and has shared his experience with the public.
While appearing on Iffat Omar's show Say It With Iffat Omar, Zahid said, "Yes, I have been into drugs. I have used hash a lot in my life and now Alhamdulillah I have quit. There is enough drama in the world, the society has completely changed. Karachi is the second most popular city when it comes to marijuana consumption so we should talk about it. My sons are growing and in their surroundings, people use it because it's common. In Islamabad, crystal meth is being sold in school campuses and crystal meth is death. The person who uses it dies in 2-3 years.
Zahid Ahmed further said, "Why are we not talking about it? When will we talk about it? Why are you judging it as a sin? It is in our society and I have made a whole video on this topic on my channel. If you see youngsters they say that marijuana and hash are not haraam in Islam and it has no side effects."
Filmography
Dramas
Mehram (2014)
Alvida (2015)
Jugnoo (2015)
Tum Mere Pass Raho (2015)
Sangat (2015)
Zara Yaad Kar (2016)
Mor Mahal (2016)
Besharam (2016)
Naimat (2016)
Mera Kya Qasoor Tha (2016)
Dil-e-Janam (2017)
Pujaran (2017)
Tau Dil Ka Kia Hua (2017)
Gustakh Ishq (2017)
Daldal (2017)
Pukaar (2018)
Visaal  (2018)
Dil Diyan Gallan (2019)
Choti Choti Batain (2019)
Ishq Zahe Naseeb (2019)
Mein Na Janoo (2019)
Mohabbat Tujhe Alvida (2020)
Performances in theatre
It Runs In The Family (2006)
Bombay Dreams (2007)
Home Is Where Your Clothes Are (2008)
Phantom Of The Opera (2009)
Run For Your Wife (2011)
Sawa 14 August (2013)
Half Plate (2013)
Pawnay 14 August (2014)
Radio Shows
The Breakfast Show (2002-03)
The Rush Hour (2002-03)
The Bumper 2 Bumper Gaming Show (2011)