Who would have thought Younus Khan, who was thrown out of ODI squad against Australia, would go out to win the series for Pakistan against mighty Australia? Well, except the myopic selectors of Pakistan Cricket Board, the fans and sports journalists who are cricket frenzy had an idea of Younus Khan's potential. It's the sign of a great player to shush his critics with performance rather than boasting on the media or playing dirty politics to get into the team.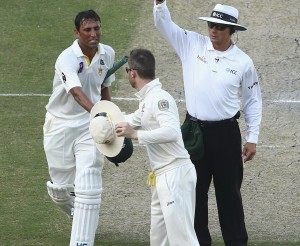 As Michael Clarke said Younus Khan is the gentle man of our beloved game cricket. Younus Khan brought an end to all the doubts on his batting performance by playing historic innings in both the tests. Younus Khan broke all the un-broken records against Australia in this two-test series. With his blistering century in each of innings of first test match, he broke Inzamam-ul-Haq's record (25) of highest centuries for Pakistan as he made the 26th century in the 2nd innings. Younus Khan also became the first person in 90 years to score the three centuries against Australia making him the most accomplished batsman against Australia. The three consecutive 100s also elevated Younus Khan to join the likes of former Pakistani Test Maestros Zaheer Abbas, Mudassar Nazar and Mohammad Yousuf in the batsmen's list to score three centuries in consecutive innings of the Test. There are many other records Younus Khan helped Pakistan broke against Australia. Younus Khan is not typically a commercial player who would love brag about his achievements every now and then, rather, he is a class player who serves the essence of Cricket by letting his performance speak for him and not react to critique once he has made his mark. Therefore, Younus Khan doesn't have a fan base that believes in little moments of glory taking the player to a fame lasting forever as is in the case of Shahid Afridi. Rather, Younus Khan contributes consistently with his bat providing impetus to whole team's performance.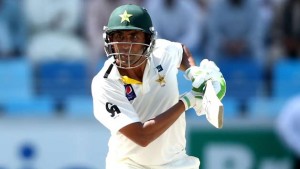 The impact of Younus Khan's batting performance was reflected upon performance of Azhar Ali Misbah-ul-Haq, Asad Shafiq, and Sarfaraz Ahmed. This is the quality that makes Younus Khan more subtle than a braggart, and more pragmatic than wobbly. It seemed as if Younus Khan deceived the Aussies with his amiable character and smashed the Kangaroos while having chuckles of laughter. Younus Khan's achievement will be remembered for ever especially by badly bruised Australia.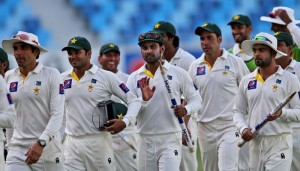 Having lost a T-20 and ODI series, Pakistan was hardly expected to draw the test series let alone win it. Moreover, the absence of key Pakistani bowlers like Muhammad Irfan, Junaid Khan, Saeed Ajmal, and Umar Gul all the hopes to gun down Aussies were shattered. Their place was taken by young guns of Pakistan Yasir Shah, Rahat Ali, Imran Khan and Zulfiqar Babar who, before they performed, were considered pitiful to face the lethal Aussie batsmen. Few of us believed that they would be able to pull it off. But, to our and whole world's astonishment, they did. Yasir Shah reminded us of great Shane Warne when he knocked Aussie wickets with his leg-break. Zulfiqar Babar's brilliant off break and straighters knocked off Australia's top and middle order batting line up. We didn't miss the greatness of Saeed Ajmal as his job was brilliantly done by Yasir Shah and Zulfiqar Babar.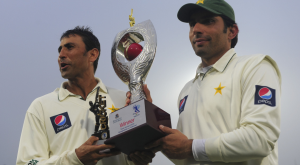 Australia seemed confused while facing the young pacer Imran khan. He might not be the fastest of Pakistani bowlers but the reverse-swinging delivery to knock off middle stump of Michael Clark was a beauty to watch. The Pitch was dead, yet the performance of Pakistani bowlers was amazing. The fierce Australian bowling attack couldn't get much from the moribund wicket and other reason was the brilliant batting of Younus Khan as the Australian bowlers seemed hapless in front of him. Imran khan and Rahat Ali always dominated the Australian batsmen and the hunting was done by the spinners.
If Younus Khan led the way of Pakistani batting in second test, then the finesse was provided by Misbah-ul-Haq and Azhar Ali. Misbah-ul-Haq broke record of fastest fifty in tests by making it in 21 balls. It didn't stop here as he moved on to equal Sir Vivian Richards's record of fastest test century by scoring it in 56 deliveries. Misbah-ul-Haq proved he was never the 'Tuk tuk' and proved himself a 'dhoom dhoom' as is known to be called now. Azhar Ali also went on to score two back-to-back centuries in two innings alongwith Misbah-ul-Haq. This is what the great batsman like Younus khan can do, he gives confidence to batsmen in younger ranks leading to the victory.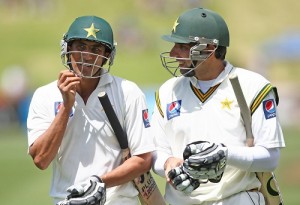 Younus Khan hit some great partnerships with middle order batsmen ensuing in the revival of middle order batting lineup of the team. Sarfaraz Ahmed should be lauded for great work behind the stumps and with the bat. He may have damaged the Akmal's prospects for the Cricket World Cup 2015. Moreover, Misbah-ul-Haq looks in great form as a captain and as a player after retaining confidence, thanks to Younus Khan who infused winning spirit within him. Above all, Pakistani players proved that despite the incessant controversies and abandoned cricket at home, Pakistani lions are all set to head to Cricket World Cup 2015. Younus Khan will prove to be integral part of the Pakistani team in the Cricket World Cup 2015 as his experience and temperament is what is required on the bouncy fast pitches of Australia.