It is a strange phenomenon of cricket, thanks to media intervention, that the images of certain cricketers are much bigger than their performance, whereas, on the other hand, there are players with low images but with better performances. Take for example Dravid and Tendulkar of India, the media worshipped Tendulkar, whereas, despite better performances was never able to get his image as big as Tendulkar.
This means that some players are overestimated and while some others are under estimated. In the cricket history of Pakistan we have similar examples. One of the most glaring examples is of Younis Khan. He is one of the most under estimated player in the world
The ever smiling, relaxed and the most physically fit has never become the darling of the crowds or the media. In this world of public relations, connections, Younis Khan is a misfit. A player with a life-long test average of over 52, a century against every test playing country in the world  and leading Pakistan to win twenty twenty World Cup.
Moreover, he is the highest century maker in Pakistan along with Inzamam and has also scored a triple century. What more is expected of a player? He never throws away his wicket the way it is done larger than life players. Still, the world is not ready to accept him as a great player like Javed Maindad, Mohammad Yousuf or Inzamam-ul-Haq. There are not even ready to point out what is missing in him to be considered in the same league as the players mentioned above.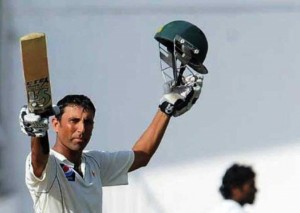 Our clown selectors, victims of their whims and fancies, throw him out of the team whenever they feel like. However, certain players are never dropped even if the performance is below average. Recently, he was dropped from the one day team but called to the test team. As our selectors panicked, due to the absence of Saeed Ajmal, Junaid, Omar Gul they went back calling for Younis Khan.
This gentleman, from Peshawar, who loves his country in the true sense of the word responded by joining the team. He proved that selectors made a blunder by dropping him from the one-day team. What happened to the one day series in the absence of Younis Khan. We lost 3-0 on a pitch that suited us and not the Australian team.
Still, we lost because there was no one in the team to take over the responsibility of performing in those conditions. How did things change once Younis Khan joined the team and the first innings of the first test is enough to make the selectors a laughing stock for the people? Pakistan, who embarrassed the whole nation by scoring than 60 runs in both the innings when Pakistan last played them in a test, this time scored 462.
Read Also: Younis Khan's Mother Passed Away
Younis Khan, who came in with the score 7 for 2, not only scored a century to put Pakistan back on the rails but gave such confidence to the whole team that five members scored more than 50 and Sarfraz scored a century. What was the spirit behind this huge Pakistani total ? Was it not the fighting spirit of Younis Khan? He provided the team with the platform to attack and the one of the best teams in the world had no answer to the Pakistani attack.
Still, Younis Khan is not been commented on or written of as a great player. Do we have to pay a media price to become a great player. Do we need the right connections in the right places to be regarded as great. Do we need a lobbying group from within the former great cricket players of Pakistan or from the so-called cricket experts on every TV channel? Why a player cannot be considered great because of his performances. What counts in greatness who scored how much in what conditions against what opposition? Do these things amount to nothing or do they matter.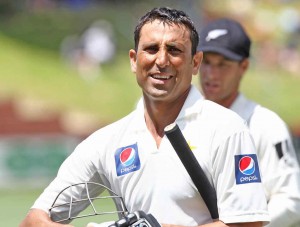 Younis Khan has proved without any shadow of doubt that he is one of the greatest batsmen produced in the world of cricket, especially Pakistan. At this age, he is much physically fitter than many of his younger team mates. Look at the use of his feet against spinners; look at his agility in the field, looking at his running between wickets.
Have a look at those magnificent catches that he has taken in close fielding positions. Above all, he is a wonderful team member and does carry a large ego on his shoulders, unlike many of his team mates. A player ready to help the juniors in every way, and always with a large smile.
Therefore, we can safely conclude that Younis Khan is one of the finest batsmen that have played for the Pakistan team. We should no longer under estimate but give his due place in the history of Pakistani cricket. We must acknowledge that is among five finest batsmen that have played wearing the green shirt of Pakistan.
We expect to do more wonders in the present test series and continue to do so in the future test. He still has a long way to go!  Let Younis Khan decide when he wants to retire rather we poking our nose and forcing him out of the team and then regret and call him back.