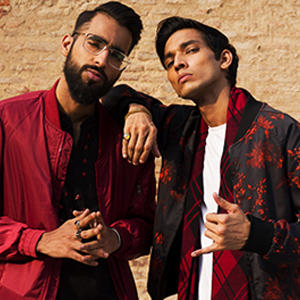 Young Stunners biography
In Pakistan, underground hip-hop culture is rising and they are trying to get to the mainstream. Just like India, Pakistan can also be called the hub of Rap artists, because the way daily underground rap artists come out on it's insane. One such rapper group is Young Stunners.
Rappers in Pakistan are trying for the breakthrough, but it's not easy because there's a lack of audience attention compared to India.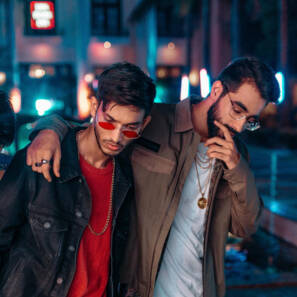 Despite this genre rising, in the mainstream line, no respect and authenticity are the reason many of the brilliant rappers left behind in the dust of struggle. It's hard for rappers in Pakistan to find their path and gain popularity.
Very few get the chance to showcase their rap skills and hit the audience's heart with the bull's eye. That's what Young stunners.
This duo rose in early 2013 initially they received endless criticism and hates. However, their initial songs spread like fire and went viral but still, there was some legit criticism that made them work harder.
In 2021, Young Stunners have known not only in Pakistan but across the border too.
Talha Younus and Talha Anjum knew just changed the dynamic of hip hop in Pakistan. They both set the trend of high-intensity rap songs with outstanding Urdu lyrics.
Young Stunners started their journey with less popularity, were labeled with some inappropriate words but didn't lose hope.
Now they are the demanding rappers of Pakistan and brought the underground rap style to the world mainstream. The first Pakistani rappers to perform on the main award show of Pakistan where they didn't hold back with using their real rap lyrics to hit the reality of the industry.
Their journey was hard and that's the reason to look back at their early time and achievements.
Fact:
Name: Young Stunners
Artists Names: Talha Anjum and Talha Younus
City: Karachi
Genre: Desi Hip hop
Early:
Talha Anjum and Talha Younis both were childhood friends who studied in the same school. Talha Anjum only did Matric and Younis. Before releasing their first debut song, they used to rap in English but they looked at the demand and rose the new genre in the rap world.
Their lyrics are in Urdu and fun fact they are the pioneers of Urdu rapping. Before them, there were many Punjabi rappers, but no Urdu one.
In 2013, they released their first rap song 'Burger e Karachi' based on the elite youngsters in Karachi who use to show off with their luxurious items. After that, they released 'Maila Majnu' which also got popular.
They were split up in the beginning as both of them chose to start their solo career. Talha Anjum took the band's name on the other hand Younus went with the Young Stunner's producer Umair Khan and later he got signed with Rich Music owned by Sharaf Qaiser.
But on the 22nd of June 2017, both Talha Anjum and Younus united with their old producer Umair Khan and referred to it as 'The Trio is Back'. And released the album "Rebirth". When they reunited, Talha Anjum quoted, 'We were trying to be better than each other but ended up being two of the best.
Then, their success journey began and they took the path that no one saw it coming.
They are the founders of URDU rapping because as mentioned before them no one entered into this style with real Urdu and they live up with it. Their hype even increased more after they appear in the PSL anthem.
Controversy
Being rappers and don't fall into controversy won't happen. Talha Anjum had a huge feud with his fellow Indian homie or friend KRSNA who even collab as well.
Their twitter clash began when Talha Anjum tweeted about the Pak China dispute and there the whole thing began.
Talha Anjum also released the diss track against mzee Bella who appeared in Coke Studio as well. The track went viral because it was too brutal and below the belt. "Black Panther".
Songs They Released:
Fire in the hole
Mein hu Pakistani
Qasuurwar
Burger-e-Karachi
Laam say chaurha
Maila Majnu
Paranormal Vicinity
Fikre-Akhrat
Why So Quiet?
Tune mere jana
Real talk
I don`t know
No hooks ups
Karachi lingo
Right now
Rooh
Popo
Dear Zainab
Gucci gang
Pound cake (remix)
Love in Damascus
Naya Pakistan
Leaning Urdu
Rapper tabah (diss track)
32 bore (diss track)
Black Panther (diss track)
Jawab e shikwa (diss track)
Pretty Little Fears (Remix)
Uber
Asli Hai
Throne
Full Pachas
There's no shame in admitting that Young Stunners have revolutionized the rap genre in Pakistan that motivated hundreds of youngsters out there to invest their energy in this. Invited by LSA and performing in front of veteran celebrities isn't a small thing, they have gained such sort of popularity in Pakistan.