Don't you hate when all your friends make fun of you for going on a diet when you want to be healthy and when you say you can control your dessert demolishing urges?
Yeah, same.
 source: google
And you CAN NOT handle their negativity because all you want to do is stuff your face with some sweet, fried desserts but you can't because of your diet, and you turn into the first Spiderman with your ugly crying face.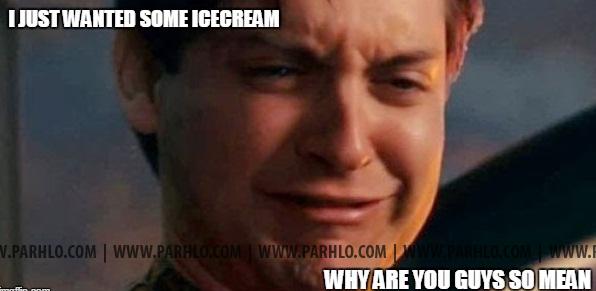 We know guys. We know.
LUCKILY, YOUR FRIENDS WILL NEVER TURN YOU INTO UGLY CRYING SPIDERMAN EVER AGAIN!
Tastemade, is a video network where "Tastemakers" come together to discover and share their passion for great food and travel. 
They film their magical food journeys and upload them on Youtube and their website.
source: tastemade.com
BUT MOST IMPORTANTLY, THEY CAN MAKE TINY DONUTS WHICH CAN FIX EVERYTHING!
source: tastemade.com
Satisfying your every wish with their magical powers of combining the cuteness of tiny food with the deliciousness of desserts, the team of Tastemade has found a way to entertain people while giving them hope that they can still have desserts while they're on their diets!
source: google
And as if it couldn't get any better, Tastemade showed with their video that each and every ingredient they use is also tiny!
From using tiny eggs in a tiny kitchen
source: youtube
To cooking the teeny donuts in a small deep fryer
source: youtube
To decorating the donuts with tiny sprinkles and icing!
source: youtube
BRB. I'm going to go see if I can order 10,000 of these.
Watch the whole video below!