*Illustration by Sabir Nazar.
29-May-2016   (09:00 p.m.)
Joining politics is far better than the army or any other profession (which nowadays people wished me to join). It was my insightful father's perception right after migrating to Pakistan that a business cannot flourish without being in politics. By holding seat of Finance Minister, I actually got to reveal my real personality – apna sapna money money wala… It's good to finally be my true self. The other breakthrough was given to me by my mentor Zia Ul Haq, whose kind leadership not only comforted me, but was on board and supportive for Ittefaq Group in addition.
I recollect all of this while lying on bed watching Inaam Ghar – Aamir Bhai is my favorite by the way. He might just be the trigger of these stimuli, he is very nearly similar to me (I am not talking about the looks!!!) How he started his career and got ahead, really inspired me and was identical to my life!
After becoming the Prime Minister in 1990, my first priority was to eliminate the factors which might become the reasons of being my overthrown. So, I came up with the idea of engaging people in "mehngai" like-thing, and in my era economic growth fallen between 3% and 4%, poverty rose to 33%, inflation was in double digits and the foreign debt intensified to nearly the entire GDP of Pakistan.
Yes, I know. I'm amazing.
In the second term of my power, I followed the same strategy. Because of my efforts, Thirteenth Amendment to the Constitution of Pakistan was passed so that the President could no longer dismiss the Prime Minister. Sounds good na?
Oh wait, its dinner time. BBQ, Sajji, Haleem, Quorma – yummm… Coming Coming!!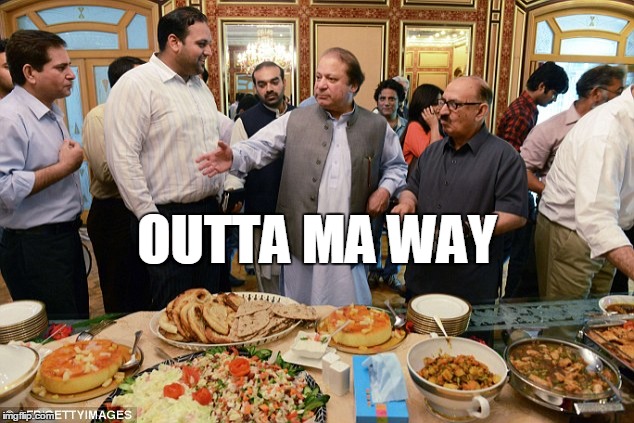 30-May-2016 (02:30 p.m.)
I keep an eye on competitor. People talk about some IK. Who is this Imran Khan? I know he had won some World Cup type thing in 1991 or 1992. But what else? Come here and see with whom the Pakistani Youth ! He thought that by chanting 'Naya Pakistan' all the time I would get scared and be admitted to the hospital. Somehow it's genuine, oodan ee menu rola rappa changa nae lagda je.
I might have been inspired by Imran Khan in the sense of releasing a chain of jalsay countrywide, but mean it, I do this for my seedhi sadhi awam, inna piyar jo karden ne menu! Do they know who made Pakistan a Nuclear Power country? Nawaz Sharif. Who gave people an off on Friday? Nawaz Sharif. Who was the reason of Kargil War? Nawaz Sharif. Who was responsible for attack on Supreme Court? Nawaz Sharif. Who was exiled by Musharraf? Nawaz Sharif. Who was accused in Panama Papers? Nawaz Sharif.
ANYWAY. Whatevs. Back to the present now.
There are rumors around – I mean, a bitter truth – that the open heart surgery of PM Nawaz Sharif is going to held tomorrow. All the Pakistani Media is swooning with the news and the humble civilians are praying. Pity.
OOH lunch time! Here I go with Biryani, Zarda, Qeemey bhare Karele, Bare gosht ki Karahi. Literally waow!!
31-May-2016 (06:40 p.m.)
Operation Successful—-feeling relaxed at London's Harley Street Clinic with 2 others.
Status done!
Do you know what's more important than that? Well, you know all dear – Phajje ke Paye. I have just ordered Hassan to bring it for me. I am sitting in front of TV now watching the news like –
"Prime Minister Nawaz Sharif's open-heart surgery has been performed successfully in London, and he has been shifted to the Intensive Care Unit (ICU), confirmed the premier's daughter."
Amazing! They've forgotten at least Panama for now!
Allah inna lookan te rehm farma.
*Disclaimer: This was an entirely satirical piece. Calm down and treat yourself to some Peshawari ice cream.