From pulling the weirdest stunts on his never-ending show "Living on the Edge" to using weird statements on "Desi Kurriya" and from giving the weirdest, R-rated lectures on Snapchat to not caring what people has to say, ladies and gentlemen, here's Waqar Zaka for you. In addition to his everyday tremendous activities, Waqar Zaka can also add the adventure he had on this year's Tomorrowland.
Waqar Zaka made sure that his fans were updated with all his whereabouts during Tomorrowland by live streaming and of course, Snapchat.
Before going on his trip, Waqar Zaka told his followers on Snapchat and Twitter that "he will spread Islam" when he goes to Tomorrowland…
It started with this –
Dare for Islam , Tomorrowland Belgium and Croatia Ultra music festival , Islam Dawaat in Belgium and Croatia https://t.co/1AKN4apFly

— Waqar Zaka (@ZakaWaqar) July 9, 2016

And was followed by:
His followers had a say as well:
Waqar Zaka Music festival me Islam phelanay ka soch raha hai aur tm loog masjid me jamat parhnay nhe jaatay, so proud of @ZakaWaqar ❤️

— Ahmed Mallick (@AhmedDamn) July 10, 2016
Waqar Zaka is going to Tomorrowland to spread Islam. I just cannot.

— Nür (@noorshaheryar) July 10, 2016
"Parties karain gay, ghoomain phirrain gay aur Islam bhi phailayen gay" – Waqar Zaka.

— Moham (@mahamwaseem72) July 10, 2016
Finally when Waqar Zaka went for the first day to Tomorrowland, he chose to wear a Pakistani cricket team shirt, like it was an India Vs. Pakistan match.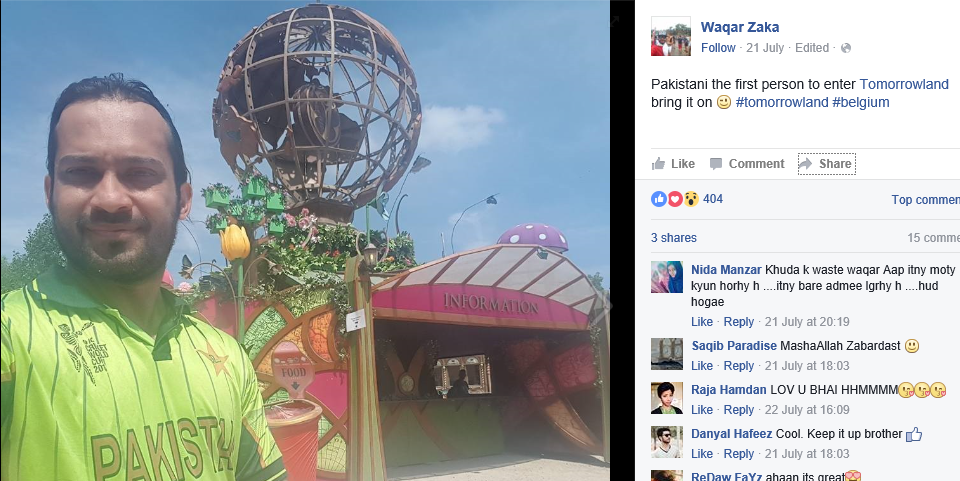 Clearly, we could see how much he wanted to promote the name of Pakistan by wearing the local jersey, flag and of course, his maila-pan. While he was there, he couldn't stop grooving on Indian songs with his friends ~DING RING RING ~ (his Snapchat followers can see this)…
Sometime later, Standard Chartered blocked Waqar Zaka's credit card, something he mentioned on his Snapchat again.
Standard Chartered blocked Waqar Zaka's account and debit card ????

— Arnold ShalwarNikker (@DaPakiGuy) July 21, 2016
This led the Waqarians help their idol — few of the fans started contacting SC Bank to help him out
After the issue was resolved, Waqar Zaka couldn't stop thanking Allah – and his fans, of course!
Waqar Zaka's snapchat's are so lame,they're funny. Tamarow land. Lmao.?

— H. (@VogueNinja) July 24, 2016
Like him or not, but you can never be as cool as Waqar Zaka. NEVER.