One of the best trends to take a toll on Pakistani social media has to be "Yeh Bik Gayi Hai Gormint". It has gone viral beyond all boundaries. People simply just can't get over it. It never gets old. It remains epic even if you watch it for a thousand times. Safe to say, it has been the biggest trend of 2017, at least in Pakistan.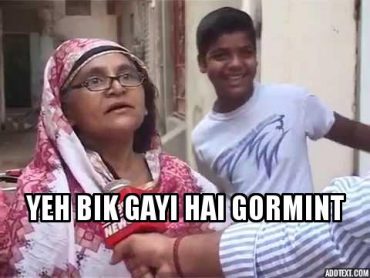 We all have seen the video. It came years ago but became common knowledge just recently. We come across a roller coaster of memes, jokes, and videos where the phrase was incorporated. People channelled their creativity in coming up with amazing content to get us laughing. Just wonder if the Aunty has any idea about how viral she has gone and how much people love her. This badass Aunty continues to make us laugh. Watch, rewatch, keep on watching for like 100 times and you will enjoy it the same.
Somebody created a mash-up of "yeh bik gayi hai gormint" and the song Cheap Thrills by Sia! Take my word, it's the best thing you'll listen today…
I know it is hard for you to contain that laughter. It is amazing! Talk about the beyond perfect synchronisation. Who is the genius to come up with the idea to mash it up with the song? This has got people going crazy after it. It revived the humorous factor of that video all over again.
"Yeh bik gayi hai gormint" did not only go viral in Pakistan, but the video is cherished across the border as well. It continues to take the internet by storm, thanks to the bevvy of trollers present on the Internet. The day this Aunty was interviewed created history because it got millions of people laughing and going crazy over it. I wish the on-going Census of 2017 could find and bring some information about the Aunty. She is definitely important! 
Have you guys come across more stuff related to yeh bik gayi hai gormint? Kuch rakha hai ya nahi ab is gormint mein? Share with us!