Have you ever been treated extravagantly on a birthday? It is your birthday, you collect a heap of sincerest wishes by people and they swamp your hands with presents and the question turns on you about how exactly would you treat them… Birthday treats have become a normal tradition and people are accustomed to it. But what happens when an organisation chooses to celebrate its birthday with its customers? Doing something as such and finishing a race apart in treating customers simply personifies a brand's core values. This company in Pakistan pretty much did the same thing!
A birthday treat in style! #YayvoTurns1
Yayvo just turned 1 today. On the occasion of Yayvo's birthday, not only an enthusiastic celebration took place but their customers were treated in a special way. Yayvo made sure its customers enjoy every bit of the occasion. There was a big birthday bash sale in celebration that you must regret if you missed.
#15for15 – what a crazy sale in a birthday treat!
Yayvo made sure its customers enjoy every bit of the occasion. Here's the insane sale that took place:
They handed out a thousand vouchers worth Rs. 10,000 till the evening of 14th. Now the lucky people have a chance to shop all they can on Saturday.
#15for15 sale: A flash sale, where people could choose 15 products costing only Rs. 15! Unbelievable… It started at 12 pm on Saturday and was SOLD OUT IN 1 MINUTE! We have crazy people!
50% off on top rated products in a 24-hour sale – WHATTA' TREAT, MAN!
THAT'S NOT IT! There's a lucky draw starting on Sunday, 16th of April after the big birthday bash sale. Customers will have a chance to win Honda Bikes, Smart Phones and tickets to Dubai. Lucky winners will be announced 7 days following the lucky draw.
This is how the Yayvo team celebrated: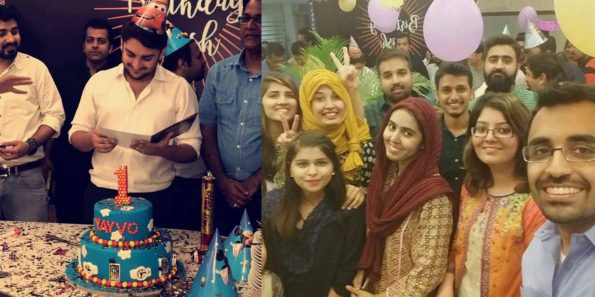 The atmosphere was crazy as the entire Yayvo-team gathered around the workplace to celebrate their success being the start-up that has amassed a fond reputation among customers in one year. All smiles as they brought a cake and the CEO of TCS ECOM, Salman Hasan and Head of Yayvo, Adam Dawood addressed customers for their incredible loyalty and the team for their prolific efforts in making Yayvo what it is today.
Customers simply remembered why they put their trust in them
Taking absolute advantage of a service or product and having no complaints, it's a major priority for any successful startup. Nothing beats when startups take considerable effort in making their customers happy, just as Yayvo did on their 1st birthday! This approach was personal and it was a sincere effort to hand their people a token of celebration. Customers remained their priority even on such an occasion!



Seriously, man, just want Yayvo to turn 2 now because this is really something I wanna be a part of once again!
#YayvoTurns1
Read Also: Crazy Things You Can Do To Surprise The Crap Out Of Your Best Friend On Their Birthday