Many of the actors turn their profession into writers or producers. Same thing Yasra Rizvi decided to do and change her lane with a new venture in her life.
With lots of movie heading to the cinema, Yasra came up with different fun, romantic, comedy film that holds everything to hook you up.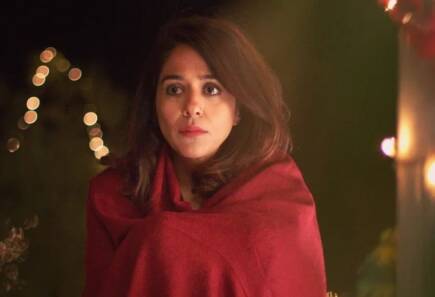 "SentiAurMental" that's the beautification of her work that represents the Dhamaal Punjabi family and weddings with lots of twists. Yasra opened up about her film SentiAurMental being shelved and her vulnerability brought lessons to live by.
The Churail actress believes, her loss is in fact her biggest asset to her journey towards her personal goals to be authentic and real. She expressed everything regarding the movie on her official Instagram account.
Yasra Rizvi on SentiAurMental
Yasra Rizvi on Friday shared a song Tera Hashtag Ni from the film. Speaking about how the decision to keep the film as a draft affected her personally, she penned, "I lost a lot of money and hard work shelving this venture probably because it wasn't good enough work or maybe I evolved during all the waiting but either way, to tell you the truth, it didn't upset me as much as one would imagine."
She continued by stating that how making efforts to better connect with oneself every day is what matters to her. "I still get up, dress up (okay I wear clothes), and show up trying to do ME every day. What's better than becoming more YOU in the process?" the Churails actor asked, saying that her "broken and defeated" self is her biggest asset because that's what drives her the most to keep thriving at her own pace.
Failure is a part of life
Yasra Rizvi further added about loss and failure in life. "I mean, c'mon, what's there to lose really? I have lost plenty in the course of life and then gotten more to lose again. I earned it here, and lost it here as well so what's the issue? In the end, we all have to die. So live notoriously and never regret following your heart! Just go for it!"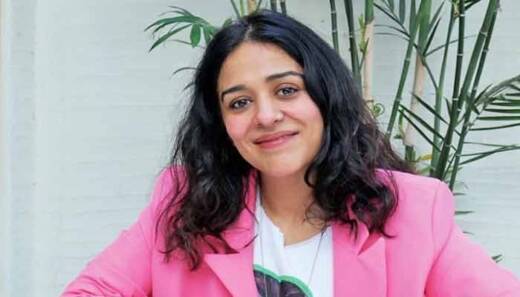 She concluded her video by thanking those who made up the cast. She tagged Irfan Khoosat, Beo Zafar, Nimra Bucha, Laila Wasti, Laila Zuberi, Saifi Hassan, Javed Jamal, Sajeer-ud-Din Khalifa, Sabiha Hashim, Sohail Sameer, Arez Ahmed, Faryal Mehmood, Zain Afzal, Jenaan Hussain, Faisal Imtiaz, Roha Qazi, Zille Huma, Iman Sumair and Kiran Siddiqui.
Soon her post spread all over social media, and one of the famous directors Mehreen Jabbar and actor Sarwat Gillani showed their support. They commented, "This looks so real and so engaging. How can we all do something to have you finish this? Only if you want to.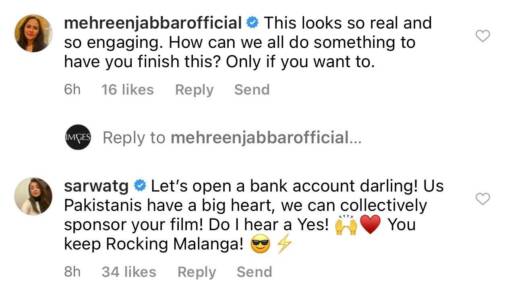 Sarwat wrote, let's open a bank account darling! Us Pakistanis have a big heart, we can collectively sponsor your film! Do I hear a Yes! You keep rocking Malanga!
Yasra Rizvi wasn't a quiet type of woman, she has always been vocal if there's injustice going on and always took stand for women's rights. Last year she posted a picture of her tied in chains with the caption "This needs to stop!"
What do you think of the story? Tell us in the comments section below.