Lately, leg-pulling and name dropping other celebrities in talk shows have unfortunately become a nasty trend in our industry. It seems like our stars have zero empathy for their fellow celebrities. The Mahira Khan-Firdous Jamal incident is tragic, to say the least where the latter never apologized to the young and talented Mahira Khan.
Seems like Yasir Hussain hasn't learned any lesson out of the Mahira Khan-Firdous Jamal controversy because a day back, he posted a rather disgusting and nonsensical post on his Instagram story about the rising star Hira Mani. The post was insulting and totally unnecessary. Remember when he made fun of Hania Aamir and called her daanedar?
Well, Hira is a star who is unlike any Pakistani film and TV star that we have seen or heard before. The young star and mother of two received praises over her brave interview on a BBC show where she proudly gave the whole interview in Urdu accepting that English isn't one of her strengths.
Here's what Yasir Hussain had to say on one of her pictures on Instagram
https://www.instagram.com/p/B1Vdoz8JTVE/
When fans of Hira Mani and other Instagram users saw Yasir's story, they bluntly pointed out that Yasir Hussain has once again displayed a rather insensitive behavior. Numerous people then went on to call out Yasir Hussain on Instagram and Facebook.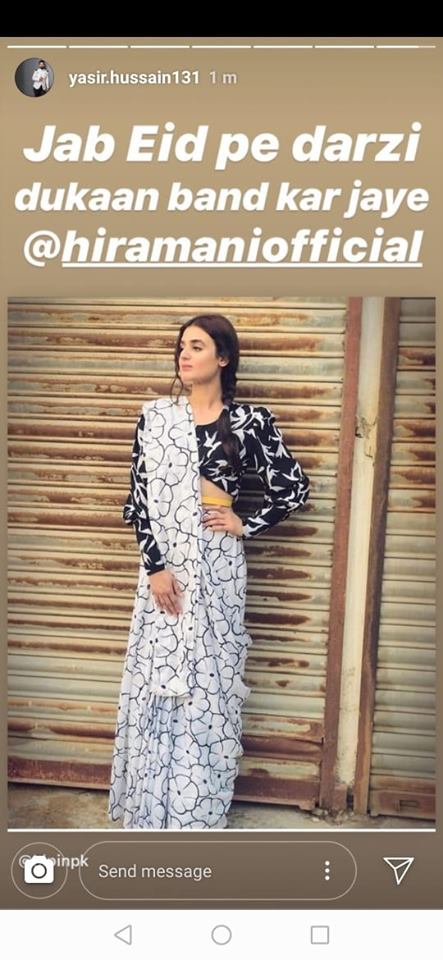 Pakistanis lost their mind after they saw Yasir repeating the same thing!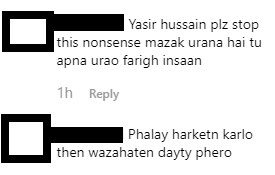 And this…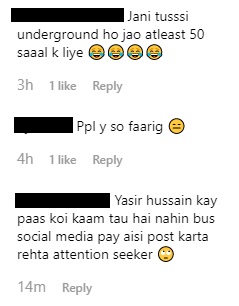 However, Hira Mani laughed it off and showed no sign of offense!
Here's a screenshot of the chat that Yasir had shared!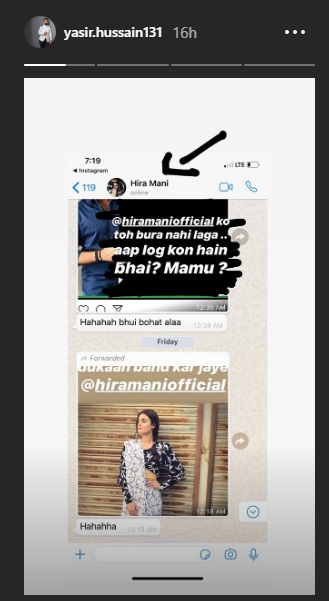 To justify what he had to say, Yasir posted a screenshot of his conversation with Hira to prove that she enjoyed the joke and it was all for fun.
Well, even if this was a mere joke, Yasir should stay humble if Allah has given him a little piece of respect and success. If he can pass such unnecessary remarks on another celebrity, we can also comment on his preplanned marriage announcement at LSA. As far as Hira is concerned, I personally enjoy her Instagram posts and stories. I find her social media presence quite natural and refreshing. It is a rare sight to see in this industry".
#CancelYasirHussain
It is quite sad to see that in a small media industry like ours, we fail to support our fellow celebrities. Instead, we are also looking for small reasons to crack jokes over someone else expense. We are hoping that if this story reaches out to Yasir Hussain and he apologizes to Hira Mani.