Yashma Gill, the popular Pakistani television and a YouTuber is one of the most talked-about celebrities. Without having any entertainment background, Gill has succeeded in establishing her place in the industry. On Sunday, Yashma Gill uploaded a video on Instagram revealing that the stray dogs she adopted and got vaccinated had been shot outside of her home.
The Pyar Ke Sadqe actress is fond of her pet dogs, recently, she took to her Instagram account and demanded justice for her dogs. In the video, she can be seen yelling at an official at the Cantonment Board Lahore, demanding an explanation for the murder of her dogs.
"The dogs slept there, ate there and were not a threat to anyone. They were also vaccinated. They were such innocent dogs. Should I show you their videos?" Gill asked the official as she burst into tears.
In response, the official asked her to visit again and discuss the matter with Malik Ijaz, who according to him was the authority figure he was filling in for. "Ma'am, I am telling you I do not have any knowledge about this," he said. Further added that "pets are supposed to be kept inside homes."
"So if they are outside their homes you are going to shoot them?" asked the model in anger. However, the official insisted that pets are not left outside.
Yashma Gill demands justice for her dogs
According to Yashma Gill, the stray dogs were allegedly shot by the board while she was away. As she returned to Lahore to visit the dogs, she found them dead.
In her video, Gill demanded justice for her dogs. As well as all the stray dogs that are being the victim of such cruelty. She started off her video by reassuring her fans that she had informed the board about her dogs' vaccination before leaving.
Moreover, she concluded her video by sharing the explanation she had received, which was that people in the neighbourhood had complained about the dogs.
Watch the video below:
"So if people complain about an animal, that animal will be killed. Wow! This is the statement that I have received." The actor added another video of herself feeding the now, murdered dogs, along with a receipt verifying their vaccination.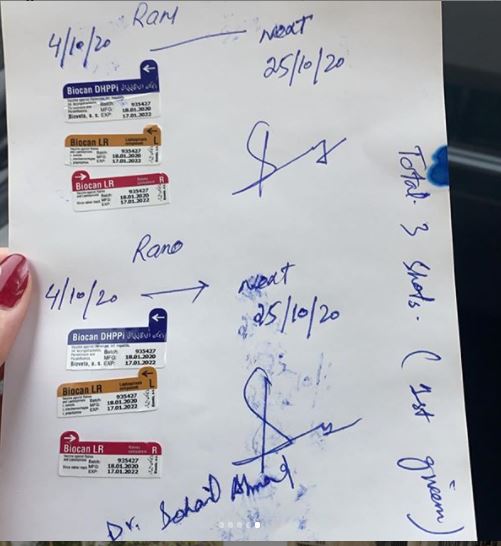 However, at the end of her post, the Ki Jaana Main Kaun actress reinstated that it was a Sunday, because of which she could not get a hold of the relevant authorities.
Yesterday, Gill uploaded a follow up video regarding the matter.
"Rano and rani are gone now but for the protection of others like them that are still alive I want to urge the authorities and everyone to come up with a better alternative. Like sending them away to shelters or giving them up for adoptions," she penned down.
Poor, stray dogs are subjected to mass extermination and barbarism by people. A few years ago, about 900 dogs were poisoned in Karachi, and their bodies were dumped in the streets. Every now and then, helpless dogs are shot dead for absolutely no reason.
What do you think of this story? Let us know in the comments section below.