My favorite thing about Inbox, Google's radical new email app for Android, iOS, and the web, is that it's perfectly happy to have you use your email as a to-do list. Rather than try to turn your inbox into nothing more than a series of letters and conversations, or help you clear your messages out as soon as possible, Inbox makes use of the fact that your email is full of receipts and notes-to-self. And confirmation numbers. And reminders. And emails you really should have responded to two weeks ago.
As soon as you log in to Inbox (with an email that ends in @gmail.com — no Google Apps support yet), Google starts to crawl all of your messages. It's looking for a few things: similar types of emails, which it combines into "Bundles" with names like "Updates" and "Travel," and bits of information that are obviously the important part of the message.
I have a Delta receipt that I've been meaning to file in my expenses; Inbox immediately grabbed the PDF and featured it in the stream of my inbox. Attachments are no longer buried below the message, they're one simple tap away. If you have a confirmation number for a flight, you'll see the flight's status. If there's an address in your email, your inbox or search results give you a Maps link without even needing to open the message.
Above your emails is your Reminders list, the literal to-do list above your de facto to-do list. You can quickly pin an email to your reminders list, or create a simple task with a due date and reminder time. To complete a task or archive an email, you don't click Archive; you click Done. This is the key conceit of Inbox: your emails, your to-do lists, everything represents something you need to deal with. So why not put it all in one place?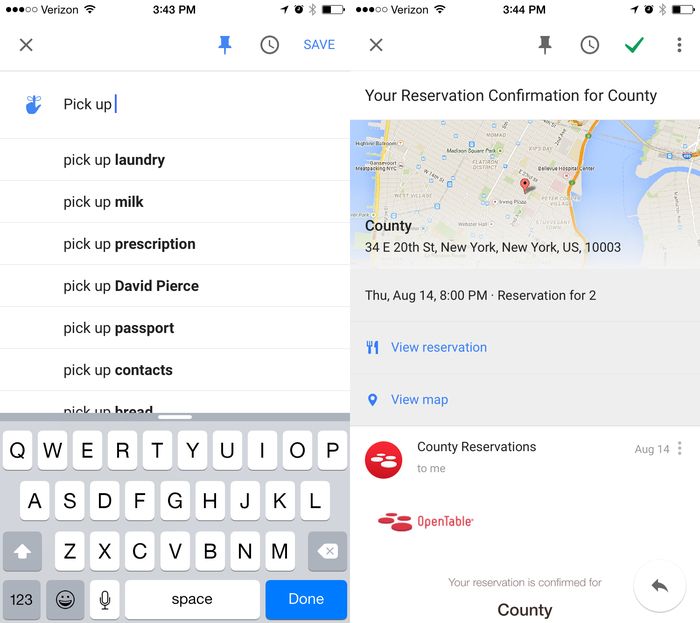 Since, of course, this is an email application, there are some tools for quickly managing and triaging your emails. You can snooze an email to have it reappear in your inbox at a specified time, a feature borrowed directly (down to the directional swipe) from Mailbox. If you automatically filter certain emails to certain labels, Inbox turns those into bundles you can easily manage.
You can remove a whole bundle from your inbox with one tap, which is currently a dangerous game — my Promo bundle included a handful of emails that are neither promotional nor ready for deletion — or apply any of your current Gmail labels. All your keyboard shortcuts carry over, too, so I was whipping through emails in no time.
IT'S AN EMAIL APP, BUT ALSO A TO-DO LIST
The Inbox app itself is minimalist and lovely, full of layers and easy to navigate. It's remarkably fast and smooth on all platforms, and far better on iOS than the Gmail app. It's not terribly information-dense, showing only a few emails per screen (and leaving a lot of unnecessary white space on the desktop), which means it's going to be a bit of a challenge for power users who need to wade through hundreds of emails a day.
Read Also: PM Imran Khan Convinces Tania Aidrus To Quit Google Job For Betterment Of Pakistan
But the interface is calming and pleasing to look at, and does a nice job of showing what you need to see right now. It's rich with Google's Material Design language, right down to the red dot in the bottom right corner that spins when tapped or clicked to reveal a list of people you've recently contacted and options to quickly create an email or a reminder.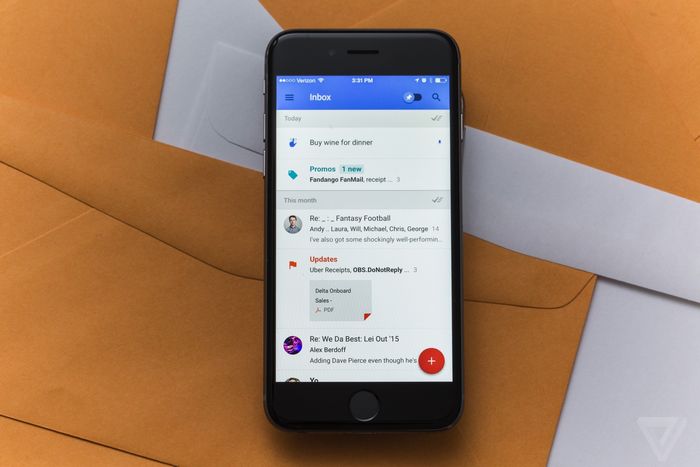 Adding the power of Google Now to your email is an obviously good idea; so is combining your to-do list with your inbox, which for most people is also a to-do list of sorts. Inbox feels a lot like the future of email, a tool for showing you everything you need to get done and helping you accomplish it all. There's plenty of algorithm tweaking and design condensing to do (I'm crossing my fingers for a "Compact view" like in Gmail), but it's not hard to imagine Inbox subsuming Gmail at some point in the not-too-distant future.
Maybe then I won't have this many unread emails.
Source: Theverge