At the 2020 Olympics on August 7, India's Neeraj Chopra defeated Pakistan's Arshad Nadeem to win the Gold Medal for men's javelin. With both Nadeem and Chopra hailing from rival nations, the javelin competition had sparked a lot of interest among fans.
The two athletes eased their way through the qualifying round on August 4. Both of them threw over 83,50 meters, which was a major qualification requirement for reaching the final.
Pakistan had a chance of taking home its first medal at the Olympics with the progression of finalist Nadeem who made it to the finals of the men's javelin with an 85.16-meter throw. Nadeem on Saturday came very close to winning a rare Olympic medal for Pakistan. He did not make the cut, however, finishing fifth in the men's javelin throw event in Tokyo. Nadeem reached the fourth spot before rivals overtook him.
He threw for 82.91m on his first attempt of the final round and 81.98m on his second. His final attempt in the round and competition resulted in a foul, and he finished fifth.
Chopra, his main rival, was adjudged to have fouled both of his attempts. His 87.58m throw in the opening round, however, was good enough to win him the gold medal. The Indian javelin thrower Chopra won a historic gold medal in athletics at the Tokyo Olympics on Saturday.
India's first-ever gold in athletics in the Olympics was won by the 23-year-old with a throw of 87.58m in his second attempt. He dominated the event and held the top spot throughout the finale. While India's Chopra claimed gold, Czech Republic's Jakub Vadlejch and Vitezslav Vesely reportedly claimed silver and bronze medals.
'Would have been nice to have Nadeem on the podium as well'
While speaking to CNN-News18, Chopra said it would have been "It would have been nice to have Nadeem on the podium as well. Asia ka naam ho jata [It would have been good for Asia]".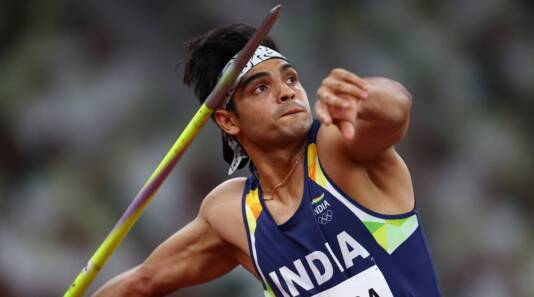 According to CNN-News18, Chopra was not thrilled with the hype surrounding the Pakistan-India contest. "Cricket mei chal jata hai, 7-8 countries hoti hai, par Olympic mei ye sab karna theek nahi hai [It is okay to do the comparisons in cricket where 7-8 countries are taking part but not fair in Olympics]," he said.
Be as it may, for a man from Mian Channu with a personal best of 86.38 meters, it was certainly not easy for Nadeem to come this far in the Olympics without any support from the government. Pakistanis love Nadeem for his focus and hard work that ranks him 23rd in the world.
Nadeem and Chopra showed true sportsmanship in a picture that has now gone viral!
Story Courtesy: CNN-News18
What do you think of this story? Let us know in the comments section below.