Is it just I or this youngest chef in the world is extremely adorable? From his mischievous reactions to his innocent culinary skills, I'm in awe! I mean, just look at his cheeks and dazzling eyes. I would give anything to be his disciple.
Children Going Viral on the Internet
It is very interesting to see these days children taking over the internet. Some you will see flaunting their hosting skills on YouTube. Some are busy showing off their artistic skills on social media.
This lockdown, in fact, is working fairly well for the toddlers to explore their options. And it does put in wonderment, the fact that these masters of all trades may make better content creators by the time they're our age, than us. They are already exposed to the real world, and will hopefully develop immunity against the criticism.
Among these young geniuses is Kobe who is seen practicing culinary skills under the supervision of his even more creative mom/dad. I'm confused about whether to look at the kiddo or the dish he's making, 'cause I'm mostly here for the cuddly cheeks.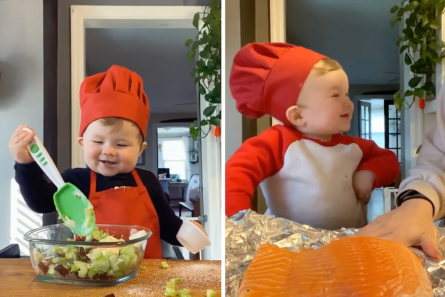 Kobe – the prodigy chef
This little kiddo not only surprises us with his innocent handling of the pots and eatables but his reactions on every step he makes. The child is no less than a prodigy to hook over 257k followers to the screens to see what he makes.
Lucky the Mommy, Proud the Daddy
If and only if every child was blessed with the power to cook their own meals, the moms around the world had accomplished a lot more than they expect. Sleeping for 6 straight hours count in that.
You look at Kobe and his mother/father enjoying the process, having their fun whilst feasting the eyes of the viewers, you instantly decide to raise your child just the same.
See what your child is good at
For all the parents out there, hooked on these videos, I think it's time for you to have a closer look at your child and explore what they are good at. Painting? Drawing? Solving Jigsaw puzzles? It could really be anything to get your child come forward before the world to flaunt their talent.
Just a side-tip
Before you plan to introduce your child to the internet world, make sure you understand how psychologically it can affect your child. While there is immense appreciation, there is competition and criticism involved.
What do you think of the story? Let us know in the comments below!