Have you ever imagined, that world's billionaires were poor instead of rich? No right, but AI did and it has reversed the lifestyle of the world's richest people and shocked the internet.
Billionaires have been dressed in inners, rags, and shorts. Their images were captured against the backdrop of a slum area.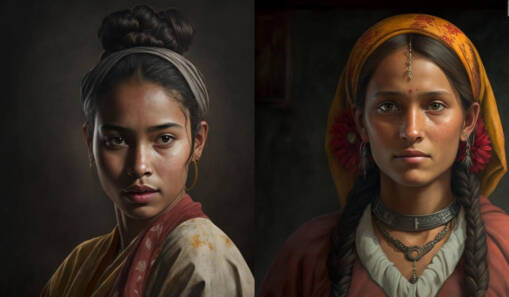 This viral Artificial Intelligence is trending on social media and it has captured everyone's attention. Various artists have been using several AI tools and getting outstanding results.
No doubt, AI has gotten so advanced that people are utilizing it to generate all sorts of images without putting endless efforts into it.
World Billionaires Turned Into Poor By AI
An artist recently used Midjourney, an artificial intelligence program to turn the table around and reimagined the world's richest people into poor people.
The outcome undoubtedly shocked everyone and people even liked it as well. Artist Gokul Pillai shared seven pictures that show what billionaires would look like if they lived in slums.
The pictures featured, Donald Trump, Bill Gates, Mukesh Ambani, Mark Zuckerberg, Warren Buffett, Jeff Bezos, and Elon Musk.
He captioned the pics as, "Slumdog Millionaires. (Did I miss including anyone in the list?)".
In the pictures, Billionaires can be seen wearing rags and innerwear with the slum backdrop. The post has received more than 8,800 likes and several comments.
One of the users wrote, "This is gold! But Elon is the only one that still looks rich even when he's poor lol." Another commented, "Just amazing they look real…more like slumdog billionaire." "This is epic," wrote a third, while a fourth added, "What an insane concept."
Over the past years, AI image-generating tools have reached beyond the limitation. It makes it difficult for people to distinguish between fake and real.
Last year, Alper Yesiltas brought icons and artists to live with an AI image generator.
What do you think of the story? Tell us in the comments section below.