Disclaimer*: The articles shared under 'Your Voice' section are sent to us by contributors and we neither confirm nor deny the authenticity of any facts stated below. Parhlo will not be liable for any false, inaccurate, inappropriate or incomplete information presented on the website. Read our disclaimer.
No great man is born great, and every great thing starts from a small idea, molded into reality with efforts, enthusiasm and consistent hard work.
One such warm idea was born in the autumn of 2015, conveyed to me on the cozy evening of October 10th. I was occupied with some product development tasks at hand when my phone buzzed, only to reveal an invitation from my friend, Waseem. A WordPress meetup was being arranged in Karachi and I was invited to share some experiences about WordPress. Being a WordPress consultant, an entrepreneur and a hardcore WordPress enthusiast, I was thrilled and excited.
That was the start of the WordPress Meetup Karachi – a small room with 14 people mingling to talk about WordPress, discuss its trends, and share with each other the tips and tricks we had learned through our years with the CMS. That day, we started a fascinating journey, a journey to be cherished for a lifetime!
Like every beginning, we were a small group but significant; for we were laying the foundation of a WordPress horizon in Karachi. Luck at hand, we already had an amazing team of WP veterans, to begin with. That day, it just felt like casual meeting comprising of few people with WordPress background, but later, it developed into something very productive for beginners and also mold scattered WordPressers into a strong Community bond.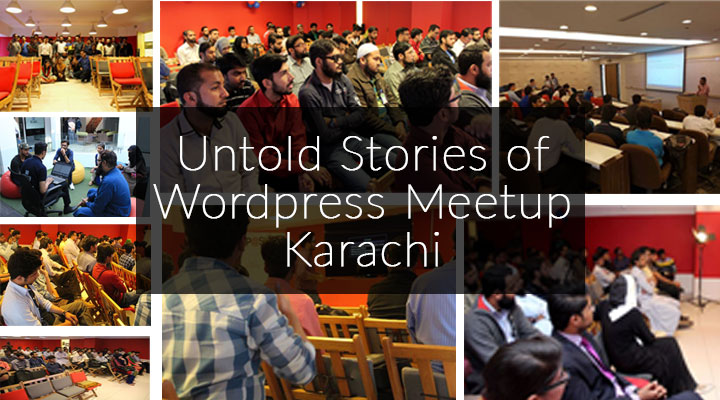 Along the years, we kept growing with increasing members and gaining momentum. We have had 14 meetups in the last 2 years at Nest I/O, IBA, FAST university and Gaditek. Our horizon has welcomed students from several universities, bloggers, marketers, developers, designers, freelancers, agency owners, publishers, entrepreneurs and professionals from all walks of life. We've been a very open community from the start, welcoming anyone who loves WordPress and wants to either share their experiences or learn from the experts.
Now in 2017, looking back makes us realize that we've come a long way. The idea that started as a group of 14 people has now grown into a reality that 1250 people own and support. By the Grace of the Creator and our hard work, we'll continue to grow as a WordPress community, adding enthusiasts who value WordPress for any purpose. We welcome and cherish writers, bloggers, designers, developers, and entrepreneurs free of cost. Rest assured, there's no stopping us anytime soon.
We invite you to become a part of our thriving community, so come join us in our upcoming meetups for a whole bunch of informative sessions, panel discussions, community activities and networking.
We don't require you to be tech savvy or a WordPress pro. This is an invitation for you, even if you've never heard of the platform and would like to learn more about its amazing potential! We cherish both quality and quantity, come join us!
If you want to contribute more than merely attending our meetups, we're always looking for talented volunteers to join us in organizing WordPress-focused events in Karachi. So, take the initiative and tell us more about yourself and how you'd like to help us by filling out this Volunteer application form: https://goo.gl/JR5tC8
See you at the next WordPress Karachi Meetup, which is very soon BTW! Stay Tuned. Avoir!
Read Also: Sharing Innovation With WordPress Lovers!