Pictures of Saudi Arabia's first female Hajj and Umrah security guards on duty are doing rounds on social media. Saudi Ministry of Interior released the images on varying platforms.
On its Twitter page, the ministry shared two pictures of the Kingdom's first female Hajj and Umrah security guards. They were on duty at the Grand Mosque regulating the presence of worshipers and pilgrims. They also were ensuring that all COVID SOPs are applied.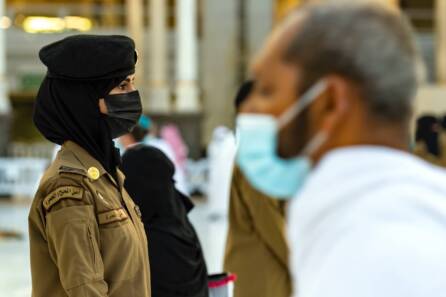 The female guards were wearing their official uniforms. They were carrying out their duties at the Holy Mosque with a caption that reads: "From the field. The security guard of Hajj and Umrah."
In February, the Saudi Ministry of Defence announced that men and women can now apply for positions in the military. Meanwhile, women can now serve as soldiers, lance corporals, corporals, sergeants, and staff sergeants.
The move follows Crown Prince Mohammed bin Salman's Vision 2030 initiative. Moreover, it introduces reforms that allow Saudi women to advance in various fields.
In December 2020, the General Presidency for the Affairs of the Two Holy Mosques appointed around 1,500 females. They were sent to different departments to serve female visitors to the Grand Mosque in Makkah.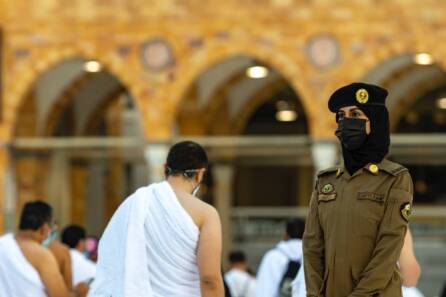 Meanwhile, the Technical and Service Affairs Agency recruited a total of 600 women. moreover, other departments of the presidency will appoint the rest of the female staff. The departments include electric vehicles, Zamzam watering unit, guidance, and intellectual affairs. Meanwhile, administrative affairs, public relations, media and communication, and the General Department of Internal Auditing are also on the list.
Story Credits: Gulf News
What do you think of this story? Let us know in the comments section below.