Is there anything more beautiful than the bond between a mother and her child? She is the beacon of hope, the dawn of life and the spring where all cries will be heard. Nothing is ever comparable to the love of a mother to her child.
Raising a child is the most salient duty in a mother's life
Picturing the #First1000Days; the stages of pregnancy, newborn, weaning food, toddler and preschooler are the most important. It's the stage where a mother connects to her child on a broader level. Motherhood is a journey of a lifetime and the first thousand days are the most beautiful. A woman requires understanding the needs of her baby and keep up the pace of her well-being as well.
For the #First1000Days, every mother intends to lay outstanding efforts, bit by bit, in the upbringing of her child. There are still certain areas where she needs to be extremely cautious and take careful decisions about the nourishment of her child. With that being said, she requires a dedicated plan and guidance for raising her child in the best way.
This is what every woman needs to know about the #First1000Days
Growing maximum awareness about proper upbringing in the early years is a dire need in Pakistan, which is why Nestlé started an initiative to grow awareness about the first thousand days – the journey from conceiving to giving birth and to your child going to elementary school.
Malnutrition is a grave dilemma in Pakistan and to deal with this problem, so we needed to create awareness. Nestlé Pakistan held an exclusive event to spread knowledge among all women regarding nutrition, education and personal growth of every child.
We learned that from pregnancy to giving birth and to a tender age, nutrition is the area where a woman needs to remain concerned not only about her child but herself as well. A balanced diet containing all primary nutrients is key. Every woman has a chance to learn about the right nutrition for the #First1000Days which makes all the difference. Not to forget, the stages of a thousand days require nutrition relevant to the child's age.
Meanwhile, Ali Hamza and Muniba Mazari joined us on an evening of fun, laughter and spreading the monumental knowledge with Nestlé!
Both are parents of their children. Both are commendable in their respective roles and we have a lot to learn from their experience raising their children. Ali Hamza and Muniba Mazari became a part of an initiative to grow awareness about the #First1000Days. Besides, Seemi Raheel and Khalid Malik also joined the evening in Lahore.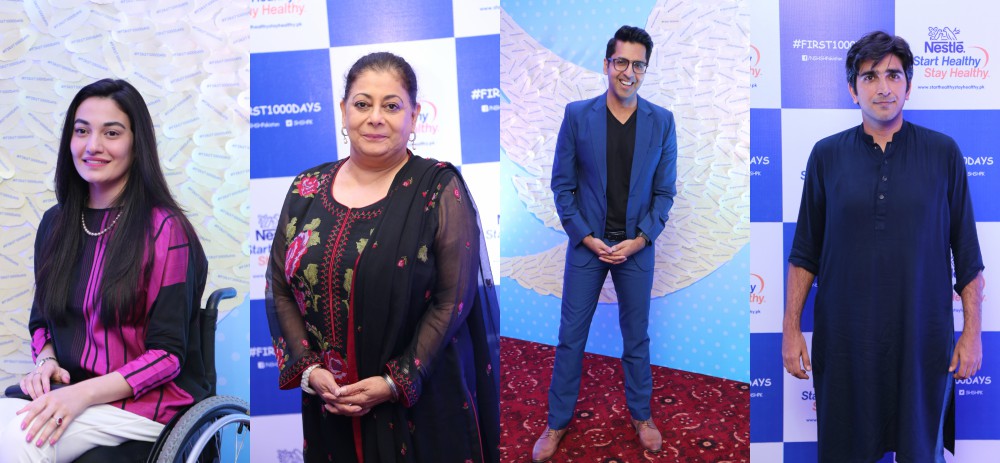 And when you mention Ali Hamza, of course, he had to grab a guitar and do his thing!
Ali Hamza performing at #First1000Days event https://t.co/LKndCeJYHo

— Mom and Me PK (@MomandMePK) August 26, 2017
What is important that we grab a hold of the vast knowledge distributed through this event and on social media by the community. Stay safe, stay healthy because there's no wealth can ever compare to that of raising a healthy and so brilliant child.