The complete code of life, the Holy Quran, for centuries has guided the misguided onto the right path, becoming a source of inspiration, as it remains the only Holy Book without any man-made changes. The value of the Quran in any Muslim's life is exemplary, and through it, the wheel of the universe keeps moving.
To honor the Holy Book through hard work and self-satisfaction, a woman from Gujrat spent 31 years of her life in knitting the nuskha of the Quran by hand, without anyone's help. The 61-year-old Naseem Akhtar from Gujrat, Punjab, started working on her edition of the Holy Quran in 1978.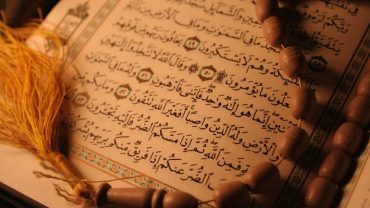 Her edition of the Holy Book is solely made from cloth, verse by verse, which she has knit from her own hands using threads of black and pink color. The Quran is written on a 300-yard cloth, with addition of a 25-yards of paper-lining used as well. Naseem's edition of the Holy Quran is available in 10 binds, which includes 3 siparas each, comprising to a total of 30 siparas.
Every bind of the version is 22 inches long and 15 inches wide, giving it a handsome size which only adds to its beauty. Weighing 55 kilograms in totality, this one of a kind Quran-e-Pak has not been easy for Naseem Akhtar to make. She has had to sacrifice a lot of her time, concentration, monetary determination and other activities to solely focus on the finishing of the project she once started.
It took Naseem Akhtar 31 years of her life to complete the hand-knit Holy Quran and she dreams of a day that it would be kept in the Central Library in Madinah Sharif. Naseem said that she did not take anyone's help in knitting this double-karahi Quran, and not because she didn't want any help, but because she did not need any. As per Naseem, it was with Allah's blessings that with every passing day, her determination only increased and the peace that she gained from working on the Quran could not be matched.
Naseem Akhtar further said that when she started working on this edition of the Holy Quran, she had dreamed that when her work would be displayed in Madinah Sharif's library, it would not only be extremely satisfying for her, but the name of her country would also be highlighted, as she wanted to gift this Quran to Madinah from the whole of Pakistan.
With Naseem Akhtar's work finally completed, it is now up to Pakistan's competent authority to honor her work and make sure that this edition of the Quran makes it to Madinah's library.