Protests erupted across major cities in Pakistan on Monday after Tehreek-i-Labbaik Pakistan (TLP) chief Saad Hussain Rizvi was detained by security forces in Lahore as a "pre-emptive measure" ahead of the party's April 20 deadline to the government.
He was detained after announcing countrywide agitation to demand the French ambassador's expulsion and a ban on imports from France in protest against the publication of blasphemous images in that country. Meanwhile, dozens of sites in urban areas held hostage by violent mobs suffuse with self-righteous rage and, even more dangerously, confident of their power to bring the country to a halt.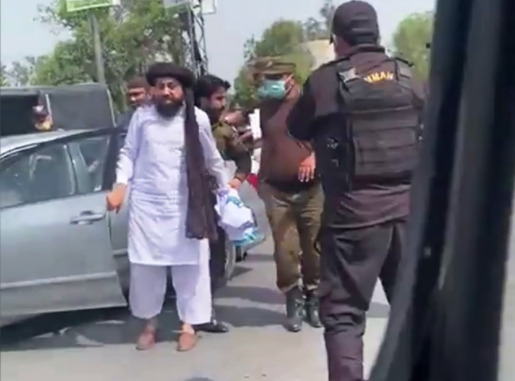 Following news of Rizvi's arrest, TLP workers blocked roads and thoroughfares across the country. They put traffic out of gear and travelers stuck in vehicles. In fact, people who live across the blockage are also either unable to return to their homes or have to go back and use an entirely different route.
Meanwhile, a woman refused to give in and challenged the goons of TLP who would not let her car pass by. A video surfaced on social media wherein the woman argues with the protestors. She asks them to open the road so she could reach her house.
As it appears, the woman lives right across the blockage, and the protestors blatantly refused to unblock the road. Angered by their stubbornness, the woman got out of the passenger seat and ended up in a war of words with the TLP goons. More so, when one of the protestors asked her to take another route, she straight away asked him to pay for her petrol.
However, as expected the TLP protestors and goons did not open the road despite the woman challenging them to break the windows of her car whatsoever.
Watch the bravo woman confront the goons!
Needless to say, it really takes some guts to stand up to such life-threatening goons. Nonetheless, more power to the woman for not giving in!
Twittersphere lauds the gutsy lady
This though…
"Now the time has come for the commoners to come out and fight these people who are spreading destructive riots. Hypocritical political parties are not able to protect the nation. Come on, these are cowardly people, and the nation has shown too much patience. Get ready for it," wrote one Twitter user.
The TLP is notorious for days-long road protests. They have brought large swathes of Pakistan to a standstill over the years.
Last year, the supporters had gathered on the call of TLP chief Allama Khadim Hussain Rizvi. They protested against the publication by Charlie Hebdo magazine and French President Emmanuel Macron's extremism.
What do you think of this story? Let us know in the comments section below.