Famous All-rounder Shahid Afridi recently returned to Pakistan from Sri Lanka. Shahid Afridi had to leave the Lanka Premier League LPL 2020 midway to see his ailing daughter who was hospitalized, so he returned home urgently.
Afridi took to Twitter to announce his departure from Sri Lanka to attend to a "personal emergency". The all rounder added that he would return to his Galle Gladiators franchise after the situation improves.
However, the official Twitter account of LPL later revealed that Afridi's daughter was admitted to the hospital. This was the reason why Boom Boom left for Pakistan.
It is indeed unfortunate to see Afridi's daughter in the hospital. We hope the girl will soon regain health, inshAllah. Meanwhile, Afridi's return to LPL T20 will now depend on his daughter's health.
Netizens pray for the recovery of Afridi's daughter
As Shahid Afridi had to leave LPL 2020 and return home urgently for her daughter. Afridi's fans and cricket lovers are now sending prayers from Pakistan and other parts of the world for the smooth recovery of his daughter.
If Afridi does return to play the remaining matches of LPL T20, he will have to undergo a short quarantine period and COVID-19 test. As a result, he will not be required to take the mandatory 3-day quarantine.
Earlier in June 2020, Afridi had tested positive for COVID-19 and made a swift recovery from the pandemic in July. The all rounder's tests on arrival to Sri Lanka illustrated that he had antibodies for the virus.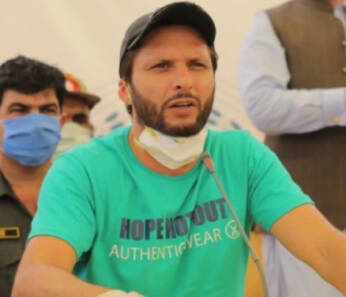 Afridi has been in the news over the last few weeks due to his stint in LPL T20. Its not only his performance with the bat that have made the headlines. His off-field antics have also captured media attention.
Last week, Boom Boom was captured on video as he grilled Afghanistan's fast bowler Naveen-ul-Haq for misbehaving with Mohammad Amir. The heated argument took place at the conclusion of the match between Galle Gladiators and Kandy Tuskers.
Playing for Tuskers, Haq tried to intimidate Amir after the Pakistani pacer hit the winning runs for Gladiators. Afridi got angry with the behavior of the Afghan pacer.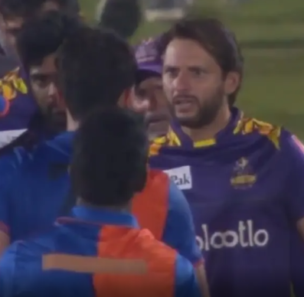 Boom Boom seemed to be greeting everyone with a smile after the match was over.
When he came across Haq, the Pakistani veteran had a grim look on his face. Afridi also exchanged a few words with Tuskers' fast bowler.
What do you think of this story? Let us know in the comments section below!