We always that thought Kashmir was the  burning question but as the cricket world cup 2015 draws closer it is captaincy of the Pakistan cricket world cup 2015 team that has assumed greater importance. PCB likes to play guessing games whether it is the chair of PCB, selection of selectors or players, no one knows till the last moment what will happen.
The Pakistani team changes its captain the way celebrities discard their dresses. Misbah, Hafeez, Afridi, Younis, and the list goes on and on. At this point, PCB must decide and take a decision to appoint the captain for the cricket world cup 2015.
The subtle statement of cricketers interested in taking up the role, TV channels promoting players of their choice. The national interest becomes a secondary factor rather being the primary factor. Let us see you may be a better choice.
Misbah has led Pakistan in many matches, won some, and lost some. It is his approach towards the game that frustrates even the most ardent supporter of Misbah. He got the famous title for his batting, tuk, tuk and the players we play the way you play.
So players like Shahzad and Umar Akmal have also started to copy their captain. This end result we have started losing more than winning and all due to our approach. A sense of insecurity has engulfed him in the absence of Saeed Ajmal and Hafeez from the team. It is still debatable if Misbah was the finest choice to captain the Pakistani team in the cricket world cup 2015.
Afridi is the other extreme who wants to finish the match in the first over. Making him the captain for the cricket world cup 2015 is not less risky. Being aggressive is good but there needs to be a method in madness. As there is no method we normally end up as losers to matches that are totally in our grip.
He may be the most popular player but is he also the most competent, professional person in the team? A leader has to set example, be a role model for others to follow.  Afridi acts more like Salman Khan, "Aik Baar jo Mai Chakka Laganay ka Soch Lun, Phir Main Apni Bhi Nahi Sunta" (Once I decide to hit a six, and then I listen to no one even myself), even if that means bowing out of the cricket world cup 2015.
Therefore, there is a need to have a balanced personality to lead the team in cricket world cup 2015 rather than rely on the hare or the tortoise. Moreover, we need to have a captain in cricket world cup 2015 who still has 8 to 10 years of playing cricket at the highest international level. We can easily learn from the experience of other countries.
The fact that Smith was appointed at a young age led to South Africa reach the No -1 position in World Cricket. The same can be said of Dhoni who single-handedly turned the fortunes of his team, at international level, by leading the team over a long period of time.
The more you play as captain the more experience you get. In our country, cricket captains the sword hanging over their heads day and night. They do not know, are not sure if they will lead the next match as a captain. Here, PCB needs a make a long-term investment.
The returns of these investments are slow in the beginning but they start surging up as time passes and cricket world cup 2015 comes closer.  Keeping these factors, in mind, Sarfraz Ahmed should be the safest option as the new captain to lead the team in cricket world cup 2015.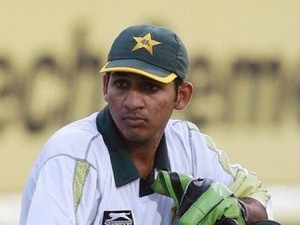 Sarfraz carries a cool head on his shoulders and plays cricket with logic and reason and not with emotions. He is young, no doubt, and may face some resistance from senior players and this is where the manager, coaches and other players can play their role.
The way he has batted in some recent games, reminds us of our wicketkeeper, batsman Imtaiz Ahmed. There is a need to groom him, invest in him, train him and believe in him. All difficult things but the state of Pakistani cricket is in such a mess that we have a case for risk management.
The way we are sliding down the ICC rating ladder, in terms of teams or as players, is a source of acute embarrassment for all cricket lovers in the country. A country that embellished the world of cricket with players like Fazal, Hanif, Imran and Javed or the two Ws now show an empty cupboard. The problem is not in our stars but our management.
We have the talent, competence, technical skill, perseverance in our team but what is missing is leadership. We are moving without any sense of direction and this could negatively impact Pakistan's chances of winning cricket world cup 2015. Each player plays for himself and not for the team.
A captain needs to glue the team together and give them a sense of ownership. You do not play for yourself but you play for the pride and honour of our country. The right choice of a captain at this juncture can one end the guessing game once for all.
When the captain will realizes that he is the leader for cricket world cup 2015, goes into the right mind-set and ends all conspiracy theories of groups within a team of 11 players.
Winning the cricket world cup 2015 will plant us firmly on the cricket scene of the world. We need to remember that Pakistan was always one of the favourite teams in all the previous World Cups.
We made it one in 1992 under the able guidance and leadership of Imran Khan. This country, with its immense talent can do it again; however, the battle for captaincy for cricket world cup 2015 needs to end.
Keeping all these factors and points in mind, as a sincere lover of the game, I suggest to appoint Sarfraz Ahmed as the captain for cricket world cup 2015. He has a great future in front of him and he can take Pakistan to those great heights where once we ruled the world.
There is a risk involved but taking a calculated risk is what we are trying to do. It is a foregone conclusion that we are not going to win, under any of the former captains; therefore, there is no harm in trying a new one. Â Fresh blood, fresh and innovative ideas so let the old order change giving place to new. I am sure that this is a risk worth taking for the glory of cricket in Pakistan.