Anila Ali, a Pakistani-American Muslim, and women's rights activist, caused a stir when she said she supported Israel during the ongoing war between Israel and Hamas.
People are very angry about what Anila said at a pro-Israel gathering, especially Pakistanis, who strongly disagree with what Israel is doing.
Addressing the rally, she said, "I stand before you as a friend of the Jewish people."
"I am here to affirm to my Abrahamic brothers and sisters that you are not alone," says Ali. Explaining that Islam prohibits all the horrific acts Hamas committed on October 7, she ends her remarks, by saying, "Am Yisrael Chai."
Who is Ali Alina?
American Muslim and Multifaith Women's Empowerment Council (NMWEC) founder Alina Ali, a teacher from Orange County, California, stands out as a person who helps bring people of different faiths together. Through interfaith religious events, her group wants to help people understand each other better.
Alina went to Israel with a delegation in early May 2022, which made things even worse for those who were already unhappy.
The group was mostly made up of Pakistani Americans who had U.S. passports but strong ties to their home country.
The trip was planned by a political group for American Muslim women and paid for by an Israeli group that wants to improve relations with Muslim-majority countries.
Also Read: Pakistan Rejects 'Fake News' Claiming Its Diplomat Visited Israel 'Secretly' To Establish Ties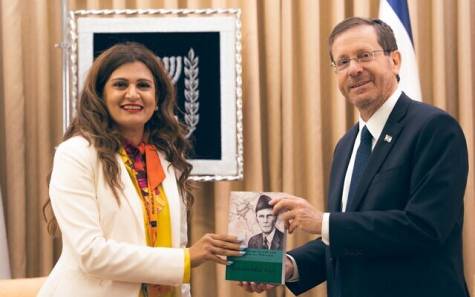 After Israeli President Isaac Herzog made public that he had a secret meeting with the Pakistani and Pakistani American delegation, things got worse in Pakistan. The meeting took place at his home in Jerusalem while the delegates were there on a rare visit, which added to the debate over Ali's support for Israel.