The Pakistan Medical Commission PMC issued a statement in which it rejects all allegations on Monday in response to the ongoing protests by candidates for the Medical and Dental Colleges Admission Test MDCAT.
Students across the country have been protesting and demanding that MDCAT be held on a single day. They allege that the exam included out-of-course questions. Additionally, they argued software flaws had caused even top performers in educational boards to fail.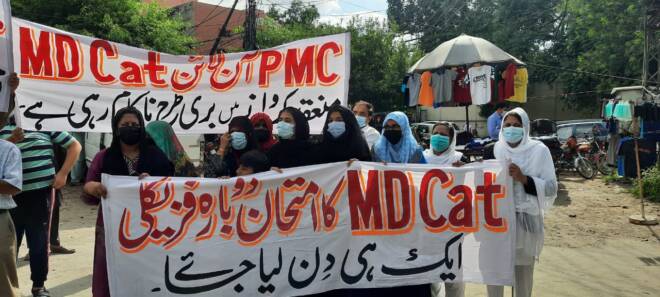 A PMC statement reported that a group of students met with council president Dr. Arshad Taqi on Sept 23. They claimed that the internet at the centers was down and prevented recording and scoring many answers. Additionally, they alleged that there was a technical fault in the system that prevented scoring skipped or edited questions.
Students have demanded a rerun of MDCAT or lowering of the passing marks or adding additional marks for each student. They also argued that every student should be permitted to see and recheck their paper physically.
Protests across the country continue
Meanwhile, the PMC had reportedly hired M/S SOAR Testing and Evaluation Platform (SMC-PVT) for holding MDCAT. The PMC held a meeting to discuss the matter. It noted that thousands of students already passed the exam, which far exceeds the 20,000 available seats available in medical and dental colleges.
PMC rejects allegations made by MDCAT students
PMC stated that they designed the examination system to operate on a wireless local area network (LAN) at each center. Consequently, the worry about the internet or Wifi being down seems unfounded.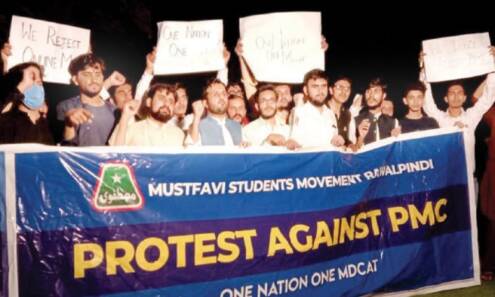 "All the final answers submitted by each student at the end of the exam are uploaded to the server at each exam center through the local area network securely without exception," it stated. "The up-to-date data for questions marked as skipped or not attempted by all students up to date was examined."
"Only 0.13pc of the total answers submitted by over 140,000 students who have already taken the exam were marked as skipped or not attempted. In effect, only one skipped or not attempted question showed up for every five students on average." Hence, the concern that edited answers and skipped questions did not upload to the system and scored also seems unfounded.
The National Medical and Dental Academic Board prepared the MDCAT syllabus. They invited representatives from each of the provincial boards and the federal board to review the syllabus. Moreover, they ensured that it covered the syllabus for each region.
"A student can neither be provided with a copy of their question paper and answers nor shown their paper physically," the statement further added. "The paper is in a digital format and so are the answers which are scored by a computer." It said all results shall be subject to a post-exam analysis and any corrections required after rechecking will be made.
Story Courtesy: Dawn News
What do you think of this story? Let us know in the comments section below.